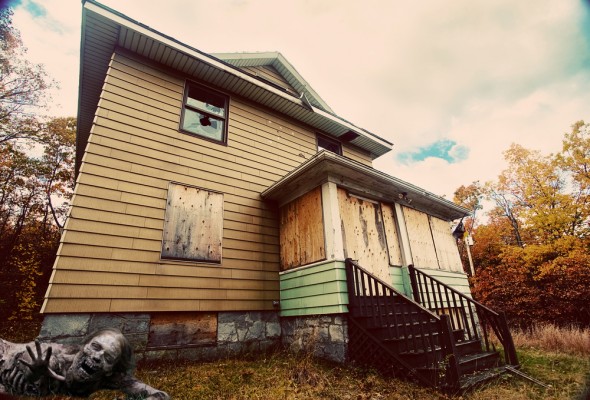 They're vacant, boarded up, and in a state of disrepair. Long forgotten, zombie properties tend to reanimate themselves, sometimes years after the homeowner received a foreclosure notice and walked away. It may look like a scene from an undead apocalypse film, but the phenomenon is very real. These unruly properties have the tendency to cause trouble for the living…properties. We've got the scoop on this dangerous trend and why you should be trembling with fear.
Find out now: How much house can I afford?
Whenever a bank seizes a property for foreclosure, they must go through a time consuming legal process before they can put it up for auction. The lending institution is not required to put a property into foreclosure because at that point, they must take on the property title. Whoever possesses the deed is subject to its property taxes and associated costs.
The bank may deem a property too high of a liability and decide not to follow through with the foreclosure, even if they already started filing. The lengthening of the foreclosure process in numerous states has also created a backlog of filings. Banks are not willing to wait in line to complete the court proceedings while incurring expenses, as the process can take years.
After the housing bubble burst in 2008, it became increasingly difficult to unburden properties across the board. To avoid taking on the financial load, lenders may delay the foreclosure process indefinitely. Essentially, at this point, the property owner's name remains on the title until someone else takes hold of it.
Zombie Properties Spell Trouble for Neighborhoods and Unsuspecting Homeowners
Zombie homes become unsightly, since they are left to rot without proper maintenance. In some instances, they become a burden to the entire community. Municipalities dip into public funds to ensure, at the very least, the zombie receives a cosmetic face-lift.
While the original homeowner is forced to turn in their keys and move on, a zombie title will come back to haunt them. Legally, the household head is obligated to pay related property charges. For unsuspecting victims, zombie properties can become oppressive, putting them under the scrutiny of credit collectors, courts and law enforcement.
Related Article: How to Avoid Foreclosure
Individuals who leave their homes after receiving a foreclosure notice can be difficult to track down since they have new contact information. Notwithstanding, municipalities still have every right to collect. The homeowner can be subject to stiff penalties, wage garnishments, even threats of jail time for failure to ensure the zombie is within zoning compliance. A county can also sue to recoup maintenance fees. On top of that, taxes continue to mount indefinitely until the title transfers.
For neighborhoods looking to appreciate over time, the undead property can be detrimental. For instance, homes within the vicinity may not rise in property value as quickly as those in the next neighborhood. Zombie houses also run the risk of becoming sites for illegal activity, including squatting, drug use or graffiti.
Zombie Titles by the Numbers
In the third quarter of 2015, RealtyTrac found that while there were 1.5 million vacant properties in the U.S., the number of zombie homes had decreased by 43% since the previous year to 20,050. These were properties in the foreclosure process that were vacant and still under the ownership of the original occupant. Florida, Texas, Ohio and Michigan were among the states with the most vacant properties.
Related Article: What Is Foreclosure?
Bottom Line
While zombie properties are a threat to individuals and neighborhoods, they can also have a negative effect on a housing market overall.
That said, it's crucial that you protect yourself. Never assume that you can completely walk away from a foreclosed property unless it has been finalized and the title is in someone else's name. Check with your local municipality to ensure you are no longer accountable. Lenders may be more willing to wipe their hands clean of a distressed property through a short sale rather than a foreclosure. Enlist a highly skilled real estate agent who can help you to sell your property to the right buyer. Loan modifications are yet another option.