Before you start searching for your dream house, you'll have to focus in on your dream neighborhood. We know it's more fun to daydream about decorating your kitchen or grilling in your backyard than it is to research neighborhood crime stats, but bear with us. Picking the right neighborhood doesn't just ensure your happiness and comfort—it also helps with home appreciation and future re-sale.
The factors that affect your Where should I live? decision break down into two categories: the basics and the extras. Let's take a closer look at both.
The basics
Cost: This is the big one. Use our SmartAsset interactive tool to find out how much house you can afford, and then make sure you're looking at neighborhoods with housing that's within your budget. No sense touring that gated community with country club and golf course if it's not the right fit for your income. To be a good fit for your budget and financial priorities, a neighborhood should have more than just homes you can afford. An example: If you're trying to save money and pay off debt, moving to a neighborhood with lots of tempting stores, restaurants and bars might not be the best idea right now.
Schools: If you're a parent, we don't need to tell you how important it is to consider school quality when answering the question: Where should I live? But even if you don't have kids, choosing a home in a good school district makes it more likely that your home will appreciate. If you move to a good school district, you'll also have an easier time finding a buyer for the home when you decide to move on.
Crime: Finding neighborhood crime statistics online is easier than ever. If you're someone who worries about law and order, checking the police records for your target neighborhoods can set your mind at ease and help you choose between different areas.
Transport: How long will it take you to get to work from the neighborhoods you're considering? Will you drive or take public transportation? If you drive, is there affordable parking you can use? If you won't be driving, are the public transportation offerings adequate? No matter how much you love your new neighborhood, you'll want to leave it now and then. Make sure your transportation options meet your needs.
Access to grocery stores, pharmacies and banks: Does the neighborhood you're considering have a grocery store you can afford? How about a pharmacy for filling prescriptions, and a bank or ATM? Consider how far you're willing to walk, drive or ride to get to any of these three necessary services before determining the answer to the question: Where should I live?
The extras
Farmers markets: Many neighborhoods now boast farmers markets on weekends or weekdays. These markets are not only great sources for food and gifts, they can also be good ways to meet your neighbors, find out about volunteer opportunities and introduce kids to where our food comes from. And sometimes there are free samples.
Cultural attractions: Love going to see plays, concerts, films and art exhibits? Check out the offerings in your target neighborhood, or time how long it would take you to get to cultural centers in other neighborhoods.
Parks: Parks are neighborhood multitaskers. They provide shade and clean the air. They're gathering places for community members to walk, run, work out, play games or just sit and talk. Having a park near your home can do wonders for your quality of life.
Friends and family: Is the neighborhood you're considering convenient to where your friends and relatives live? This is an especially important factor for people who are caring for elderly relatives, or who need a little extra help themselves (parents of newborns, I'm looking at you).
Entertainment: What would you do if Netflix suddenly stopped working? Are there bars, restaurants, music venues or movie theaters in your neighborhood that you could check out? If these activities are important to you, you will likely want to factor them into your answer to the question: Where should I live?
Shopping: We've covered grocery stores and pharmacies, but what about other kinds of shopping? Where will you go to buy holiday gifts and birthday presents, clothes and home goods? Having plenty of shopping options in or near your neighborhood will save you time on weekends and cut down on your stress levels.
Houses of worship: Do you need to be close to a church, synagogue or mosque to feel at home in your new neighborhood? Explore the options and try to attend a service before you commit to buying or renting in the area.
Libraries: Libraries aren't just resources for free access to books, CDs, DVDs and magazines. They're also neighborhood hubs that provide safe spaces and internet access to community members. Many libraries also offer free programming, like movie nights, concerts and lectures. What's not to love?
Gyms: Some people have gyms in their apartment buildings or offices—or work out at home—but if you like to join standalone gyms or yoga studios make sure the neighborhood you're considering has options that appeal to you and fit your budget.
Community engagement: In some places, neighbors don't know each other's names and eye contact is a no-no. In others, block parties are a regular occurrence and community gardens flourish. Are you looking for a sense of anonymity or a sense of belonging? Spend time in the neighborhoods you're considering to make sure the vibe is friendly enough—or unfriendly enough—to suit you.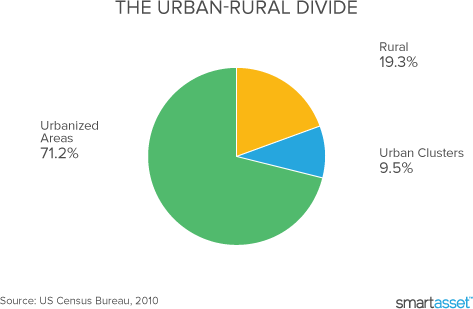 Top tips
Visit at different times of day: Some neighborhoods are dead in the daytime and lively at night, or pleasant in daylight but spooky at night. Try to visit areas you're considering in the daytime and at night, on weekdays and weekends.
Talk to residents: Longtime residents of a neighborhood are in the best position to tell you about trends in the area over time, and they can tell you things you'd never find out about online.
Confer with your partner or roommate: This may sound like a no-brainer, but we'll say it anyway. If you're living on your own you can consider yourself exempt from this particular advice. But if you're moving with a partner or roommate, make sure you're on the same page about what makes a good neighborhood. Maybe you want a lively bar scene and your partner wants peace and quiet. We're not relationship counselors, but we feel comfortable recommending you sit down and hash that out before answering the question: Where should I live? (Or in this case: Where should we live?)
Check your risk from flood or fire: You don't have to go full-on doomsday prepper to hedge your risk of losses from future disasters. Some simple research can tell you if the neighborhood you're considering is in a flood zone or experiences frequent wildfires. And remember, your risk from natural disasters will also affect your home insurance premiums, so it pays to get the facts before you move.
When you choose a neighborhood, you're choosing a version of how you want your life to be. Take your time to make sure it ticks all the right boxes before finalizing the answer to the question: Where should I live? And enjoy the search!