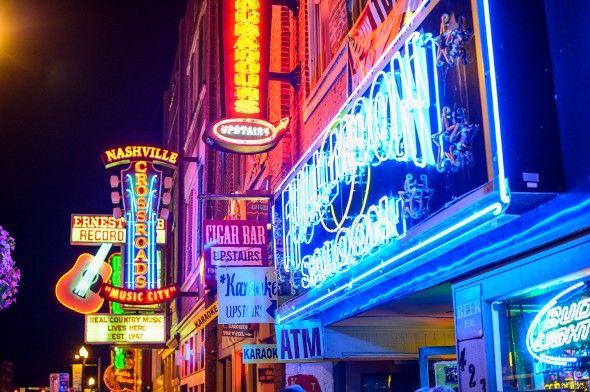 Tennessee is packed with a country and blues culture that's centered around Nashville and Memphis. When it comes to the cost of living in the state, you'll find cheap rental prices compared to national rates. Homes follow a similar trend, though Tennessee has a wide range of markets depending on where you move. Residents also spend more than the national average on utilities.
Housing Costs in Tennessee
The median home value in Tennessee is $170,801, according to NeighborhoodScout. These reports also indicate that there isn't much upward variation around Tennessee's largest cities. In Nashville, the median home value is $110,950, while Knoxville's is slightly higher at $149,046.
Tennessee homes have seen good appreciation rates recently. As a matter of fact, NeighborhoodScout reports show that from 2013 to 2018, home values have risen by a cumulative 36.56%, or 6.43% annually. If you condense these numbers for just 2016 to 2018, the annual appreciation rates expand to 7.71%.
If you're looking to rent, Tennessee is about as good an option as you'll find. According to Apartment List data from 2019, a two bedroom apartment in the Volunteer State goes for just $854 a month, as compared to the $1,175 national median. Three bedroom apartments have an even larger split, as the $1,139 median rent in Tennessee is $439 cheaper than the $1,578 U.S. median.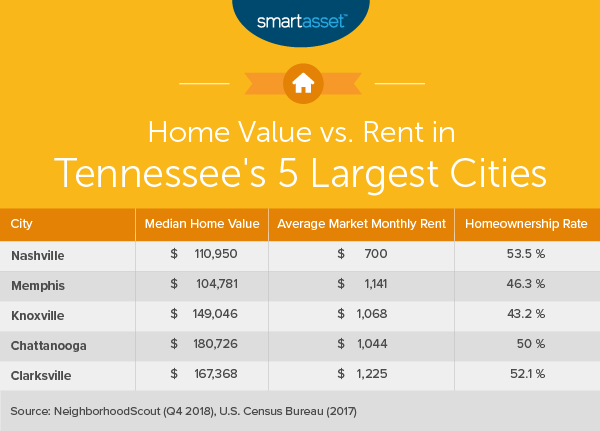 Utilities
According to the U.S. Energy Information Administration (EIA), the average monthly energy bill in Tennessee is $123.30. That's $11.63 above the U.S. average energy utility bill of $111.67.
Numbeo.com data from 2019 shows what the average monthly utility bills for a 915 square-foot apartment cost in Tennessee's largest cities. In Nashville, residents can expect to pay $159.32, while $145.29. For comparison, the national average is $151.96.
Food
The Living Wage Calculator from MIT lists a $22,369 living wage for a single adult in Tennessee. Of that income, about $2,994, or 13.4% goes to food. This estimation jumps to 15.2% for a family of two adults and two children, as MIT calculates a family of this size will spend $8,822 on food out of a $58,199 living wage.
Individual food prices vary by city. According to Numbeo.com (2019), a gallon of milk and a dozen eggs goes for $3.21 and $2.48, respectively, in Memphis. Chattanooga residents pay slightly less, as a gallon of milk there is $3.09 and a dozen eggs is $1.92.
Healthcare
In much of Tennessee, healthcare costs come out right around the national average. According to a 2016 study by the Health Care Cost Institute, prices in the Nashville metro area sit at 7% above the U.S. median, whereas the Chattanooga metro area is 4% below that mark. The major outlier in the state is Knoxville, which boasts prices 16% less than the national median.
Education
Want to pursue higher education in Tennessee, for yourself or your child? The highly ranked Vanderbilt University estimates its tuition and fees to total $73,148 for the 2019-2020 academic year. That doesn't even include the $836 First Year Experience Fee.
If you fear student loans, there are less expensive options in the Volunteer State. For example, there's the University of Tennessee Knoxville, where in-state tuition is $13,006 for 2018-2019, compared to $31,426 for out-of-state students.
Taxes
Tennessee's state tax system has been called the most regressive in the nation. A study by economists at the Federal Reserve found that Tennessee's tax regime offsets 32.7% of the progressiveness of the federal tax code. In other words, the federal tax system aims to get wealthier folks paying a higher percentage of their income in taxes. But when you add in the Tennessee state taxes, the inequality-compressing effect of the federal tax system is lessened by 32.7%.
There is no state income tax in Tennessee. The state does, however, impose a 2% tax on dividend and interest income for the 2019 tax year. This law is on schedule to be repealed by the state government on Jan. 1, 2021.
Tennessee's sales tax ranges from 8.5% to 9.75%, depending on the county in which you're shopping. So although the base state sales tax is 7%, counties impose extra rates that range from 1.5% to 2.75%.
Miscellaneous Cost of Living Facts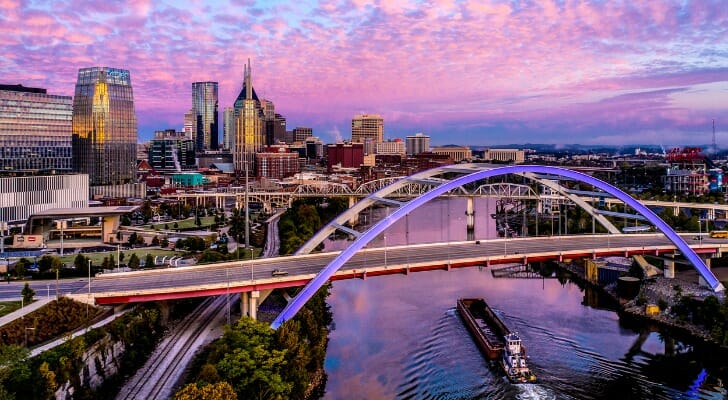 Tennessee has plenty of attractions to keep tourists and residents happy. For one thing, there's Graceland, Elvis Presley's home. A ticket to Graceland will cost you $41 for the cheapest option.
Tennessee also has options for nature-lovers. Admission to Great Smoky Mountains National Park is free. If you want to camp in the park, you'll pay between $14 and $23 per night. Admission to the National Civil Rights Museum in Memphis is $15 for adults. The Hunter Museum of American Art in Chattanooga and the Frist Center for Visual Arts in Nashville are also $15.
Tips for Planning Your Finances
A financial advisor can help you navigate big life changes like a cross-country move, or just help you to meet general financial goals like saving for retirement. SmartAsset's financial advisor matching tool simplifies the process of searching for an advisor. If you're ready to be matched with local advisors that will help you achieve your financial goals, get started now.
For an overview of some of the top financial advisor firms in the state, stop by our lists for Chattanooga, Nashville, Knoxville and Memphis.
Georgia has a plethora of local banks that new residents can move their money to. Here are some options: SmartBank, CapStar Bank, Andrew Johnson Bank, Triumph Bank and First Century Bank. Be sure to pay attention to important factors like interest rates, ATM access and overdraft fees.
Photo credit: ©iStock.com/Sean Pavone, ©iStock.com/Vito Palmisano