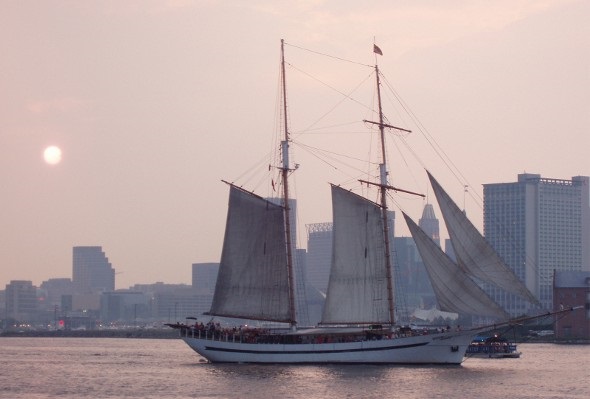 Maryland is an expensive state to live in. The Old Line State has a pricey home market, as well as above average rent prices. The statewide cost of utilities and groceries aren't any better either. Despite this, though, Maryland is charming and has some of the best seafood in the country. Don't be afraid to reach out to a financial advisor if you want some help managing Maryland's high cost of living.
Housing Costs in Maryland
According to NeighborhoodScout, more than 65% of Maryland's residents are homeowners. As a result, the homes in the state have a median home value of $325,767, which is fairly above average. Depending on the city, the median home value can differ, though. In Baltimore, for example, the median home value is $169,550. On the other hand, in Rockville the median skyrockets to $614,535.
One of the distinctly troubling characteristics of the housing market in Maryland is its weak appreciation rates. NeighborhoodScout data from 2013 to 2018 shows a 3.16% annual appreciation rate statewide. Compare this to California and New York which have 7.55% and 8.89% annual appreciation rates, respectively.
Still saving up for a down payment? You should know that rent in Maryland is on the high side. In fact, from studios to three-bedroom apartments, Maryland rents are higher than the average rent in the U.S.
According to a 2019 report from Apartment List, the median rent for a studio in Maryland is $1,119, or $288 above average. One bedroom apartments in Maryland are $305 above the national median at $1,256. If you need two bedrooms, you can expect to pay around $1,513 in Maryland. That's $333 higher than the U.S. median.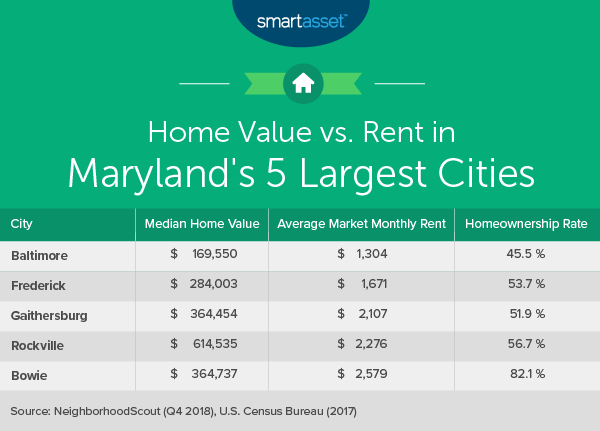 Utilities
Unless your utility costs are included in your rent or your condo association fees, you'll have to cover your utility bills yourself each month. According to 2017 data from the U.S. Energy Information Administration (EIA), the average monthly utility bill in Maryland is $131.16. That's just about $20 above the national average of $111.67, which is good for the fifth highest monthly rate in the U.S.
Transportation
A 31-day monthly pass for Baltimore's public transit will cost you $72. That includes the plastic CharmCard used on Baltimore, also known as "Charm City," public transportation. If you want express bus service, too, you can buy an $85 CharmCard.
If you prefer driving, the average cost of a gallon of gas in Maryland is $2.81, according to May 2019 data from GasBuddy. That's slightly less than the national average of $2.92.
Car insurance is another major cost of owning your own car. Insure.com's 2019 report on insurance rates around the country shows Maryland's average rates are fairly expensive. In fact, residents pay an average annual premium of $1,546, which is $89 above the $1,457 national average.
Taxes
Maryland has a progressive income tax system, at both the state and county levels. State income tax rates range from 2.00% to 5.75%. County rates, on the other hand, range from 1.75% to 3.20%. Maryland also has a 6% sales tax.
The average effective property tax rate in Maryland is 1.10%, which is below the national average. Property tax rates range from 0.64% in Talbot County to 1.65% in the city of Baltimore.
Education
In-state tuition alone at the University of Maryland comes to $8,651. When you include transportation, books, meals and lodging, the university estimates the total in-state cost for a resident of the school to be $23,183. That's a good deal relative to the university's estimate for out-of-state students: $46,220.
Healthcare
The cost of healthcare in Maryland varies from place to place. At a state level, though, Marylanders contribute more for single coverage healthcare at private companies than most of the U.S. In fact, a 2017 report from the Agency for Healthcare Research and Quality found that Maryland residents' average contribution for the aforementioned healthcare is $1,711 per year, which is significantly above the $1,415 average for the country overall.
According to the Health Care Cost Institute, prices for healthcare in the Baltimore metro area are 26% below the national median. In this 2016 study of 112 metro areas, Baltimore ranks the lowest.
Miscellaneous Cost of Living Facts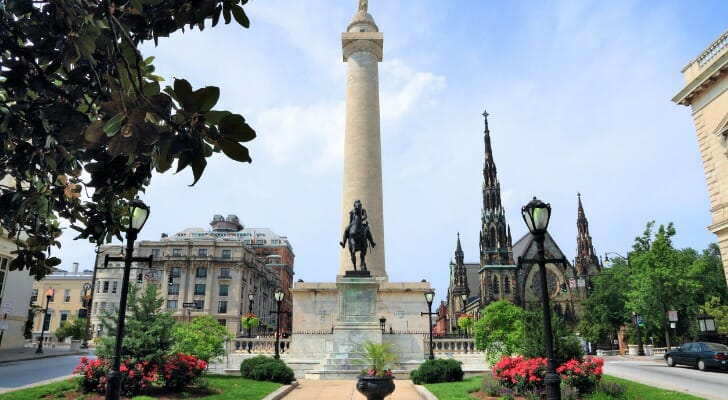 There's plenty to do in Maryland. If you're a history buff you can check out Antietam National Battlefield for just $7 per person or $15 per vehicle. A vehicle pass for Blackwater Wildlife Refuge is just $3, but if you come via foot or bike, it'll cost you a mere $1. For an indoor activity, you can check out the National Aquarium in Baltimore. Basic admission for adults is $39.95, while children 3 to 11 years old get in for $24.95.
Financial Planning Tips
Photo credit: ©iStock.com/dschleigh, ©iStock.com/tupungato