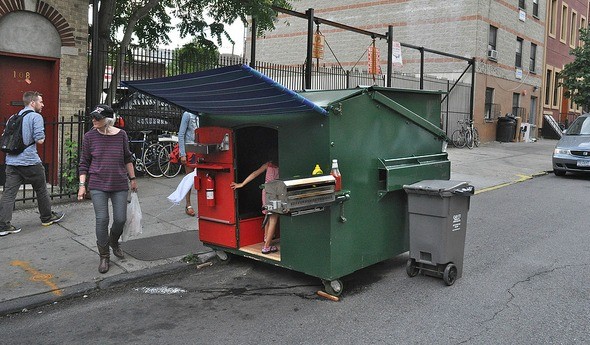 Gregory Kloehn of Oakland, California doesn't pay rent or a mortgage on his second home. His home is located in Brooklyn, one of the most expensive places to own a home in the country. He has a bathroom, kitchen, living room and even a sunroof. Sounds great right? What if I told you that Gregory lives in a dumpster? No he isn't homeless. Gregory, an artist, lives in his renovated dumpster by choice. He has become one of the pioneers in micro living and lately he isn't the only one choosing this lifestyle.
Some choose to downsize and get creative with their housing choices because of necessity, personal choice or desire to leave a lighter footprint on the environment. When the economy tanked a few years back, it forced some people to look at their financial situation and begin scaling back. For a lot of those people downsizing their homes was the best alternative. From 200 square foot apartments to dumpsters, people from New York to San Francisco are living in smaller spaces. Sometimes it's the only way to be able to live in the cities that they love.
What is Living in a Dumpster Like?
In a dumpster, space is a commodity, so making the most of the square footage he has is important. Looking at Gregory's home, he has all the necessities like a full kitchen, bedroom, bathroom and living room. If he wants to add a little sunlight and air in, a custom sky roof lifts to reveal windows raises and lowers by a crank. He paid only $1000 for the dumpster and spent a few thousand customizing it to his needs. In a city where a rent on a two bedroom apartment can top $2000 a month, his home is rent free.
What can you learn from Micro Living?
Should you go buy a dumpster and move your family in it? Probably not. But you can learn some lessons from Gregory's creativity with his living accommodations. Are your kids at college but you still own a five bedroom home on a few acres of land? Are you having trouble making your mortgage each month and are one sick day away from a complete disaster? Maybe finding a smaller more practical home may be worth looking in to. You may not want to live in a tiny apartment or dumpster, however, you can downsize to a smaller, more affordable home.
Gregory and the others who are living in micro homes could also give you a few lessons on organization as well. Could you fit your whole life into a space the size of a dumpster? Most people couldn't. Micro living forces people to make conscious choices about what they have in their homes. If you buy something new into your home, get rid of something old. Be purposeful about what you choose to have in your home and you will be happy and clutter-free.
Could you live in a tiny home like Gregory? A dumpster may not be an option, but have you ever thought about saving money by downsizing your current home?
Photo Credit: hragv