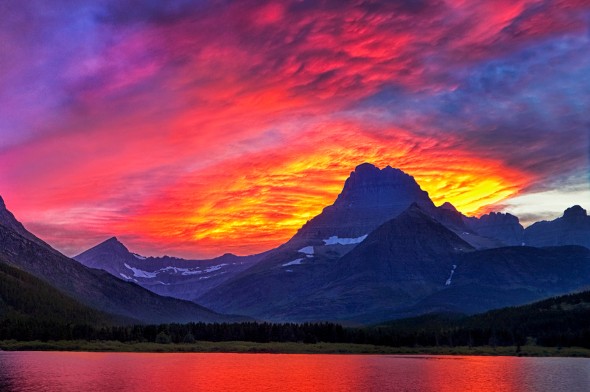 Montana, the Treasure State, is home to some of America's most splendid landscapes. It's a small state (population-wise), with just a little over a million residents. In fact, Montana has just 6.8 people per square mile, compared to a U.S. average of 87.4 per square mile as of the most recent Census. If you want room to spread your legs in Big Sky Country, Montana might be the place for you.
Check out our cost of living calculator.
Montana Home Prices
Want to be home on the range in Montana? According to Trulia, the county with the highest average listing price is Wilbaux County at $652,500. The most affordable county is Blaine County, where the average listing price is just $59,500. The median value of owner-occupied homes in Montana is $99,500.
Check out our mortgage calculator.
Rent in Montana
Unsure whether to rent or buy? Rent in Montana is nice and low. Whether it's a studio, one-bedroom, two-bedroom or three-bedroom apartment, its average rent in Montana will be lower than the U.S. average. Don't believe us? Check out the chart below.
Studios in Montana rent for an average of just $834, 1-bedrooms for just $850. Even 2-bedroom apartments in Montana come in under $1,000, at an average of $907. And if you need three bedrooms you can expect to pay around the Montana average of $1,217.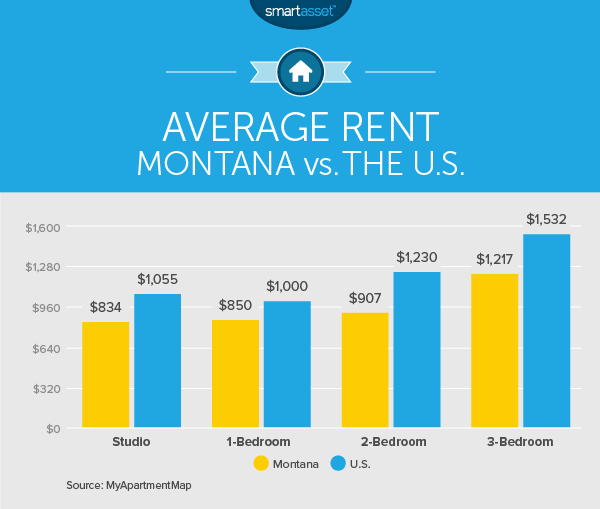 Utilities
According to the U.S Energy Information Administration, the average monthly utility bill in Montana is just $86.93, well below the national average of $114.09. It's not the lowest average utility bill in the 50 states, but it's one of them.
Transportation
If you want to avoid having to own a car, moving to Montana might be a little bit of a struggle. There are exceptions, of course, in bigger cities that have public bus service. Missoula, Montana's Mountain Line bus service is currently zero-fare. Bozeman, Montana's Streamline bus is also free. The fare on Great Falls, Montana's bus service is just $1. For $10 you can get an 11-ride pass. In general, though, it's a driving state.
Here's what drivers should know. Montana's fuel taxes are included in the price of gas. The tax on a gallon of gasoline is 27 cents. The average time to work in the state is just 18 minutes, 29% shorter than the national average of 25.5 minutes. The average price of a gallon of gas in Montana is $1.785, a little over the national average of $1.756.
Food
Montana's grocery prices are above average for a U.S. state. Compared to a national average indexed at 100, Montana' groceries come in at 108.9, according to Sperling. The state's food prices are on the rise. Montana's state government estimates that one in five children in the state face food insecurity.
Healthcare
How do Montana's healthcare costs stack up? According to the Kaiser Family Foundation, the average price of the second-lowest-cost Silver plan on the Health Insurance Marketplace in Montana is $322 for 2016 coverage. That's up 33.6% from the previous year's average of $241. There are only three insurers competing for customers in the Montana marketplace. Subsidies are available to qualified applicants.
Taxes
Let's start with the good news. The state has no sales tax. Montana's income tax system is progressive, with marginal income tax rates that range from 1% to 6.9%. That 1% rate is the nation's 18th-lowest, while the 6.9% top rate is the 15th-highest.
What about property taxes, you ask? The average effective property tax rate in Montana is just 0.87%, well below the national average. Rates range from 0.53% in Garfield County to 1.57% in Blaine County.
Montana has no estate tax.
Education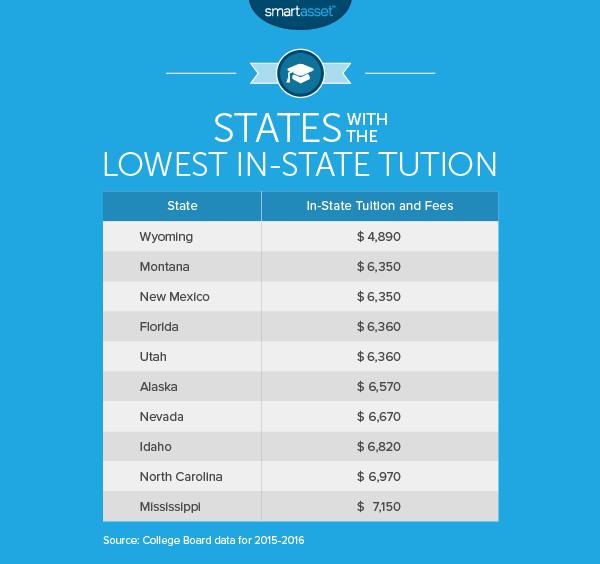 If you want to go back to school in Montana or send your kids to a state school, you're in luck. Montana's public universities have some of the lowest tuition costs in the nation, which is a big bonus when it comes to the cost of living in Montana. Check out the chart above to see how the average tuition and fees at Montana's public schools stack up to those in other states.
Extras
Montana is known as a place for outdoor enthusiasts. A seven-day vehicle permit for entrance to the renowned Glacier National Park will cost you $30 starting in May 2016. That rate holds for summer admission between May 1 and October 31. In winter, the fee drops to $20 (up from $15 as of 2016) for admission between November 1 and April 30. The rate for individuals arriving on foot, on a bike or as part of a commercial group is $15 in summer and $10 in winter. If you live in the area you can get an annual pass for just $45.
Next Steps
If you're thinking about moving to Montana, it can be helpful to know how the change will affect your budget so you can plan accordingly.
If you'll be switching jobs, your paycheck may end up looking quite different than it does now. Try using our Montana paycheck calculator to estimate what your new take-home pay will be.
A financial advisor can help you navigate big life changes like a cross-country move, or just help you to meet your financial goals in general. A matching tool like SmartAsset's can help you find a professional to work with to meet your needs. First you answer a series of questions about your situation and your goals. Then the program matches you with up to three advisors who meet your needs. You can then read their profiles to learn more about them, interview them on the phone or in person and choose who to work with in the future. This allows you to find a good fit while doing much of the hard work for you.
Photo credit: ©iStock.com/AndrewSoundarajan