Who wouldn't want to live in the paradise that is Hawaii? People who don't like a high cost of living, for one. According to the Missouri Economic Research and Information Center, Hawaii's cost of living is the highest of any of the 50 states. So while Hawaii offers beautiful surroundings and rich culture, it's not a cheap place to live. If you're intent on moving there, though, perhaps a financial advisor could help you manage these costs.
Housing Costs in Hawaii
It's not exactly a secret that Hawaii is a pricey place to live. You could always camp on the beach, but if you want four walls and a roof over your head you should prepare to pay a high price.
According to NeighborhoodScout, the median home value in Hawaii is $672,429. In fact, more than 82% of homes here are priced at $357,218 or more. So if you're already a homeowner in Hawaii and you've built up equity in your home, you're sitting pretty.
Prices shift in different Hawaiian cities. In Waipahu, homes have a median value of $720,048, based on data from NeighborhoodScout. That falls significantly to $363,712 in Hilo, though. Homes in Kailua hold a staggering median value of $1,030,215.
As you might expect in a state where the cost of buying a home is so high, demand for rental properties is high, too. According to NeighborhoodScout, the average rent in Hawaii is a whopping $2,413 a month. Those looking to move to Honolulu will find a $2,257 average rent, whereas Kahului residents pay less at $1,784 a month. If you're on the fence about whether it makes sense to rent or buy, try our free rent vs. buy calculator.
Utilities
Utility bills in Hawaii are extremely high. More specifically, the Aloha State's residents pay the highest monthly energy bills in the country. According to a 2017 study by the U.S. Energy Information Administration (EIA), an energy bill in Hawaii goes for an average of $149.33 per month. That's almost $38 more expensive than the $111.67 national average.
Hawaiians also pay a lot for electricity. If you don't like the heat or humidity, you'll be spending plenty of money running your air conditioner.
There's some variation between islands, though. According to a 2017 report by Hawaii Energy, residents of Lanai pay an average of 35.40 cents/kWh. On Molokai, the average is 32.92 cents/kWh. Oahu residents pay an average of 22.63 cents/kWh, while those on Maui pay 27.53 cents/kWh. On the Big Island, the average is 30.93 cents/kWh. Now consider the fact that the U.S. average is 12.89 cents/kWh, according to the U.S. EIA.
Transportation
Public transportation options on the Hawaiian islands are limited to bus service. A one-month pass for Oahu's public buses will cost you $70 and an annual pass goes for $770. A one-way ride is priced at $2.75. If you're just visiting, you can get a one-day pass for $5.50.
The island of Hawaii, or the "Big Island," has bus service via the Hele-On Bus, which you can get a monthly pass for for $60. A monthly bus pass for Maui's bus lines will cost you $45, with a $2 base fare. A monthly bus pass on the island of Kaua'i is $40, with yearly passes going for $400. The islands of Molokai and Lanai have no public transportation. You can catch the ferry from Lanai to Maui for $30 each way.
If you want to skip the public bus and drive your own car, expect to pay above average prices for gas. According to GasBuddy data from May 2019, the current average price of a gallon of gas in Hawaii is $3.62, which is good for second highest in the U.S. For reference, the national average is $2.92.
Food
Because so many of the food products for sale in Hawaii come from the mainland, prices are steep. According to the Missouri Economic Research and Information Center's 2018 report, Hawaii's groceries are by far the most expensive in the nation, aside from Washington, D.C. Using a national index of 100, the study ranked state grocery costs. These ranged from 91.4 in Mississippi to 124.2 in Hawaii. The good news is that you can get delicious tropical fruit and coffee from local producers.
One nice feature of the restaurant scene in Hawaii is that there's a big price range. You can get a huge pile of tasty food (known locally as "plate lunch") for less than $10. This usually consists of white rice, macaroni salad and an entree like teriyaki beef. Depending on the size of your appetites, one plate lunch could easily feed two people. There's also plenty of fine dining on the Hawaiian islands.
Taxes
There's good news for Hawaii residents when it comes to taxes. Hawaii has some of the lowest property tax rates in the nation. The state's average effective property tax rate is only 0.27%.
Income tax rates in Hawaii are quite progressive, and range from 1.4% to 11%. So, if you're a wealthy Hawaiian, you'll pay that 11% top rate, which is one of the highest marginal state income tax rates in the U.S.
Hawaii ranks as a moderately friendly state to retire in as well. The state exempts Social Security retirement benefits and public pension income from state taxes, but fully taxes income from private pensions and retirement savings accounts. Hawaii also has an estate tax.
Miscellaneous Cost of Living Facts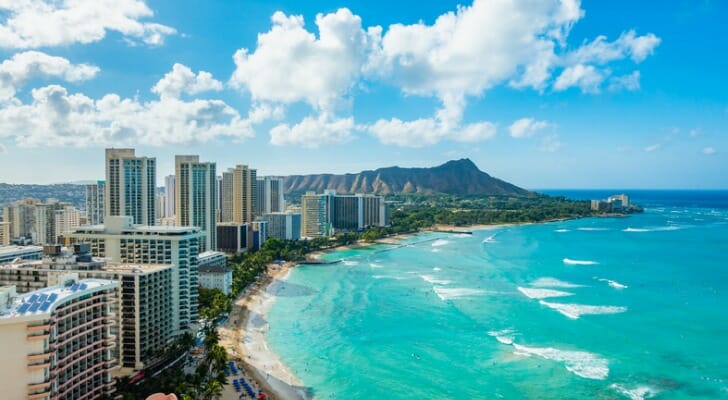 With plenty of public beach access, free entertainment is never hard to find in Hawaii. Between surfing, swimming, hiking and paddling, outdoor enthusiasts should be able to keep themselves busy without spending too much on entertainment.
If you want to take in some of Hawaii's history, you can visit Iolani Palace, where tickets that include a guided tour go for $27. The USS Arizona Memorial is run by the National Park Service and is free to visitors.
Tips for When You Move to Hawaii
Photo credit: ©iStock.com/Ron Thomas, ©iStock.com/okimo