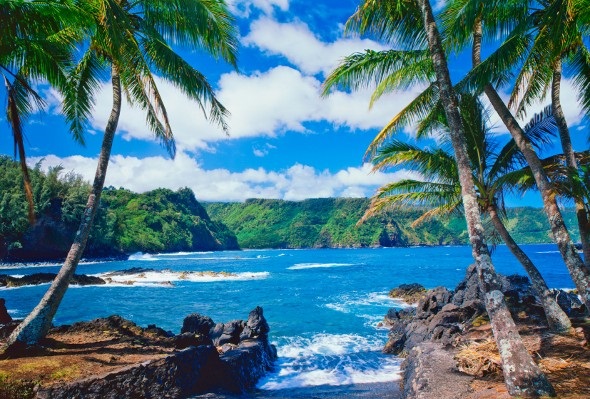 Who wouldn't want to live in the paradise that is Hawaii? People who don't like a high cost of living, for one. According to the Missouri Economic Research and Information Center, Hawaii's cost of living is the highest of any of the 50 states. So while Hawaii offers beautiful surroundings and rich culture, it's not a cheap place to live.
If you're intent on moving there, though, a financial advisor can help you manage the costs.
Housing and Utility Costs in Hawaii
It's not exactly a secret that Hawaii is a pricey place to live. You could always try camping on the beach, but if you want four walls and a roof over your head you should prepare to pay a high price.
As of September 2022, the median house price in Oahu, which is where Honolulu is, was nearly $1.02 million, and the median price of a condo in Oahu was $502,500, according to RealHawaii.co. Housing costs on other islands tend to be somewhat less expensive.
Rent is not cheap either. A studio on Oahu will set you back between $1,000 to $1,600 per month. A one-bedroom unit ranges from approximately $1,500 to $2,000 or more. Two-bedroom residences on Oahu are $1,800 and up.
Despite Hawaii ranking 13th among the states that use the least energy per dollar of GDP and being among the five states with the lowest total energy use, according to the Energy Information Administration, monthly energy bills are the highest in the country: $410.20.
Transportation
Public transportation options on the Hawaiian islands are limited to bus service. A one-month pass for Oahu's public buses will cost you $80 and an annual pass goes for $880. A one-way ride is priced at $3. If you're just visiting, you can get a one-day pass for $7.50. A one-way Maui bus fare is $2 or $1 for seniors and the disabled, while a day pass is $4 and a monthly pass is $45 or $25 for seniors and the disabled. Kauai bus fares are $2 or $2 for seniors and teenagers. A one-day pass is $5, a one-month pass is $50 and an annual pass is $550; for those qualifying for discounted rates, a one-day pass is $2.50, $25 and $275, respectively.
If you want to skip the public bus and drive your own car, expect to pay above average prices for gas. According to AAA, the cost of a gallon of gasoline in October 2022 was $5.21, well above the national average of $3.76.
Food
Because so many of the food products for sale in Hawaii come from the mainland, prices are steep. Groceries are 53% higher than the national average, according to payscale.com. A gallon of milk is $6.95, a dozen eggs are $5.98 and a pound of beef round is $10.33. A pound of chicken filets is $10 and a pound of oranges will set you back $3.09, according to Numbeo.
When you eat out, the average cost per person per day is about $61, but it can fluctuate depending on where you eat and how many people you go with. For example, the average one-person price of ​​breakfast is $15, with lunch at $25 and dinner at $45.
Taxes
There's good news for Hawaii residents when it comes to taxes. Hawaii has some of the lowest property tax rates in the nation. The Tax Foundation ranks the state 41st in its 2022 State Business Tax Climate Index.
Hawaii has a graduated individual income tax, with rates ranging from 1.4% to 11%. Hawaii also has a 4.4% to 6.40% corporate income tax rate. The state has a 4% percent sales tax, a 0.5% maximum local sales tax rate. The average combined state and local sales tax rate is 4.44%.
The state's average effective property tax rate is only 0.27%.
For retirees, the state exempts Social Security retirement benefits and public pension income from state taxes, but fully taxes income from private pensions and retirement savings accounts. Hawaii also has an estate tax.
Miscellaneous Cost of Living Facts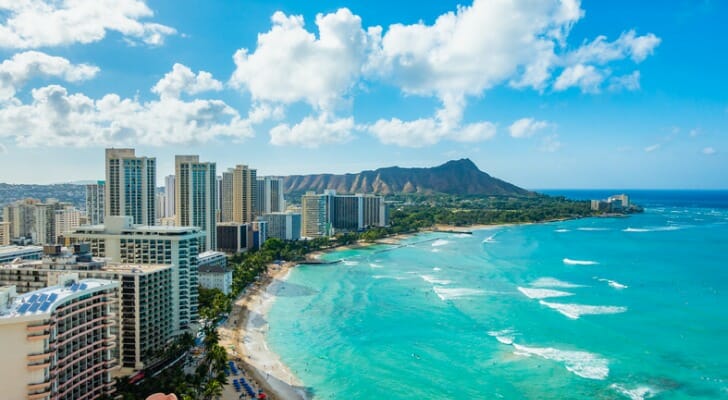 With plenty of public beach access, free entertainment is never hard to find in Hawaii. Between surfing, swimming, hiking and paddling, outdoor enthusiasts should be able to keep themselves busy without spending too much on entertainment.
If you want to take in some of Hawaii's history, you can visit Iolani Palace, where tickets that include a guided tour go for $27. The USS Arizona Memorial is run by the National Park Service and is free to visitors.
Tips for When You Move to Hawaii
Moving to a new city or state can have a big impact on your finances, especially one where the cost of living is higher. A financial advisor can be a big help in managing that change. Finding a financial advisor doesn't have to be hard. SmartAsset's free tool matches you with up to three financial advisors who serve your area, and you can interview your advisor matches at no cost to decide which one is right for you. If you're ready to find an advisor who can help you achieve your financial goals, get started now.
Don't forget to slide your money over to a local bank when you make your move. Here are a few choices to get you started: Territorial Savings Bank, Finance Factors, Hawaii National Bank and American Savings Bank.
Photo credit: ©iStock.com/Ron Thomas, ©iStock.com/okimo