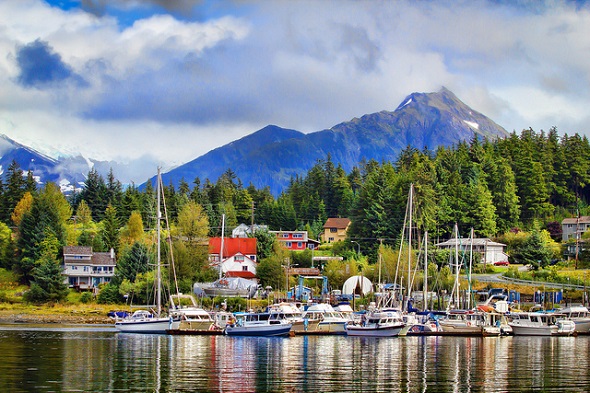 The capitals of America's 50 states form a highly diverse collection of cities. There are metropolises like Phoenix and Boston, and small towns like Topeka and Salem. Each has its own unique culture and political environment, with capitol buildings ranging from beautiful (Olympia, WA) to plain (Bismarck, ND). For legislative assistants, policy analysts and others in a political career, one of these state capitals may be preferable to the frenetic pace of Washington D.C. We collected data on all 50 state capitals to find the cities with the highest and lowest quality of life.
This is the 2014 version of SmartAsset's study. Read the 2015 version here.
Factors
In order to compare this wide-range of cities, we used a data-driven approach that accounted for variations in population. We considered the following four factors in our analysis:
Violent Crime per 100,000 People
Property Crime per 100,000 People
Unemployment Rate
Discretionary Income (Average annual income minus average yearly rent for a two-bedroom apartment)
Number of Dining and Entertainment establishments per 10,000 People
Find out now: Is it better to buy or rent?
Methodology
To create our Capitals Index, we ranked all 50 state capitals in all five factors. We then combined the violent crime rankings with the property crime rankings, giving 70% weight to violent crime and 30% weight to property crime, to produce a single rating for crime. We combined that with the remaining three factors to produce a single score, on a 0-100 scale, weighting each of the factors equally. A city ranked first in each factor (i.e. with the lowest crime and unemployment rates, the largest discretionary income and the highest number of entertainment establishments per capita) would score a perfect 100, and a city ranked last in each category would receive a zero.1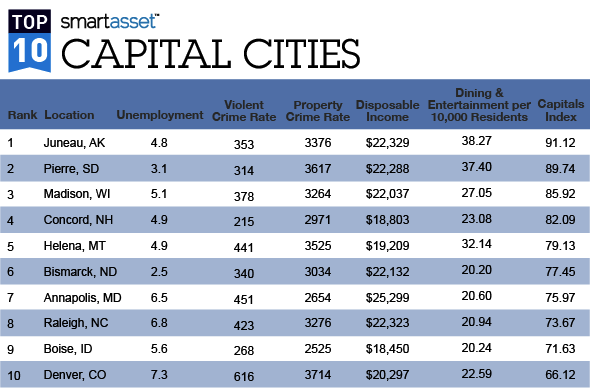 1. Juneau, Alaska
Located in the Alaskan panhandle, Juneau is unique in a number of ways. Along with being the Northernmost state capital, it is the only capital city that is not connected to the rest of its state by direct roads—surrounded by glaciered mountains on one side and the Pacific Ocean on the other, Juneau is reachable only by ferry or plane. That inconvenience has played a role in a decades-long debate over the possibility of moving the Alaskan capitol to a different city. The numbers indicate that the capitol is fine where it is, however; Juneau ranks first out of state capitals for dining and entertainment establishments, and second for disposable income. It also has the sixth lowest unemployment rate.
Find out now: How much house can I afford?
2. Pierre, South Dakota
Unlike Juneau, Pierre is about as conveniently located as possible: it was originally chosen to be the capital of South Dakota because it sits in the geographic center of the state. With just over 13,000 residents, it is the second least populous state capital (behind Montpelier, Vermont), and also one of the safest: it has the fifth lowest violent crime rate, and the 14th lowest property crime rate of all 50 state capitals.
3. Madison, Wisconsin
In a town known for its Midwestern charm, residents of Madison enjoy a high quality of life. With a median household income over $50,000 per year, it ranked sixth on our list for disposable income, and ninth for dining and entertainment establishments. It's also home to the University of Wisconsin's flagship campus, which provides ample opportunities for live music, public lectures and, of course, college football.
4. Concord, New Hampshire
The New Hampshire State Capitol building was built in the second decade of the 19th century, at a time when the town's population was under 3,000 people. While it has since grown to over 40,000 residents, it remains a safe and quiet place to live—Concord has the lowest violent crime rate among the 50 state capitals.
Buying a house? Compare mortgages here.
5. Helena, Montana
Originally named "Last Chance," after a nearby gulch in which gold was discovered, the town of Helena adopted its current name in 1864, when it became evident that the settlement was permanent. (Among the other names considered: Pumpkinville and Squashtown.) Helena ranked in the top 15 each of the five factors we considered, including having the 4th highest concentration of dining and entertainment establishments per capita.
6. Bismarck, North Dakota
The state of North Dakota has been the site of an unprecedented oil bonanza over the past several years, and Bismarck has been among the beneficiaries. It has the lowest unemployment rate of any state capital, and economic opportunities are abundant. While regions of the state closer to the oil wells are suffering a housing shortage that's given rise to the infamous "man camps," Bismarck appears to be facing no such difficulties: at under $800 per month, average rent for a two bedroom apartment was among the least expensive of the 50 capital cities.
7. Annapolis, Maryland
Just 30 miles east of Washington, D.C., Annapolis served as the U.S. capital for a brief two years in the 1780s, before settling into its more modest duties as capital of the state of Maryland. Nonetheless, it still plays a role in national affairs—Annapolis is home to the U.S. Naval Academy and in 2007 was the site of a Middle East summit which was attended by leaders from throughout that region, as well as Secretary of State Condeleezza Rice. The city's proximity to Washington also plays a role in its high per capita income, which, at over $40,000 per person, is the highest of any state capital.
8. Raleigh, North Carolina
As part of the North Carolina Research Triangle, Raleigh is one of the leading cities in the country for high-tech and bio-tech research. At the same time, it remains relatively affordable: the average rent for a two bedroom apartment is just over $900, second-lowest out of all the capital cities with populations exceeding 250,000.
9. Boise, Idaho
Boise has transformed in recent years, becoming a destination city for people from across the country. It boasts a thriving arts and music scene and the Boise Music Festival is one of the most popular outdoor festivals in the Northwest. Nonetheless, the city has managed to retain some of the quiet and security that defined it in prior years: it has the lowest property crime rate of any city we examined and the fourth lowest violent crime rate.
10. Denver, CO
With over 2.5 million people in the metropolitan area, Denver is one of the larger capital cities, and the largest to crack the top ten. For those who prefer an urban lifestyle but love the outdoors, the Mile High City offers the best of both worlds: with the Rocky Mountains less than an hour away, it's easy to get out on weekends for some summer hiking or winter skiing.
The Bottom Ten
The capital cities with the lowest scores on our Capitals Index include several southern capitals, a pair of Midwestern cities, one city from the Northeast and one from the Mountain West. The bottom ten was (with Index in parenthesis): Dover, DE (13.88); Atlanta, GA (20.05); Jackson, MS (20.10); Baton Rouge, LA (22.14); Indianapolis, IN (23.57); Salt Lake City, UT (24.44); Little Rock, AR (24.74); Montgomery, AL (26.93); Tallahassee, FL (27.34); Oklahoma City, OK (29.23); and Columbia, SC (29.64).
Read the 2015 version of SmartAsset's study of the best state capitals to live in.
Photo Credit: flickr
---
1. Data on violent crime and property crime rates came from the FBI's Uniform Crime Reporting database. Data on the unemployment rate came from the Bureau of Labor Statistics. Data on per capita income came from the U.S. Census Bureau, as did data on the number of dining and entertainment establishments per capita. Data on average rent came from the Department of Housing and Urban Development.