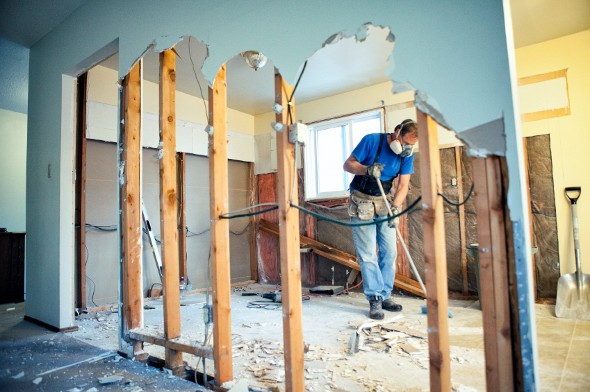 Remodeling your kitchen can be a great way to increase the value of your house before you put it on the market. Even if you're not planning to sell your home any time soon, you may want to remodel your kitchen if doing so is in your budget. Updating the look of your kitchen is generally a pricey undertaking. Here's our breakdown of costs and tips.
How much does it cost to remodel a kitchen?
The average cost to remodel a kitchen is $19,993 according to Homeadvisor's user base. At the low end, the average cost to remodel a kitchen starts at $5,000. At the high end, the average cost to remodel a kitchen is $45,000. Most users report spending between $11,269 and $28,717.
Of course, the answer to the question "How much does it cost to remodel a kitchen?" depends on several factors. If you're remodeling a big kitchen in a fancy neighborhood of Manhattan, you may pay upwards of $50,000 and as much as $100,000. If you're able to do some of the labor yourself you may be able to remodel your kitchen on the cheap.
The Breakdown: The Average Cost to Remodel a Kitchen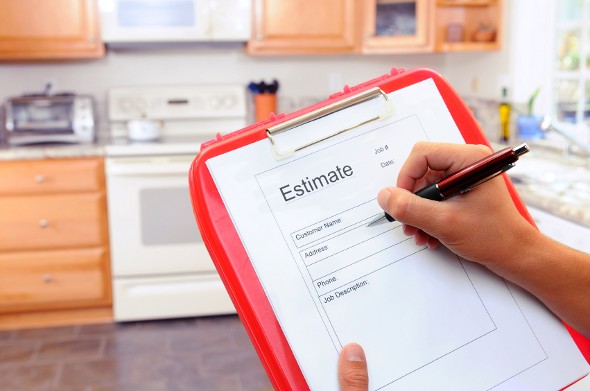 What are the expenses that go into the average cost to remodel a kitchen? Labor is a big one. Labor costs vary by state, city and zip code. Of course, as with any home remodeling project, you'll have to balance the quality of the work with the size of your budget. The contractor with the most glowing reviews may be out of your budget, which means you'll have to compromise in one way or another. You'll either have to undertake a smaller project with the more expensive labor or a bigger renovation with cheaper labor, which may or may not be of the highest quality.
Another major component of the total cost to redo your kitchen is the materials you choose. Whether you go with the finest materials bought through a decorator, head to IKEA, or recycle materials you find at the dump, your choices will make a big difference to the overall cost of the renovation. Vinyl or granite? Ceramic or laminate? How you answer these questions will help determine the cost of the project.
If you're buying a new refrigerator, sink, dishwasher and oven you'll likewise pay more than you would for a more cosmetic upgrade. However, newer isn't always more expensive. If you buy highly energy-efficient appliances you may save money on water and electricity over time.
The scope of the renovation is another determining factor. Replacing the floors, repainting the walls and refinishing the cabinets may seem like a big task, but it's modest compared to what some people do when they undertake a complete kitchen remodeling. If you have to redo electrical wiring, gas lines and plumbing to change the position of sinks and appliances, you can expect to part with considerably more cash. The same goes for adding built-ins, custom features or drawers to hide appliances. Keeping the existing layout of your kitchen can help you keep costs in check.
Related Article: All About Home Improvement Loans
Shopping Around
Once you have an idea of the scope of your renovations, you can start getting bids from contractors. If you're frequently changing plans, you won't be comparing like with like as the contractors' bids come in.
Ask the contractors who are bidding to break their bids down line by line. That way, you can make a detailed comparison between the bids of a handful of different contractors. With a per-item cost breakdown from different contractors in hand, you may be able to negotiate your way into a better deal.
Shopping around isn't just important when you're choosing a contractor; it's also a good idea when you're shopping for materials, since some materials are installed by their suppliers, who may charge lesser or greater installation fees.
Taking your time to choose your materials and renovation plan carefully is wise because "change orders" (when you change your mind about what you want your contractor to do) will cost you big-time. And since you'll already be committed to a contractor who has started to remodel your kitchen, the contractor can pretty much quote you any price on a change order and you won't have much room to negotiate.
Setting a Budget for Remodeling Your Kitchen
Setting a budget for remodeling your kitchen is a smarter move than embarking on a remodeling project without setting any financial limits. Some choose to finance the remodel with a tax-deductible home equity loan. If you can plan ahead, you might be better off paying for the project with money you've saved up.
If you're remodeling your kitchen because you plan to put the house on the market soon, it's a good idea to stick to crowd-pleasing updates rather than wild embellishments or bold color choices. The risk with a kitchen remodel that's designed to boost your home's selling price is that you might spend more than you get back if the renovation doesn't boost the home's market value by much. If you're planning to stay put in the home for decades, you can splash out a bit more and make changes to suit your taste, however eccentric.
Whether you're renovating to sell or to stay put, it's a good idea to decide on a firm budget before you embark on remodeling your kitchen and then take 15-20% of that budget and set it aside for any extras that come up during the project. For example, if the tile you selected is on back-order you might decide to go with a different, slightly more expensive tile for the sake of time and labor costs. That's where your backup budget can save the day.
Bottom Line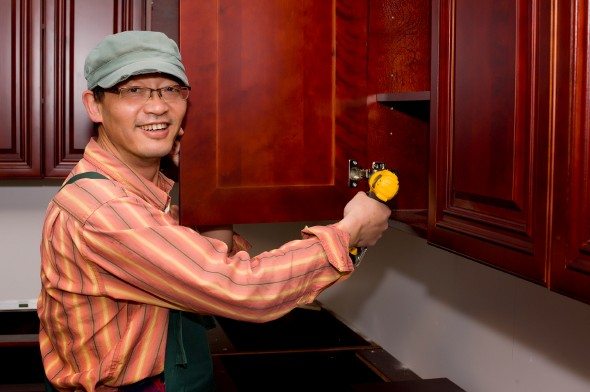 As with any home renovation, it's wise to shop around for service providers who have a reputation for professionalism and charge a reasonable price for their work. You don't want to have to redo a cabinet installation that goes awry or replace peeling flooring just a few years after you remodel your kitchen. It's also important to work out your vision before your contractor or other provider starts charging you for his or her time.
Financial Tips for Home Remodeling
Decide on a firm budget before starting in on the project, and make sure you understand all of the costs involved before the work begins. If you're having trouble saving up enough money, here are some budgeting tips.
Don't forget about the big picture. While it may be tempting to build the kitchen of your dreams, it's also important to save up for retirement and your kid's college education. Talking to a financial advisor before making a big investment can help you figure out how it fits in with your larger financial plan. The SmartAdvisor matching tool can help you find a person to work with to meet your needs. First you'll answer a series of questions about your situation and goals. Then the program will narrow down your options from thousands of advisors to up to three registered investment advisors who suit your needs. You can then read their profiles to learn more about them, interview them on the phone or in person and choose who to work with in the future.
Photo credit: ©iStock.com/powerofforever, ©iStock.com/Scukrov, ©iStock.com/OceanFishing