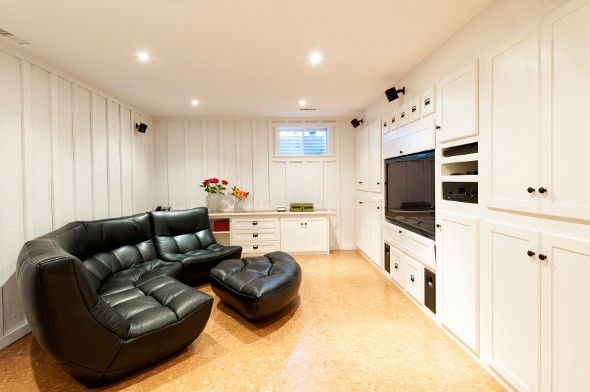 Are you considering finishing your basement? It may be on your mind if you want to increase the value of your home or expand your family's living space. The cost to finish your basement will depend on how elaborate you want the renovations to be. In general, though, there are a few rules that can help you estimate the cost and craft a budget for the project.
Find out now: How much house can I afford?
Average Cost to Finish a Basement: The Basics
The average cost to finish a basement is generally between $25 and $50 per square foot, but costs can go as high as $90 per square foot depending on how extensive the renovations are and the materials and labor you choose. For most basements, the average cost works out to around $30,000.
Of course, these kind of average cost numbers vary widely. Homeadvisor members report spending between $5,000 and $40,000, with an average cost of $18,544. Fixr puts the average cost per square foot at $90. You may want to consult online forums in your area or ask friends and neighbors how much they paid to finish their basements.
Related Article: What Are HUD Loans?
Factors that Determine the Cost to Finish a Basement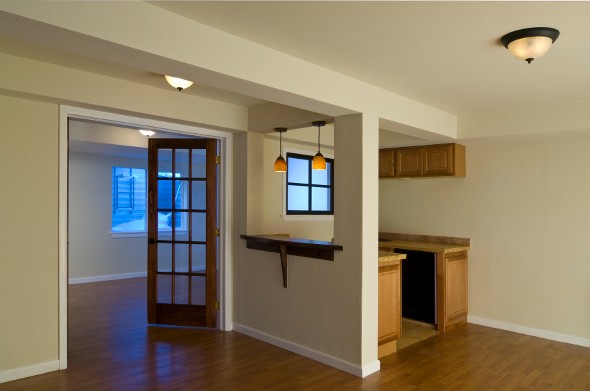 Size isn't the only important factor that determines how much it will cost to finish your basement. One major component is the cost of the labor. If you're a skilled contractor or DIY pro you may be able to do everything yourself, but most of us can't count on that cost-saving measure. Labor costs vary widely from place to place. If you live in the Tri-State area, for example, you'll likely pay more than you would in, say, Nebraska.
What drives the cost? Well, you'll need plumbing to set up the bathroom (and the kitchen if you install one). You'll need installation work for cabinets. You'll need an electrician to wire for lighting. And you'll need someone to help you with the flooring and drywall. If you don't want to paint your own walls, you'll need painters. Then there's the cost of all the relevant materials and whatever furnishings you choose.
Also important to the cost calculation is what you have in mind when you think "finished basement." Assuming you want a bathroom, do you want a full bath or a half bath? Do you want a full kitchen? A basic set of furniture or a pool table, exercise machine and wet bar? Will you stick with concrete floors or add carpeting or hardwood? Your answers to these questions will help determine the cost of finishing your basement.
Another feature that can add to the cost is compliance with local building codes. If you're turning your basement into a sleeping space, you'll need to have an emergency exit separate from the staircase that connects the basement to the main part of the house. This can be a door or what's known as an egress window. It's important to comply with local codes when it comes to the dimensions of your egress window.
The International Code Council, which many communities use as their default code for basement emergency egress rules, requires that any basement with one or more bedrooms have emergency exits and rescue openings in each sleeping room. You may also be required to include emergency openings in living rooms. You may cringe at the cost, but these requirements help keep you safe and ensure that first responders can access the basement in the event of an emergency.
Check out our budget calculator.
How to Cut Costs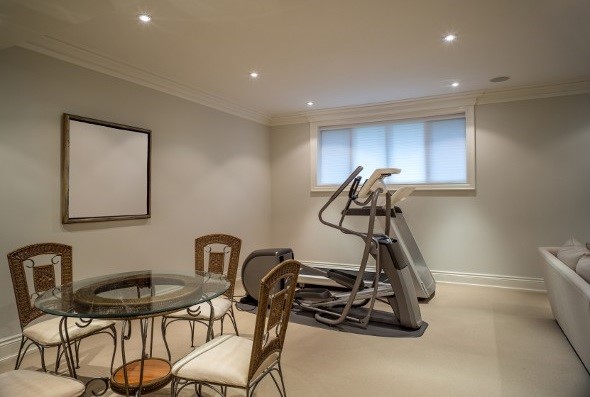 Undertaking a more modest project will help you save money. If you decide you don't need a kitchen and can make do with a half bath, you'll save a bundle. There are other ways to cut costs, too. You can paint the walls yourself or with the help of friends and family (be sure to provide some pizza!).
You can also choose more modest materials and furnishings. Of course, you don't want to skimp on the materials that are important for, say, insulating the basement or keeping water from leaking into the flooring. But you can choose more modest hardware, curtains and furnishing if you're trying to keep to a tight budget.
As with any home renovation, it's a good idea to get quotes from a few service providers before you commit. That way, you can compare prices and maybe even negotiate a better deal.
Bottom Line
Finishing your basement provides an estimated 73% return on investment when it comes time to sell your home (although that might vary). If you live in an area that's prone to flooding, you may decide that finishing your basement is too much of a risk. Or, if the home in question is an investment property you may decide that finishing the basement isn't worth the cost.
But if you decide to go forward with the basement renovation project, it's a good idea to work out the costs before you bring contractors in. Ideally, you would be able to pay for the project without taking on debt. It may be helpful to consult a financial advisor to figure out how the investment will affect your overall budget and financial plan. A matching tool like SmartAsset's SmartAdvisor can help you find a person to work with to meet your needs. First you'll answer a series of questions about your situation and your goals. Then the program will narrow down your options to three fiduciaries who suit your needs. You can then read their profiles to learn more about them, interview them on the phone or in person and choose who to work with in the future. This allows you to find a good fit while the program does much of the hard work for you.
Photo credit: ©iStock.com/Elenathewise, ©iStock.com/seanfboggs, ©iStock.com/FOTOGRAFIA INC.