People take many factors into account when deciding where to buy a home. For some homebuyers access to good public schools is crucial, while for others safety is the top priority. Homebuyers may also want take into account whether their home value is expected to rise. But knowing where home values are expected to grow and how fast they are going to grow can be hard to predict. Below we rank 10 rising housing markets where, based on current data, home values can be expected to increase.
Find out: How much home can you afford?
In order to find the housing markets on the rise, we looked at data on population change, housing unit change, median income change and median home value change. To understand where we got our data and how we put it together to compile our rankings, see the data and methodology section below.
Key Findings
Consider Texas property – Texas cities claim half of the spots in our top 10. Colorado is the only other state has more than one city in the top 10. There are also another three Texas cities ranked between 11 – 25, giving the state a total of eight appearances in the top 25.
It may be better to rent in Michigan – Three of the 10 housing markets at the bottom of our list are in Michigan. They are Detroit, Lansing and Warren. It may make sense to rent here with home values falling.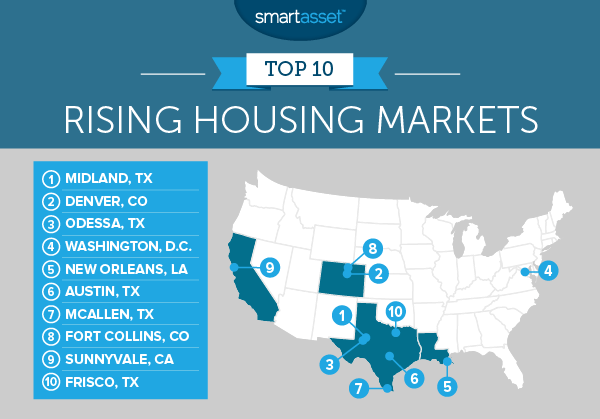 1. Midland, Texas
Good news for Midland homeowners: Median house values rose 23% from 2011 to 2015 and median incomes rose almost 20%. For both of those measures, Midland ranks first in our study. And what's more, plenty of people are flocking to the city. Population is up 12.78% in the past five years but the number of housing units has only risen 5.71%. With demand for housing outpacing the supply, housing values may continue to rise.
2. Denver, Colorado
There could be a number of reasons why people are be moving to Denver. The weather is good, with almost 300 days of sunshine per year and the skiing is some of the best in the country. Data from the Census Bureau shows that Denver's population increased by 10% from 2011 and 2015. Over that time the number of housing units only increased by 3.7%, raising the demand for housing.
3. Odessa, Texas
Odessa is similar to Midland, it's another Southwest Texas town where the local economy is powered by the energy sector, specifically oil. Despite the downturn in oil prices, median incomes in Odessa rose 14% from 2011 to 2015, according to Census Bureau data. That may be one explanation for why Odessa's population has recently risen. From 2011 to 2015, the Odessa population rose almost 12%. That far outpaced the growth in home units, which grew only 6.6% over the same time period. Given that fact and the growing economy, it seems likely that median home values will continue to rise.
4. Washington, D.C.
Washington, D.C. is one of the least affordable cities in the top 10. In 2015, the median home value in the nation's capital was $475,800. Despite that high price, it seems likely that prices will to continue to rise. Washington, D.C.'s stock of housing units increased by only 2.64% over the 2011 to 2015 period. Over that same time the city's population increased by 9%. Can't decide if now is the time to buy a home in D.C.? Check out our rent vs. buy calculator.
5. New Orleans, Louisiana
The Big Easy ranks fifth on out list of rising housing markets. Median incomes were up about 8% from 2011 to 2015, meaning people in New Orleans have more spending power. With population growth outpacing housing unit growth by about 10%, expect some of that income to go toward housing.
6. Austin, Texas
Austin comes in sixth for rising housing markets. People are moving to Texas' capital for many reasons. The economy is doing well with median incomes up 7.36% and Austin is a great city for creatives. All this has put upward pressure on home values. From 2011 to 2015, median home values grew almost 14% in Austin. The housing prices may keep rising because the Austin's population is growing faster than its housing supply by 5.19%.
7. McAllen, Texas
Located in southern Texas just before the Mexico-U.S. border, McAllen is another city with a rising housing market. The population of McAllen has grown 6.8% over the 2011 to 2015 period – perhaps attracted by the rising incomes. While that's a smaller growth than Austin's (13%) or Midland's (12%), consider that the housing stock in McAllen has only increased by 1.7%. That makes for a difference between new population and new housing of 5.17%.
8. Fort Collins, Colorado
Fort Collins residents have seen some of the fastest home value growth in the country recently. From 2011 to 2015, median home values rose 9.74%. Only 13 cities across the country saw faster growth than that. With population growing at 7.7% and housing units only growing 2.39%, it's likely that median home values will keep rising. Unfortunately for Fort Collins residents, the home value rise is outpacing the rise in median income by about 2.5%, so home affordability may become an issue.
9. Sunnyvale, California
SmartAsset found that Sunnyvale was the safest city in America for two years in a row. Perhaps that partially explains why its population increased by 7% from 2011 to 2015. Interestingly the difference between Sunnyvale's population growth and its housing stock growth was only 3.1%. That's one of the lowest differences in the top 10, but home values may continue to grow because median incomes in the area are rising rapidly. Sunnyvale residents' median incomes rose 14.19% on average from 2011 to 2015 – the biggest jump in the top 10.
10. Frisco, Texas
Another Texas city rounds out our top 10. Frisco is a relatively small city with a population of only 137,000 as of 2015. But that population has growing quickly. From 2011 to 2015, the population shot up 25% and with it came a boom in housing. Housing stock jumped 20.6% over the same period, resulting in a 4.6% difference between new people and new housing units. If you are looking to get into the Frisco housing market, you may want to act soon as it has the sixth-fastest housing price growth.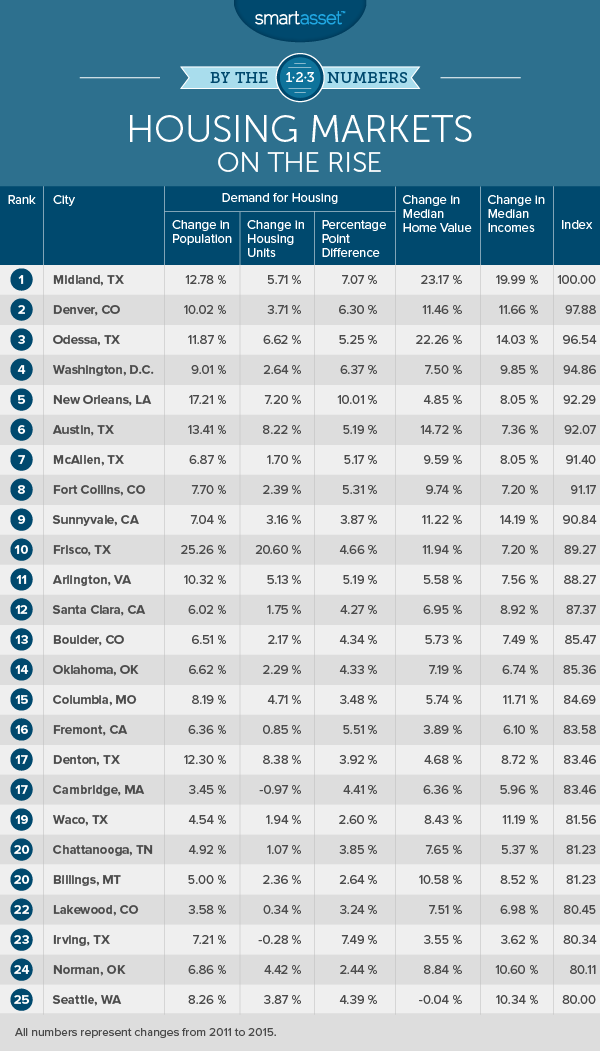 Data and Methodology
In order to find the top 10 rising housing markets, we looked at data on 308 cities with a population over 100,000. Specifically we looked at:
Change in median home values. This is the percent change of median home values from 2011 to 2015. Data comes from the 2011 and 2015 U.S. Census Bureau's 5-Year American Community Surveys.
Change in median incomes. This is the percent change in individual median incomes. Data comes from the 2011 and 2015 U.S. Census Bureau's 5-Year American Community Surveys.
Difference between population change and housing unit change. This is the percentage point difference between the percent change in population and percent change of housing units from 2011 to 2015. Data is from the U.S. Census Bureau's 2015 5-Year American Community Survey. Here is an example: In Midland, Texas, the population grew by 12.78% and the number of housing units grew by 5.71%, thus the difference between them is 7.07%.
We ranked each city across each of the three metrics giving equal weight to each metric. Next we found the average ranking for each city. Finally we scored each city based on its average ranking. The city with the highest average ranking received a score of 100 and the city with the lowest average ranking received a 0.
Questions about our study? Contact us at press@smartasset.com.
Photo credit: ©iStock.com/Photobuay