Moving into a new home? Congratulations! If you're feeling overwhelmed by everything you need to get done before your moving date, we've got you covered with our moving checklist. The goal is to make sure you've thought about all the different task, both big and small, that need to be completed prior to the actual moving day. A moving checklist can keep you organized so you don't forget anything.
The below guide will break your moving tasks into manageable two-week chunks. Use our moving checklist as an outline for a less stressful move:
Two months out
Moving can get expensive. About eight or nine weeks before your move, start saving for moving expenses and make sure you're on track to be able to pay for things like packing supplies, movers and a hotel stay if one will be necessary. If you're not going to be using movers, start calling in favors now. If you are using movers, begin getting quotes from different companies. You'll also want to compile a "moving file" that will include all documentation and records associated with the move, particularly if your employer is reimbursing you for moving expenses. Next, start cleaning your house and collecting any unwanted items. There's no point lugging these to your new home just to get rid of them. If you have kids and are moving to a different school district, now is a good time to register your children with their new school(s) and begin the process of having their records transferred.
Still well before the big day
Six or seven weeks before moving day, hire your moving company and finalize the contract. Hold a garage sale for those unwanted items you have collected and donate the rest. Remember to keep records of charitable donations so you can deduct them at tax time. Next, let your bank and credit card companies know that you will be moving. Alert your healthcare professionals as well, and ask for referrals in your new location if you'll be changing practitioners. Arrange for the transfer of your medical and dental records, and the veterinary records of any pets in the family. Head to your new home and take measurements to make sure your furniture will fit. With measurements in hand, you can also start shopping for any décor items you'll need to buy for the new space.
A month until move in
Panic may be starting to set in but fear not – this moving checklist will help you get there! Four or five weeks out, arrange for the movers to come by and assess what will need to be moved. That way, they'll give you the most accurate quote and ensure that they bring the correct number of trucks and movers. Buy moving supplies—things like boxes, tape, markers, moving blankets and plastic bins. Then start packing! Make sure to label things in a way that will make it easy for you to put the boxes in the right rooms and know what's where.
Contact utilities and service providers and arrange a date for service discontinuation at your current home. This is especially important if you've got direct debit set up for any of these services. You don't want the charges to continue after you move. Set up termination dates for your electric, gas, telephone, cable, water and lawn service if you have them. Start researching where you will get these services when you're in your new home. Arrange for mail delivery to begin at your new home after your move. Talk to your insurance agent about transferring your home insurance to your new place. If you're moving from a rental, talk to your landlord and arrange for the return of your security deposit. Start using up items you won't be able to move easily, like frozen foods, pantry items, aerosols and toiletries.
A fortnight to focus
When your move is two or three weeks away, put together your "first night box." This will include all the necessities for a comfortable first night, in case you only have the time and energy to unpack one box. For your first night box, think bedding, bathroom supplies and medicine. Throw in kitchen essentials if you plan to cook, and a basic tool set in case you're feeling ambitious and want to hang some pictures or blinds. Do a deep clean of your current house. Head to your new place and give it a cleaning, too, so it will be sparkling on move-in day. Arrange for deliveries of items you'll need at your new place—things like new appliances and furniture. Confirm parking for your moving van and obtain any necessary permits. If your moving day will be during the week, let your office know that you'll be taking the day off from work.
Seven days and counting
Next on our moving checklist are the last minute details. The week before you move, put together a package of things you'll need to hand over to the new owner of your current place: keys, necessary documentation of utilities and your forwarding address. If you're doing a long-distance move, get rid of flammables, corrosives, poisons and other things that shouldn't be shipped. Take all your valuables—things like fine jewelry and important documents—and set them aside. You'll want to move these by hand on the day. If you have small children or pets, you may want to arrange for them to be with friends, relatives or a sitter on moving day so they're not underfoot when the movers come. Empty and defrost your freezer and fridge.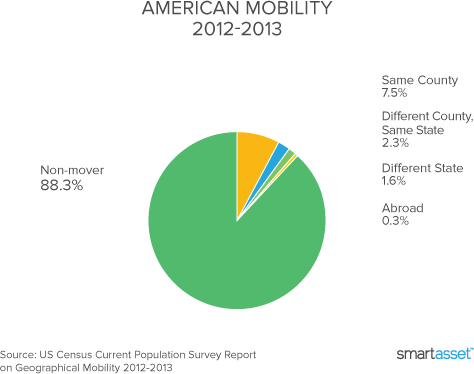 It's go time
On moving day, take careful inventory of all boxes and furniture as they're loaded onto the moving truck. Make sure that your inventory matches the mover's list. This will be important if you need to make an insurance claim at some point after the move. Exchange cell phone numbers with the moving truck driver and give precise directions to your new home. Take pictures of your current home and perform a final inspection. This will help you head off any potential disputes regarding the condition of the home when you move out and the new owners move in. Check all closets and drawers to make sure you're not leaving anything behind. Lock all windows and doors. Make sure you have a check for the moving company and generous cash tips for the movers.
Phew!
You're in your new home. Oversee the unloading of your boxes and furniture. Make sure everything you are expecting gets through the door. Then, check that your utilities are set up. You'll need gas, electricity and water—and probably wireless internet, we're guessing. Once you're in your new home and you've caught your breath, you can relax and celebrate. Hopefully by planning and following this moving checklist, the process went smoothly! And there will be time for unpacking tomorrow.