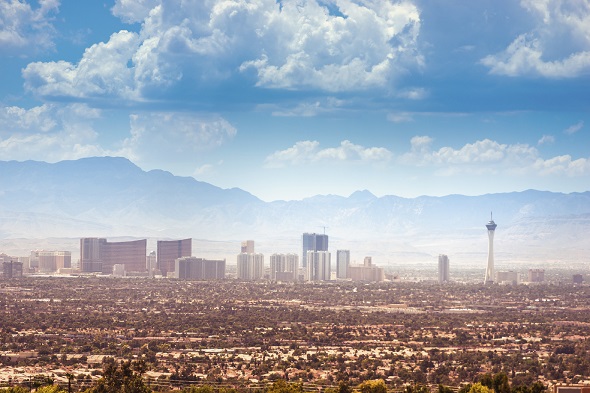 Traveling on a budget can be tricky and all the more so if you have children. While most of us would love to fly to Paris for the holidays or spend a few weeks in Australia this summer, those destinations are often too expensive for the typical American family to visit but once in a blue moon. But that doesn't mean there aren't more affordable options closer to home.
This is the 2015 version of our study. Check out the 2016 study here.
SmartAsset looked at data on airfare, hotel rates, car rentals and dining in 36 of the country's largest and most exciting cities to find the most affordable travel destinations in the U.S. (read more about our methodology below).
Want better travel rewards? Compare rewards credit cards.
Key Findings
Go West. Five of the ten cheapest places to travel to in our analysis are located in the west. Las Vegas ranked first overall and the top ten also included Albuquerque, Salt Lake City, Denver and Phoenix.
The Sunshine State also rated well. Four of the top ten cities were located in Florida, led by Orlando.
Avoid the Northeast. New York, Boston, Philadelphia and Washington, D.C. are alive with history, offer great dining and have rich culture—but they aren't cheap travel destinations. They each rated in the bottom 11 of our study, with NYC coming in dead last.

1. Las Vegas, Nevada
Sin City may not be the first place that comes to mind when thinking of family-friendly travel destinations but the data shows it's worth considering when planning your next getaway. According to the FAA, the average roundtrip airfare to Vegas in the summer is just $265, cheaper than to any other major U.S. city. Once you're there, if you're willing to forgo the penthouse at the MGM Grand, you can score an average hotel room for $116 per night, 8th lowest in our study.
In all, SmartAsset found that the average baseline cost of a three-day trip to Vegas would be $2,287, cheapest of any city in our study. Of course, that doesn't include add-ons like admission to the Cirque du Soleil, tickets for a ride to the top of the 1,081 foot Big Shot thrill ride or a flight at Vegas Indoor Skydiving—so remember to set aside some extra cash in your budget for entertainment.
2. Orlando, Florida
There is a major draw for families visiting Orlando: theme parks. There are some inexpensive ways to visit Disney World, SeaWorld, LEGOLAND or Universal Studios. Look for family packages that allow you to bundle airfare, admissions tickets and hotel rooms under one price. There are often deals for certain times of year or special discounts available through your employer. You may even be able to beat the price of $2,296 for a family of four that we calculated as a baseline in Orlando.
3. Tampa, Florida
On average, it costs just $26 per day to rent a car in Tampa (assuming you're okay with the cheapest car on the lot), the second lowest car rental rate of any city in SmartAsset's study. That car will come in handy if you want to visit one of the area's breathtaking white-sand beaches: Caladesi Island State Park, Fort DeSoto Park and Clearwater Beach are all within an hour's drive of downtown Tampa.
4. Fort Lauderdale, Florida
"Venice of America" ranked among the five cheapest travel destinations in the U.S. for three of the four metrics SmartAsset considered. Airfare, car rentals and dining in Fort Lauderdale all cost well below the national average. That's part of the reason Fort Lauderdale is one of the most visited cities in the country—but not the only reason.
Fort Lauderdale (which also ranks as the 13th best U.S. city for retirement) boasts the warm, sunny weather for which South Florida is known, a ridiculous number of golf courses (63 in the metro area according to the city's Visitors Bureau) and easy access to the Everglades.
5. Albuquerque, New Mexico
The largest city in New Mexico, Albuquerque ranked second in the U.S. (among the 50 most popular travel destinations) for its average hotel rate, which is just $89 per night. Once you're there, make sure to take a ride on the Sandia Peak Tramway, which rises to an elevation of 10,378 feet, providing astonishing views of Albuquerque, the Sandia Mountains and easy access to hiking or biking trails.
6. Salt Lake City, Utah
While airfare to Salt Lake City isn't exactly cheap, averaging $402 per roundtrip ticket according to the Bureau of Transportation Statistics, travelers to SLC will reclaim that money in savings on car rentals and hotel rooms, which cost just $36 and $104 per day, respectively.
One of the main draws in the Salt Lake area is skiing, but for those who don't like snow, there are plenty of other attractions. The Hogle Zoo is a popular choice for families, with tickets costing $14.95 for adults and $10.95 for children. Soccer fans can enjoy a Real Salt Lake game at Rio Tinto Stadium, in nearby Sandy.
7. Kansas City, Missouri
KC may not be on your weekend-adventure radar, but it should be. Along with being one of the most affordable destinations in the U.S., it offers plenty of action for the fun-seeking family. Food-lovers are required to try the local barbecue, which some would argue is the best in the country. History buffs can get lost in National World War I Museum. Sports fans can catch a baseball game at Kauffman Stadium or a football game at Arrowhead (which annually vies for the title of loudest stadium in the NFL).
8. Denver, Colorado
The Mile High City is among the top 20 cheapest cities in all four of the metrics included in SmartAsset's analysis. That, and Denver's proximity to the Rocky Mountains, make it a great choice for budget-conscious travelers who want to enjoy a weekend of hiking. We found that, on average, a family of four could do a three-day weekend in Denver—including airfare, a rental car, a hotel room and dining—for a total of $2,738.
Related Article: 19 Things You Need to Know About Moving to Denver
9. Jacksonville, Florida
Situated on the St. Johns River in northeast Florida, Jacksonville is the largest city in Florida. SmartAsset's analysis found that a family of four could visit the city for a three-day weekend at a baseline cost of just $2,750.
10. Phoenix, Arizona
For those seeking sunshine and warmth year-round, Phoenix is the place to go. The city receives over 3,800 hours of sunshine per year, which comes out to more than 10 hours of sunshine per day. Phoenix ranked among the ten cheapest travel destinations in SmartAsset's study for both its average roundtrip airfare ($363 per ticket) and its average hotel rate ($116 per night).

Eight of the ten cities that ranked among the top ten cheapest travel destinations for families were also ranked among the top ten for single travelers: Orlando, Las Vegas, Tampa, Albuquerque, Salt Lake City, Fort Lauderdale, Jacksonville and Phoenix. Two other cities that ranked outside the top ten for families were among the ten cheapest travel destinations for individuals.
Indianapolis, Indiana
Travelers to Indianapolis are often surprised by the city's cultural and gastronomic offerings. Indy has seven separate cultural districts, several of which are connected by bike trails. It also has an expanding microbrewery scene, with about 30 breweries in town. SmartAsset found that a single traveler could spend a weekend in Indy for just $1,012, including roundtrip airfare and three nights at a hotel. This made it the 8th best city in our study for single travelers.
San Antonio, Texas
Alamo City has some of the top attractions in the state of Texas. Among the most visited are the Riverwalk, a charming, cafe-lined strip along the San Antonio river, and the Alamo Mission. Then there's the food, which is both delicious and cheap. In fact, San Antonio is 4th cheapest for dining out of any city in SmartAsset's analysis. It came in 10th overall for cheap destinations for single travelers.

Data & Methodology
To find cheap travel destinations throughout the country, SmartAsset looked at 36 of the largest cities in the U.S. For each of the cities in our analysis, we calculated the average cost of a three-day weekend trip. We combined the average price of roundtrip airfare into each city with the average nightly price of a hotel room and the average daily price of a rental car. We added to that the average cost of eating out two meals a day at a typical mid-range restaurant in each city —that is, restaurants that are neither very cheap nor very expensive.
Our analysis included two separate calculations: the average vacation cost for a family of four and the average cost for an individual. We assumed a family of four would need four roundtrip airplane tickets, two hotel rooms and one rental car. We assumed an individual would need one airplane ticket, one hotel room and one rental car.
Data on average roundtrip airfare came from the Bureau of Transportation Statistics. Data on the cost of a meal at a restaurant came from numbeo.com. Data on average car rental rates came from cheapcarrental.net and data on average nightly hotel room rates came from hotel-price-index.com.
Read the 2016 version of SmartAsset's study of the most affordable U.S. travel destinations.
Questions about our study? Contact us at blog@smartasset.com.
Photo credit: ©iStock.com/franckreporter