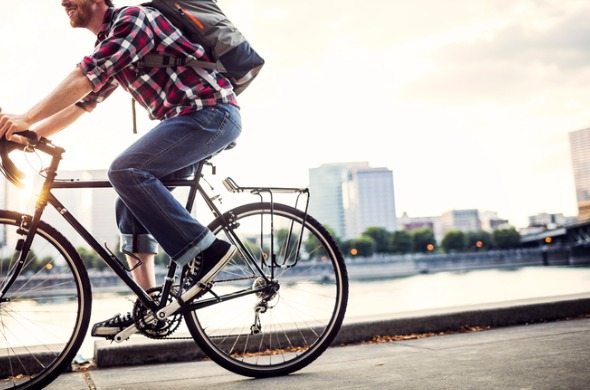 Oregon is known for its geographic diversity. The dense forests and bodies of water which dot the Oregon countryside make it a haven for nature lovers. And there are big populous metro areas like Portland which is known as a counter-culture hub. Regardless of what you like to do, Oregon has something for everyone. Below we look at these and other factors to find the best places to live in Oregon.
Moving to the Beaver State? Check out current Oregon mortgage rates.
To find the best places to live in Oregon, we looked at data on seven factors. We analyzed data on home values, incomes, unemployment rates, housing costs, poverty rate and the uninsured rate. Check out our data and methodology section to see where we got our data and how we put it together.
Key Findings
Northwest Oregon is where it's at – Every city in our top 10 is located in northwest Oregon. This part of the state has the most access to jobs, an important determinant when measuring how livable a city is.
Portland suburbs – Portland is the economic heart of Oregon. Many of our cities are located around Portland. Portland itself, however, only ranks 14th.
Smaller cities do well – The biggest cities in Oregon like Salem, Portland and Eugene all fell outside our top 10. The average population across the 10 best places to live in Oregon is 40,000.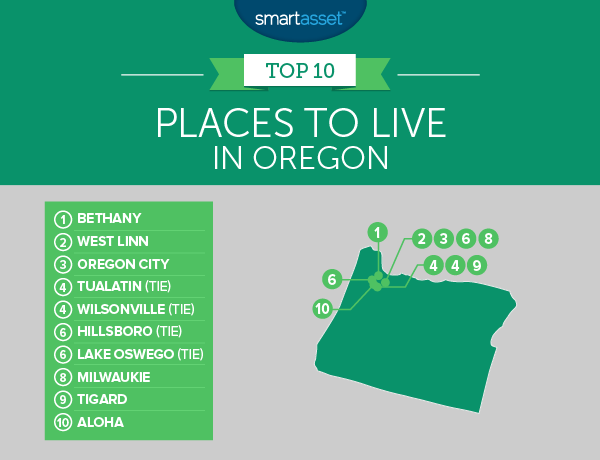 1. Bethany
When it comes to living in Oregon, Bethany is a tough city to beat. This city of about 22,000 residents, located in Oregon's northwest corner, scored first or second in six out of the seven metrics we analyzed. This area has the lowest unemployment rate and we estimate the average household earns over $116,000 per year.
One drawback for residents, however, is the high housing costs. Our data shows that the average home here costs almost $1,700 per month. That makes Bethany the least-affordable place we analyzed.
2. West Linn
Like Bethany, living in West Linn can get pricey. The median home costs over $1,600 per month. However, it would appear there is plenty of demand to live here. The median home sells for just under $400,000, third-highest in our study.
West Linn is a thriving community, economically speaking. The median household earns over $85,000. While $85,000 is a large amount, it may not go as far in Oregon as it does in other states. Oregon has high income taxes and costs of living.
3. Oregon City
This city, located just south of Portland, is known for its history. It was the first U.S. city incorporated west of the Rocky Mountains and was the original capital of the Oregon Territory. It is also known as the last stop on the Oregon Trail.
That livable tradition continues into the present day. This city has the second-lowest amount of income inequality in our study and, according to our data, only 11% of residents have an income which puts them below the poverty line.
4. (tie) Tualatin
Tualatin is a good place to be if you are looking for economic opportunities. This Portland suburb contains some of the highest-earning residents in the state. The median household in Tualatin earns over $66,000 per year. One area of concern is that this economic prosperity is not spread out very well. Tualatin has a Gini coefficient of 0.449 which is the third-worst in our top 10. (The Gini coefficient is a measure of inequality in which 0 represents perfect equality and 1 represents perfect inequality.)
Like other wealthy Portland suburbs, it may be difficult to move here without having a pretty high-paying job. According to Census data, the median home in Tualatin costs over $1,250 per month.
4. (tie) Wilsonville
Wilsonville is a city of about 21,000 residents. It's located between Portland and Salem, the two economic powerhouses in the area. This gives residents access to both job markets.
In general, Wilsonville residents profit from this. The city has the third-lowest unemployment rate and the fourth-lowest percent of residents under the poverty line. Wilsonville is also slightly more affordable than other cities in our top 10.
6. (tie) Hillsboro
If you're looking for a good place to buy a home, Hillsboro may not be a bad option. Our data shows that the median home here is only $240,000, relatively affordable compared to other cities in our top 10. Plus, the average mortgage rate in Oregon is actually lower than the national average, and trending down.
This city is located just west of Beaverton and comes with its own airport. One concerning metric for residents here is the relatively high number of uninsured residents. According to data from the Census Bureau, about 12% of residents here lack health insurance. That raises the chance that residents here may fall into medical debt.
6. (tie) Lake Oswego
This city, centered around its eponymous lake, is located just northeast from fellow top 10 city Tualatin. If you're into lake activities, this is obviously a great city for you. Lake Oswego residents also have access to Mount Sylvania, an extinct volcano, which is great for hiking.
All these wonderful attractions come at a price, however. According to our data, if you want to live around Lake Oswego, you'll need to pay just under $1,650 per month in average housing costs. If you are looking to buy a home in the area, average home values are about $480,000
8. Milwaukie
This city, which is named after the city of Milwaukee in Wisconsin, takes eighth. The city scores high thanks to its affordability. The median home here costs just $1,000 per month, the best score in our top 10. It also has one of the better Gini coefficient scores in the top 10 (0.39).
9. Tigard
Tigard is part of the Portland metropolitan area. This gives residents access to high-paying jobs. Households in Tigard, on average, make over $62,000 per year. When you subtract average housing costs – which are about $1,217 per month – Tigard residents still have over $47,000 left.
Of course, you also need to take taxes into consideration. According to our Oregon income tax calculator, a married household in Tigard making $62,000 per year will have to pay about $18,000 in taxes, which is about 30% of their income. One plus to living in Oregon however is the lack of sales tax.
10. Aloha
This list of the 10 best places to live in Oregon ends with Aloha. The city has a relatively low amount of income inequality and high average incomes. This city has the third-lowest Gini coefficient in the study and the sixth-highest median income.
But with Aloha's economic prospects comes fairly high housing costs. The median home in Aloha costs over $1,300 per month.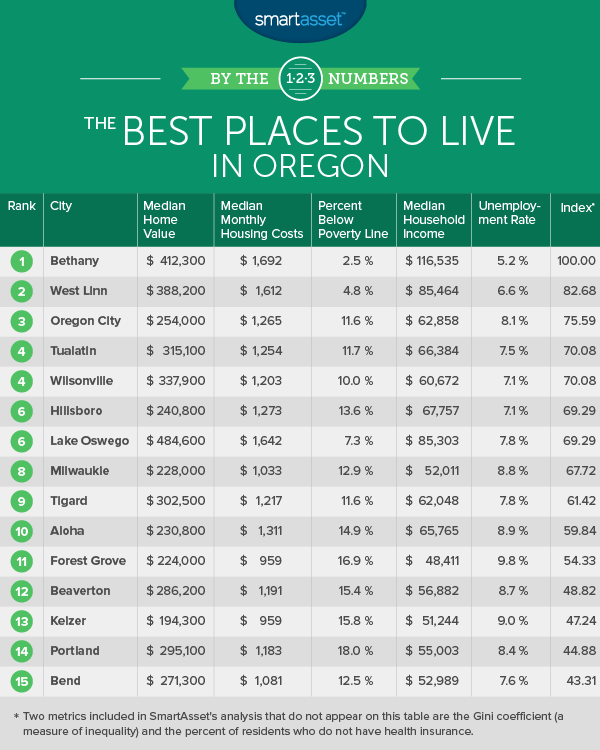 Data and Methodology
In order to rank the best places to live in Oregon, we looked at data on 30 cities with a population of at least 20,000. We compared these cities across the following seven metrics:
Median home value. Data comes from the U.S. Census Bureau's 2015 5-Year American Community Survey.
Median housing cost. Data comes from the U.S. Census Bureau's 2015 5-Year American Community Survey.
Gini coefficient. This is a measure of income inequality. A score of 0 means perfect equality. A score of 1 means perfect inequality. Data comes from the U.S. Census Bureau's 2015 5-Year American Community Survey.
Percent of population living below the poverty line. Data comes from the U.S. Census Bureau's 2015 5-Year American Community Survey.
Median household income. Data comes from the U.S. Census Bureau's 2015 5-Year American Community Survey.
Unemployment rate. Data comes from the U.S. Census Bureau's 2015 5-Year American Community Survey.
Percent of residents without health insurance. Data comes from the U.S. Census Bureau's 2015 5-Year American Community Survey.
Tips for Buying a Home in Oregon
If you're looking to buy a home and settle down in Oregon, there are a few things you should be aware of. For starters Oregon can be expensive. The median home value in Portland, for example, was just under $300,000, according to the Census Bureau's 5-year analysis. There are more affordable homes in other cities like Salem.
You should be aware that mortgage rates in Oregon are below the U.S. average. That means you should be able to find competitive mortgage rates, especially if you have a good credit score.
When buying a home, one long-term cost is property tax. Oregon's effective property tax rate is below the national average. This will come into play when you are figuring out how much to budget each month to paying your mortgage.
Finally if you are planning to retire in Oregon, it's important to know how Oregon treats its retirees. Oregon does not tax social security income but pensions are partially taxed. Also all wages are taxed at normal rates and Oregon has a marginal tax rate of 9%.
Questions about our study? Contact us at press@smartasset.com.
Photo credit: ©iStock.com/RyanJLane