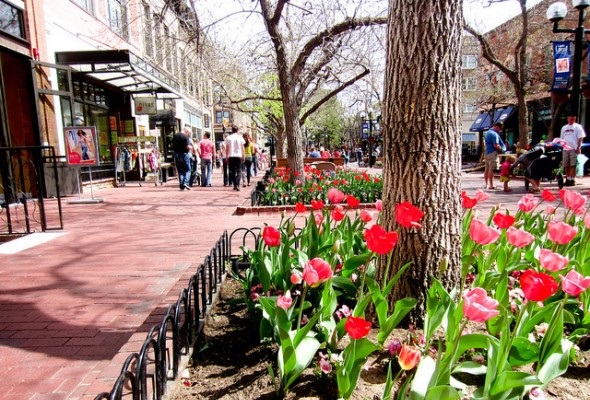 Whether you are a fresh college graduate or just someone looking for a fresh start, college towns can be great places to live. SmartAsset analyzed the data to find the best (and worst) college towns to live in.
This is the 2014 version of SmartAsset's study. Read the 2015 version here.
Factors
In our quest to find the most appealing places to settle down we looked at 5 factors:
Discretionary Income (DI) – average yearly income for city minus average yearly 2 bedroom rent for that city
Number of arts, entertainment and recreation establishments per 100,000 people (A&L)
Unemployment Rate (UE)
Number of Violent Crimes per 100,000 people (VC)
Number of Property Crimes per 100,000 people (PC)
Related: What Neighborhood is Right for Me?
Methodology
We ranked college towns on these 5 factors and then combined those rankings to create a "quality of life score" to identify the most safe, affordable fun college cities with economic opportunity. The lower the score, the better.
The List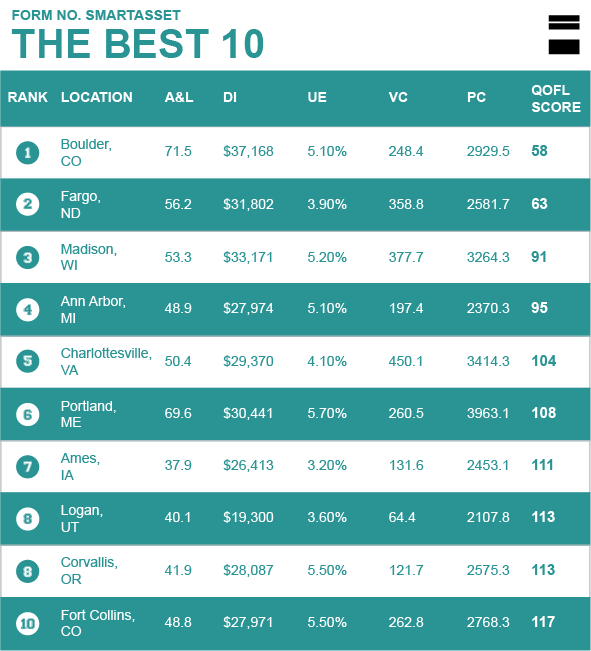 1. Boulder, CO- University of Colorado
Home to the University of Colorado, Boulder provides the best quality of life of any college town that we studied. With over 64% of adults holding at least a bachelor's degree and an average discretionary income of $37,168 Boulder is flush with economic and intellectual opportunity. Boulder also provides plenty of ways to spend your free time with the second most arts, leisure and entertainment establishments per capita of the cities we studied.
3 Places to Live If You're a Tech Guru (Besides Silicon Valley)
2. Fargo, ND- North Dakota State University
Fargo, North Dakota rated as our second best college town to live in for its low cost of living, low unemployment and cultural opportunity. Fargo has the third lowest cost of living of any of our cities with rent for an average two-bedroom home at just $639. North Dakota's largest city also has a strong cultural presence with the 6th most arts and leisure establishments as well as an economy showing just 3.9% unemployment.
3. Madison, WI- University of Wisconsin
Madison, Wisconsin is the biggest city in our top ten with over 575,000 residents. "Mad City" ranked as an all-around great place to live, with scores in the top twenty-five for all of the categories we measured. Madison residents have a high earning potential with an average income per capita of $43,839.
4. Ann Arbor, MI-University of Michigan
Ann Arbor was founded in 1824 by John Allen and Elisha Walker Rumsey and named for their wives, both named Ann, and the area's stands of Burr Oak trees. It remains today a hub of education and development as home to one of the premier universities in the world in The University of Michigan as well as a strong technocentric economy. Ann Arbor is a well-educated and safe city with a 55% degree attainment rate and just 197 violent crimes per 100,000 citizens.
5. Charlottesville, VA- University of Virginia
Charlottesville, Virginia is a city steeped in American history. Not only is it home to one of oldest and most respected universities in the world but also to two U.S. presidents. Both James Monroe and Thomas Jefferson had homes in Charlottesville that can still be visited today. Charlottesville scored highly in leisure opportunity and in unemployment.
6. Portland, ME- University of New England & University of Southern Maine
The 6th best city in our list is Maine's largest city and home to more than one-third of all of its residents. Portland residents have little trouble finding ways to spend their free time as it has the third most arts and leisure establishments per capita, and it is also believed to have the most restaurants per capita of any U.S. city.
7. Ames, IA- Iowa State University
Ames, Iowa was founded in 1864 as a station stop on the Cedar Rapids and Missouri Railroad. Today it has grown into a hotbed of agriculture, design, engineering, and veterinary research. The home of Iowa State University is a great, safe place to live with just a 3.2% unemployment rate and top ten rankings for both property and violent crime safety. Ames' population is highly educated and dedicated to its university with a 57% degree attainment rate.
8. Logan, UT- Utah State University
Home of the Utah State Aggies, Logan, Utah has some of the most desirable college town real estate in the country. Logan can be a safe and peaceful place to settle down with the second fewest violent crimes and the fourth fewest property crimes of our college towns. Moreover, there's plenty of work to go around as just 3.6% of the population is unemployed.
8. Corvallis, OR- Oregon State University
Corvallis has grown from its origins as a trading post for fur trappers to become a city with a major university, a strong economy based on a healthcare sector and Hewlett-Packard facilities. Almost 19% of the workforce uses public transportation, walks or bikes to work.
10. Fort Collins, CO- Colorado State University
Resting on the Cache La Poudre river and along the Colorado Front Range, Fort Collins is the 4th most populous city in Colorado. Fort Collins boasts top 15 ranks in arts and leisure, violent crime safety and property crime safety.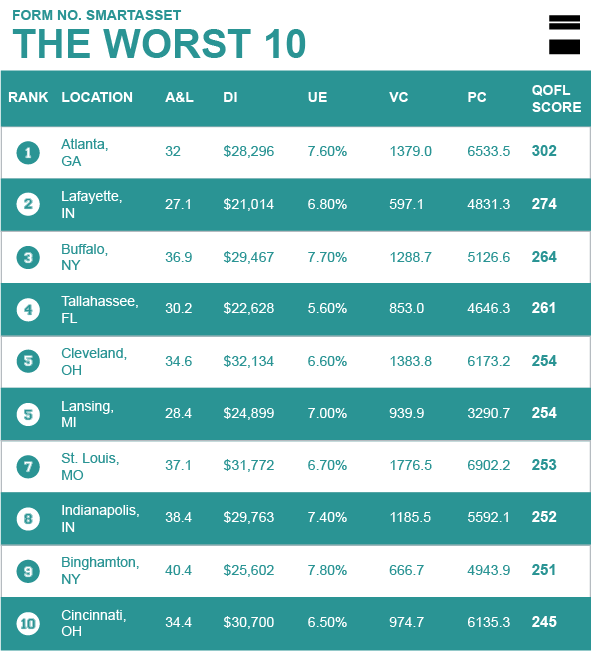 1. Atlanta, GA- Georgia Tech & Emory & Georgia State & Spelman College
Atlanta boasts the 6th largest economy in the U.S. and the 15th largest economy in the world. Atlanta has a rich history as the major organizing center of the Civil Rights Movement and served as the site for the 1996 Summer Olympic Games. However, several concerning statistics, namely a property crime rate of 6,533 per 100,000 citizens, a violent crime rate of 1,379 per 100,000 citizens and a 7.6% unemployment rate caused Atlanta to fall to the bottoms in our rankings.
How Much House You Can Buy For $350,000- Atlanta
2. Lafayette, IN- Purdue University
The town of Lafayette was created in May of 1825 and named after General Marquis de Lafayette, a French soldier who greatly aided the American cause during the revolutionary war. The home of Purdue University falls close to the bottom in our rankings for having only a small number of arts and leisure establishments and a discretionary income of just $21,014.
3. Buffalo, NY- University of Buffalo & SUNY Buffalo & Canisius
Buffalo originated around 1789 as a small trading community near Buffalo Creek. It began to grow rapidly with the construction of the Erie Canal in 1825 and by 1900 Buffalo was the 8th largest city in the U.S. However, the 20th century did not treat Buffalo kindly as Great Lakes shipping was re-routed and much of American heavy industry was relocated. This misfortune is reflected in an unemployment rate of 7.7% and in high violent and property crime rates.
4. Tallahassee, FL- Florida State & Florida A&M
Florida's capital is located in and serves as an agricultural and trade center for that state's panhandle. Tallahassee is home to two colleges with more than 10,000 students, Florida A&M and Florida State University. We calculated an average discretionary income of just $22,628 for Tallahassee residents. Tallahassee also came in the back of the pack in arts, leisure and entertainment with only 30 per 100,000
5. Cleveland, OH- Case Western & Cleveland State
Located on the southern shore of Lake Erie, Cleveland is Ohio's second most populous city. Cleveland has traditionally had a manufacturing-based economy, but has since attempted to diversify and is home to many large companies such as Applied Industrial Technologies, Sherwin-Williams Company, and KeyCorp. Cleveland appears this low on our list for high violent and property crime rates.
5. Lansing, MI- Michigan State University
Lansing is Michigan's state capital and its sixth largest city. The Lansing metro area is home of the Michigan State Spartans and scores low on quality of life with a 67th rank in arts, leisure and entertainment opportunity and a violent crime rate of 940 per 100,000 citizens.
7. St Louis, MO- Saint Louis University & Washington University & University of Missouri St Louis
Despite the draw of some of the best barbeque in the world, St. Louis comes in as the 7th worst college town because of its extremely high crime rates. For every 100,000 citizens St. Louis sees 1,776 recorded violent crimes and 6,902 property crimes.
8. Indianapolis, IN- Butler & IUPUI & University of Indianapolis
Indianapolis is the capital and most populous city of Indiana. Indianapolis ranked near the bottom of property crime rates with as nearly 47,000 reported property crimes in 2012.
Related: What Neighborhood is Right for Me?
9. Binghamton, NY- SUNY Binghamton
With origins as a transportation crossroads and manufacturing center in the heyday of American Railroads, Binghamton has evolved to develop an economy focused on healthcare, technology and education thanks to the State University of New York at Binghamton. Despite this effort, Binghamton's 7.8% unemployment rate shows there is still work to be done.
10. Cincinnati, OH- University of Cincinnati & Xavier
Cincinnati was the first American city founded after the American Revolution, and the first major inland city in the U.S. Resting on the Ohio and Licking rivers, Cincinnati is Ohio's third biggest city and serves as home to the University of Cincinnati and Xavier. Cincinnati suffers from a great deal of property crime with roughly 6,135 property crimes per 100,000 people. Additionally, Cincinnati's economy has fallen on hard times with a net decrease of 25 businesses per 100,000 people in 2013.
Read SmartAsset's 2015 study of the Best College Towns to Live in.
Sources: "College Destinations" by American Institute for Economic Research; US Census Bureau; FBI Crime Data
Photo Credit: Lenore