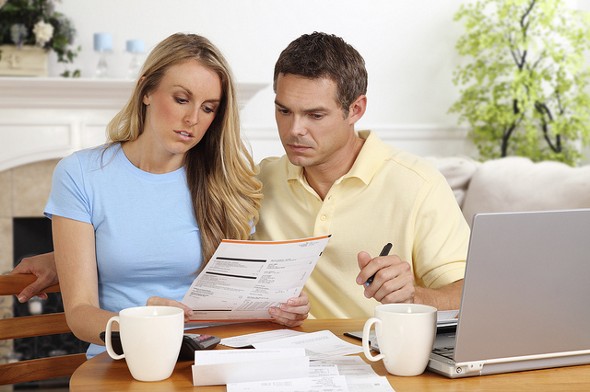 Buying a home is often one of the most stressful things you can go through financially and there's always a certain amount of back and forth that goes on before the deal is sealed. When you're working on a tight budget, keeping your mortgage costs down is a must. Knowing what you can and can't negotiate can help determine how much you're able to save. If you're planning to buy a home any time soon, here are four things you should be willing to haggle over.
Find out now: How much house can I afford?
1. Lender Service Fees
Closing costs encompass a wide range of fees and depending on the size of your mortgage, they can easily run you several thousand dollars. While some of the fees included in the closing costs are fixed, those set by the lender are usually open to negotiation. This includes things like underwriting services, commitment fees, application fees and mail fees.
Your lender is legally bound to give you a loan estimate outlining any fees they're charging, including those that are connected with third-party costs such as credit checks. You should review this document carefully to look for charges that you don't recognize or that seem higher than they should be. Pay particular attention to junk fees you can avoid paying.
All About Loan Estimate: The New GFE
2. Loan Origination Fees
A loan origination fee is what your lender charges for creating the mortgage and it's typically calculated as a percentage of the loan amount. If the fee is 1%, for example, the lender would charge you $1,500 on a $150,000 mortgage, making it one of the more expensive costs. If you're taking on a pricey mortgage, you shouldn't hesitate to try and talk the lender down.
Generally, you'll need to have a strong credit score and a steady stream of income to get a lender to consider reducing or waiving the origination fee. Taking a look at your credit report and score before you go on the hunt for a loan can give you an idea of whether lenders would be willing to play ball.
3. Title Insurance
You'll have to purchase a homeowner's insurance policy at some point during the mortgage process but you should also get title insurance. This is coverage that protects you if an issue arises down the line in connection with the title. For example, if it's determined that the property's title was forged or there are undisclosed liens still outstanding, an owner's policy will make sure you don't risk losing your home.
If you choose to have title insurance, you're not obligated to use the title company recommended by the mortgage lender. Taking the time to shop around and compare title insurance policies ensures that you get the coverage you need without paying more than you have to.
4. Real Estate Commissions
Real estate agents and brokerage firms don't work for free and once you've finalized your home purchase, they'll expect to be paid for their services. Commissions on home sales usually vary, which leaves a lot of wiggle room for negotiation.
Depending on how big of a mortgage you're taking on, how much work the agent actually did to get the job done and how satisfied you are with your overall experience, it's not out of line to ask them to drop their rate by a half or full percentage point.
Negotiating your agent's commission and the other costs associated with your mortgage can be tricky but it's worth the added hassle if it makes your new home more affordable in the long run.
Tips for Buying a Home
Make sure your credit score is in good shape. With a high credit score, you can get lower mortgage rates, which translates to lower monthly mortgage payments.
Talk to a financial advisor about how buying a home will factor into your larger financial plan. You want to ensure you can purchase a home without sacrificing your other financial goals. A matching tool like SmartAsset's SmartAdvisor can help you find a person to work with to meet your needs. First you'll answer a series of questions about your situation and goals. Then the program will narrow down your options from thousands of advisors to up to three fiduciaries who suit your needs. You can then read their profiles to learn more about them, interview them on the phone or in person and choose who to work with in the future. This allows you to find a good fit while the program does much of the hard work for you.
Photo credit: flickr