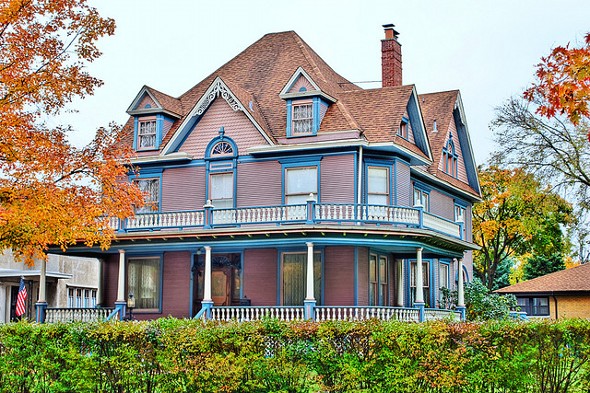 Home insurance is a form of protection for what is likely your most important and expensive asset, as well as for the contents inside. Should disaster strike, your insurance company will be there to help shoulder the financial burden. Deciding on what form of home insurance can be a difficult task, however. What's more, deciding on which home insurance provider can be even trickier. So to help out, we looked at all the major candidates and ranked the top 10 home insurance companies:*
1. Amica Mutual
Founded in 1907 and headquartered in Lincoln, Rhode Island, Amica is clear and away the preferred insurance provider amongst American consumers, scoring the highest possible ratings in all categories. Amica began offering homeowners insurance in 1956, and since that time, the company has gone on to separate itself from most other major American insurers, routinely garnering praise for its customer service and receiving an A++ rating from A.M. Best Company.
2. Auto-Owners
Auto-Owners is based in Michigan, and from its inception in 1916 until 1935 it wrote policies exclusively in its home state. Currently, the company operates in 26 states. It is ranked #428 in the 2014 edition of the "Fortune 500," and was rated A++ by A.M. Best Company.
3. State Farm
You see the company's commercials all the time, and for good reason: ranked #41 on the "Fortune 500," State Farm is one of the most profitable companies in the country, pulling in $68.3 billion in revenue in 2013. Though primarily known for its automobile insurance, State Farm's homeowner policies draw acclaim for their variety of different options as well as the overall ease of customer interactions.
4. Erie Insurance
Despite having just 4 million customers over 12 states and the District of Columbia, Erie ranked #416 in the latest edition of the "Fortune 500." The company was founded in 1925 only offering auto insurance, and began offering homeowners insurance in 1961. Erie is known for its variety of policies as well as for its affordability.
5. American Family
Like many other insurers on this list, American Family originally only featured coverage for automobiles. Founded in 1927, the company began offering homeowners insurance in 1958. Today the company operates in 19 states.
6. Automobile Club of Southern California
Though primarily known for its automobile insurance, AAA (American Automobile Association) has been offering homeowners insurance to its members since 1983. The company is known for its affordability as well as the flexibility and variety of its homeowner policies, offering significant discounts when combined with auto and/or life insurance.
7. The Hartford
Headquartered, unsurprisingly, in Hartford, Connecticut, The Hartford was founded in 1810. During the 1900s, the company went through some radical organizational changes, getting acquired in 1970 before becoming independent again, in 1995. Today, The Hartford ranks #113 on the "Fortune 500," and raked in more than $26 billion in revenue in 2013.
8. Country Financial
Country began in 1925, offering insurance by and to Illinois farmers. Today, the company still operates out of Illinois but has expanded to 18 other states and has policies in a number of different areas. Country covers roughly half a million American homes and was recently rated A+ by A.M. Best Company.
9. Mercury
Founded in 1962 and headquartered in Los Angeles, Mercury was created to be a low-cost alternative to some of the insurance giants listed above. Since that time, the company has focused on maintaining affordable policies for its customers. In 2014, Forbes named Mercury to its "America's Most Trustworthy Companies" list. Mercury is available in 13 states.
10. Allstate
Allstate was founded in 1931 and is currently ranked #92 on the "Fortune 500." You've probably seen their commercials asking, "Are you in good hands?" There's a good reason why: the company is the largest publicly traded insurance provider in the country, pulling in $34.5 billion in revenue in 2013. For all its success and notoriety, however, consumers rate the company below average in nearly all areas.
*Rankings and data were pulled from J.D. Power and Associates' 2014 U.S. Household Insurance study, which evaluated customer satisfaction over five categories: the variety of policy offerings, price and value, ease of billing and payment, quality of interaction between customer and insurance representative and quality of customers' claims experiences.
Photo credit: flickr