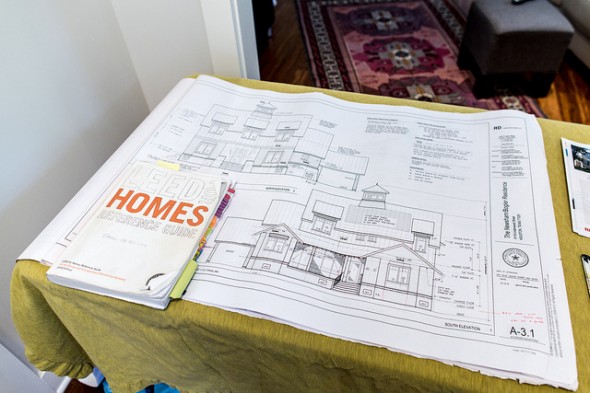 Being environmentally friendly has grown into more than just a trend over the past several years. Beyond basic energy-saving steps, consumers are now demanding greener homes. Often they want entire communities with resource efficient, environmentally sound features. Since green properties have an increased value to customers, energy saving buildings are more attractive for buyers, sellers and businesses. If you still aren't convinced, check out some of the best aspects of green living.
Made some green updates and increased your home's value? Check out our refinance calculator to see if a refinance makes sense.
Green House Features
What is a green living space anyway? The most common test to determine whether a building is green is LEED, Leadership in Energy and Environmental Design. LEED is a standard created by the US Green Building Council. How materials are transported on and off site, what types of appliances are installed, and where the building is located are all points on the system.
Some features associated with a green home are low-flow bathroom fixtures, local or sustainable materials, Energy Star appliances, energy-efficient lighting like LEDs and CFLs, planted outdoor space, optimization of natural light, efficient heating and cooling systems, sustainable construction practices, use of materials with low VOCs (volatile organic compounds – bad chemicals) and energy production like solar panels and wind turbines.
Environmental and Health Factors
Green features positively impact buildings by creating a more natural environment. The use of renewable and clean energy sources lessens our reliance on fossil fuels, meaning our sources of survival will not be depleted.
Even the construction practices utilized in green living focus on recyclability of materials and lowering emissions. The non-toxic materials used in green homes are low VOC so they do not cause respiratory illness. These buildings also feature purer ventilation and natural filter systems, constantly bringing fresh air into the home and preventing mold. The indoor air quality is overall much better in a green living space and there are fewer temperature variations. Increased productivity has even been linked to living in green homes.
Economic Benefit$
The most obvious place where green livers save is the utility bills. Utilizing less generated energy and more natural forms means cheaper bills and increased home value – providing long-term savings. Green homes feature better insulation, tight ductwork and sealed doors and windows. They often have heating and cooling systems, lighting and appliances that run on reusable energy. This means lower electric and gas bills. Low flow faucets and showerheads, dual flush toilets and efficient irrigation and storm water management also make for lower water bills.
Home Improvement Equal Big Tax Breaks
Another feature of note is the durability of green materials; sustainable practices can save thousands in replacement and maintenance costs. Some states even offer incentives, like tax rebates, for living in a green home. There are slower depreciation, lower exit yield, lower transaction fees, and higher sales price. Overall, studies show a building's value increased by 3-5 percent when green. That can make a big difference in today's market.
While green homes continue to thrive in the new housing market, there are other benefits to these energy efficient features beyond the financial. The green lifestyle can make you feel better about energy emissions, while making your body and wallet feel better too.
Photo Credit: flickr