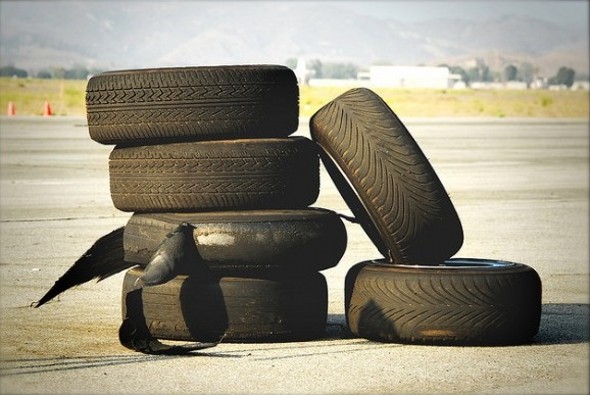 Rent-to-own businesses are not new. This $8.5 billion industry has been out there targeting the not-so-rich since long before Troy Aikman and Hulk Hogan started hawking for them. In these stores, you can "rent" furniture, that big screen TV you've always wanted, computers, big appliances, the list goes on. The options for payments include 90-day same as cash, and fixed weekly, bi-weekly or monthly payments.
Find out now: How should I save for retirement?
One of the fastest growing sectors of this business are tire rentals. Chances are you have heard the radio commercial with comedian Kevin Hart talking about Rent-A-Wheel. The biggest player in the tire "rent-to-own" business has close to 100 locations in eleven states and has been adding 10 to 12 new stores every year. The question is whether this business is providing a needed service, taking advantage of a struggling public, or has the public become so vain that even the style and make of a tire is now a part of an individual's identity?
Necessity
Everywhere you look, there are signs that the economy is starting to turn around, but if you scratch beneath the surface, you will see that the world is far from perfect. The average annual household income is down over the last five years and bad credit scores have spiked dramatically over that time. When you combine that with the fact that the cost of rubber and petroleum have gone up, it makes for not-so-happy scenario. In fact, passenger tire prices have increased almost 60% since 2006.
Convenience
For the segment of the market who is looking for specialty rims and tires, but don't have the funds, stores like Rent-A-Wheel have all the right parts. They offer that one thing that will add personality to your vehicle for a price that fits your budget. There is no credit check and you can get approval almost immediately. Just show your driver's license, social security card, a current paycheck, the registration on your car and a utility bill and you are all set. There are no credit checks or down payments. Tired of the current set of tires? Swap them out for new ones, just keep making those payments.
Scam
Like the economy, maybe this industry isn't all sweet rims and happy faces. This industry targets those with little or no credit. While there are many that are just good people who have run into a rough patch, for others, the issue is self-inflicted. These types of offers prey on those individuals who want the flash but don't necessarily have the cash.
These "rent-to-own" scenarios can end up with some dire consequences. The "lenders" in these cases own those tires until the last payment is made. Late or missed payments can create harassing phone calls, repossessions and even criminal issues. Some states look at lack of payment like a theft. Some companies report as many as three repossessions per week, and nobody is getting to work when there are no tires on your vehicle. For those that actually make their regularly scheduled payments, they can pay much more than the actual worth of the tires in the long run.
So which is it? Is this rent-a-tire industry a service helping those who have come upon hard times and just need to stretch their dollar a little further? Is it a great opportunity to add that final piece to your automotive masterpiece at a convenient price? Or is it big business masking itself as a lending hand, when actually creating more problems than you already have? Most likely it is a combination of all three with each individual circumstance falling into one of the three categories. One thing is certain, if this is a service you are currently or thinking of using, make sure you make those payments. The consequences are not worth it.
Source: Autoblog, Hoovers, Rentawheel, TireBusiness