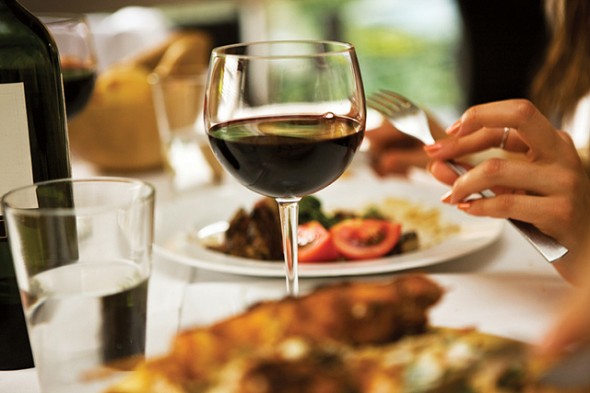 We all understand it: Bring Your Own Beverage. Choosing to BYOB to a restaurant – with a beverage license or not – can be a wonderful way to eat out while cutting costs. There's a reason Zagat added "BYOB" to the "special features" section of their newest editions. Bringing your own beer and wine for a night out is a favorable factor for restaurant-goers. But before you start swigging Three Buck Chuck at the nicest restaurants in town, learn how to BYOB properly.
Find out now: How much mortgage can I afford?
Massive Markups
We all know alcohol costs more in a restaurant than in a liquor store. Restaurants mark up products to survive. They purchase an inventory, store it and then serve it. But do you realize just how much you are paying for that drink? Consider this: the typical restaurant markups for wine are about two to three times over the wholesale price per bottle and up to four times for wine by the glass, according to Restaurant Sciences, a food and alcohol consumption research group based in Massachusetts. Retail markups for wine are generally 150 percent over wholesale. With a BYOB restaurant, you can pay the lower price and pick out your own bottle ahead of time.
Related Article: 3 Simple Ways to Save on Wine
Basic Blunders
Beware of corkage fees – bringing your own booze does not save you from restaurant policies. Many restaurants charge a fee for assisting you with that beverage your brought. The fee usually ranges from $20-30 but can climb into the hundreds at fancier locations. On that note, BYOB isn't appropriate everywhere so be sure to understand the environment of where you are going before taking the plunge. Also avoid bringing wine that is on the restaurant's list – very tacky. Be sure to know the laws of the state you are drinking in – some do not allow BYOB and others encourage it. Lastly, don't get it confused with "BYOD" – "bring your own device." No texting at the dinner table, please.
Expert Etiquette
Going to a BYOB place can still be classy! Carry your wine in a cute bag, preferably insulated. Since you are going to save all that money by avoiding the wine markup, you might as well invest in a good carrier to ensure the wine stays at the right temperature and that you look as classy as possible bringing your own beverage. Check out the menu before you get to the restaurant so you know which wine to bring – or bring a beverage that goes with everything. Give the server or manager a "taste" of your wine – this often results in the corkage fee being waived! Tip as if drinks were included as the server is still taking care of you and often helps with the storage and pouring of your home-brought bottle.
So there you have it. Bringing your own booze can make nights out more affordable – and even allow them to happen more often. While staying within the rules, BYOB can be a great benefit to your dining experience and open your eyes to new drinks while keeping your wallet safe. Now remember, always drink responsibly.
Related Article: The Economics of Craft Beer
Photo Credit: isante_magazine