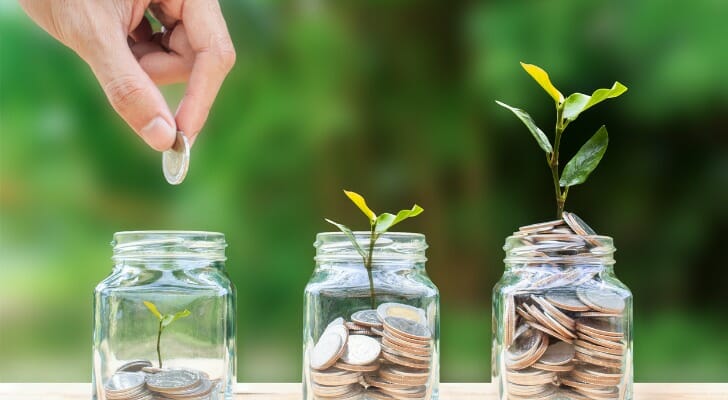 Some investors use annuities for a guaranteed income and as a retirement planning strategy. While there are many variations of annuities, two of the most common types are fixed and variable annuities. Here's an overview of these two types to help you assess their potential for your personal financial planning.
Do you have specific questions about annuities? Speak with a financial advisor today.
What Is a Fixed Annuity?
A fixed annuity is a contract between the policyholder and an insurance company. A policyholder will make a lump sum payment or a series of payments in exchange for a guaranteed amount of income starting on a certain date. Essentially, when a policyholder buys an annuity they purchase future income.
Generally, fixed annuities are the easiest annuities to understand. When you purchase a fixed annuity, the money in the annuity grows tax-deferred with a set interest rate also known as the minimum credited interest rate. This period of time is also referred to as the accumulation phase.
When you start withdrawing money from the annuity, the annualization phase begins. The insurance provider will begin to make payments to you. These payments are carefully calculated by the terms of the annuity contract. Meanwhile, the remaining balance of the contract will continue to accumulate tax-deferred growth.
What Is a Variable Annuity?
With variable annuities, policyholders can choose from a number of investment opportunities. Variable annuities have two components: the principal and the return. The principal is the amount the policyholder pays into the annuity. The return is the income the policyholder makes through their investment selection. Since returns may fluctuate, payments may vary as well.
When you reach retirement and want to begin receiving your payments, you must annuitize your contract. When an investor does this, their payments begin and the investment stops earning returns. However, once you reach the payout phase you may not be able to withdraw more than your regularly scheduled payments.
Fixed Annuities vs. Variable Annuities
Generally speaking, fixed annuities are less risky than variable annuities. Fixed annuities offer a fixed interest rate. Market volatility or company profits don't affect the interest rate on a contract. For conservative investors who seek stability and safety, a fixed annuity might be a better investment option. Knowing that your payments will never fluctuate or vary may put a conservative investor's mind at ease.
However, since fixed annuities are less risky than variable annuities they tend to have less investment flexibility or opportunity for growth. With variable annuities, you can invest in a variety of securities such as stocks and bonds to achieve your desired return. The stock market tends to impact a variable annuity's value. Policyholders should select investments that coincide with their risk tolerance and time horizon.
For investors who have longer time horizons and are comfortable with market volatility, variable annuities may be a better option. They tend to keep pace with inflation and help investors reap higher gains over the longevity of the contract.
How to Select the Right Annuity for You
All annuities have contract limitations and fees. They also include charges such as mortality and expenses risk, investment management fees and administrative fees. There are additional charges for some optional benefits. Since insurance companies provide annuities, they are not backed by the FDIC or other federal agencies. Any claims the insurance provider makes are contingent on the financial strength of the company and the ability of the company to pay its claims.
Therefore, before you decide to purchase an annuity, make sure you understand the ins and outs of the contract. Fixed and variable annuities can help policyholders generate extra income. However, there are other options, such as contributing to a Roth IRA, which may make more sense in some financial situations. So, whether you're considering a fixed or a variable annuity, it's wise to partner with a financial advisor who can help guide you in making the most suitable investment decision.
Bottom Line

An annuity can help you create a stream of guaranteed income for retirement. A fixed annuity might be a better option for a more conservative investor, while a variable annuity might be a better option for someone who can handle a little risk.
But, if you're considering an annuity, do your research. First, factor in the potential rate of return the insurance company is offering and the associated fees. Secondly, consider when you'd like payouts to begin and what tax bracket you'll be in during your retirement. This can help you decide whether an annuity makes sense for your financial goals.
Retirement Planning Tips
Get advice from a financial advisor if you're on the fence about adding an annuity to your retirement plan. Finding a qualified financial advisor doesn't have to be hard. SmartAsset's free tool matches you with up to three financial advisors who serve your area, and you can interview your advisor matches at no cost to decide which one is right for you. If you're ready to find an advisor who can help you achieve your financial goals, get started now.
Read the fine print carefully on an annuity or any other investment you're thinking of adding to your portfolio. This will help to make sure you fully understand what it is you're buying. Take time to run the numbers through an investment calculator to gauge the rate of return and growth you're likely to see from anything you're adding to your portfolio. And of course, review the fees to see how the costs of an investment may diminish the returns earned over time.
Remember that fixed annuities don't account for inflation. Rising prices can have a direct impact on your purchasing power. So consider how you can balance out fixed growth assets with variable growth assets in your retirement plan.
Photo credit: ©iStock.com/Indysystem, ©iStock.com/blackCAT, ©iStock.com/x-reflexnaja