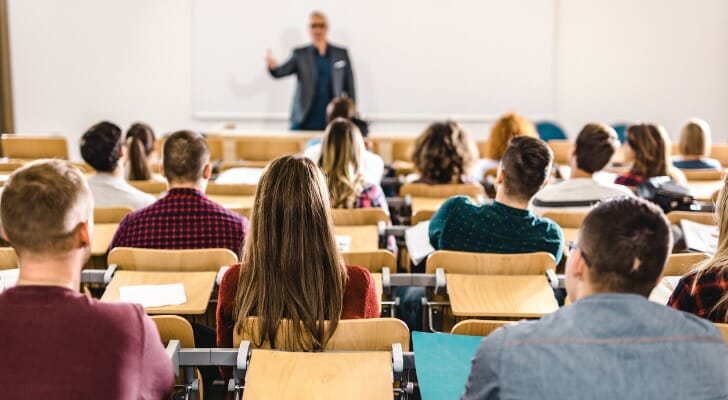 The cost of a college education is at an all-time high, leaving many Americans wondering how to best save money to pay for tuition and other college costs. There are many options available to help you save, including 529 plans, Coverdell accounts and Roth IRAs. When formulating a plan, be sure to also think of all the factors that influence the cost of an education, such as location, cost of living and scheduling. If you're unsure of how to get your education funding plans off the ground, consider working with a financial advisor in your area.
What Is Education Planning?
You can think of education planning as the process of determining the cost of college and figuring out how to pay for these expenses. Many people may think of education planning as simply putting away enough money to cover tuition. However, there are a multitude of other factors that should play into your education plan decisions.
Education planning typically starts with a series of questions, like what school to attend, what to study and where to live. It's important to remember that tuition isn't the only expense that builds up over the course of an education. Factors such as on-campus living arrangements, student loans, scholarships and costs of living can alter the total price of an education by thousands of dollars.
The most basic way to start an education fund is to make appropriate investments. A popular choice here are U.S. Treasury bonds, which offer plenty of tax benefits when they're used to help pay for college. Other methods include depositing money into a certificate of deposit (CD), savings account or money market account (MMA) or investing in municipal bonds, mutual funds or indexes.
Ways to Save for Education Expenses
529 Plans
529 plans are one the best ways to save for education. With a 529 plan, your contributions are tax-deductible. You'll also be able to skip taxes on earnings, provided that you spend them on qualified education expenses. 529 plans vary by state and have no income or contribution restrictions, either.
Coverdell Education Savings Account (ESA)
Coverdell ESAs work similarly to 529 plans. In fact, they also allow you to skip and deduct taxes, so long as you use the funds in the account for qualified costs. However, Coverdells are reserved for families earning less than $220,000. You'll also only be able to contribute $2,000 per student annually until their 18th birthday.
Prepaid Plans
At some in-state and other universities, you can lock in the price of tuition years in advance. Currently, only 11 states offer these types of prepaid plans, but around 300 private colleges and universities have options. Most of these prepaid plans are similar to 529 plans when it comes to both tax benefits and penalties. Even with all of these perks, you'll need to decide where the prospective student will go to school far ahead of time.
Roth IRAs
Roth IRAs and custodial accounts are also viable options for education planning. Contributions to a Roth IRA can be withdrawn tax- and penalty-free whenever. Even earnings can be withdrawn penalty-free before age 59.5, provided that they're used for the educational expenses of a child or grandchild.
Custodial accounts offer the most flexibility. They allow you to set money aside that then becomes the property of your dependent when they reach a certain age. However, earnings over $2,100 are taxed at the parent's marginal tax rate. The account owner is under no obligation to spend the money in the account on education expenses, though.
Financial Aid and Student Loan Options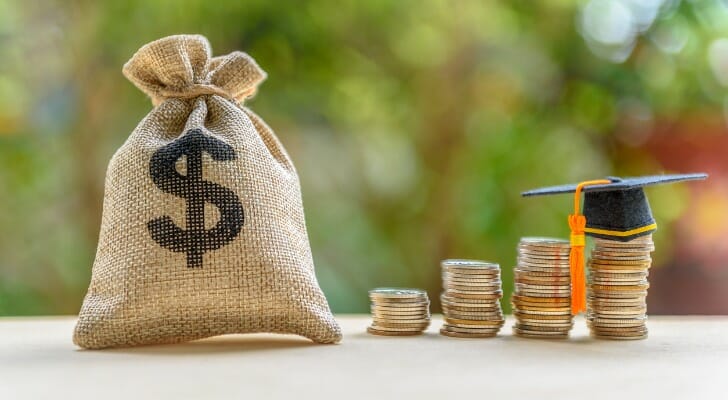 If you qualify for financial aid, it can significantly reduce the financial burden of having to pay for an education. College-bound students can fill out the Free Application for Student Aid (FAFSA) starting on Oct. 1 the year before starting at college. FAFSA awards aid many families, even those earning more than $250,000 per year. Filling out a FAFSA is also typically a prerequisite for qualifying for financial aid at any individual college or university. The federal financial aid formula takes into account a variety of factors, including income and existing assets.
When available income, assets and financial aid aren't enough to cover the cost of an education, student loans are another option. You're likely to pay high interest rates on any student loans you take out. However, they can play an essential role in helping you afford tuition, textbooks, costs of living and other expenses you're inevitably going to encounter when getting an education. If you take out student loans, make sure you also have a plan in place to pay them back.
Other Factors to Consider
Covering the cost of tuition typically comes first when discussing education planning. But it's important to consider other variable expenses as well. Not all schools are created equal when it comes to cost of living. For example, your cost of living over the course of four years at New York University (NYU) is likely to be far higher than at North Dakota State University.
It's also worth noting that you'll pay significantly different tuition depending on what school you choose to attend. This is especially true when it comes to college, as public, in-state tuition can cost significantly less than that of a private university. Make sure you're in the best position to be able to pay for college and pay off your loans afterwards.
Bottom Line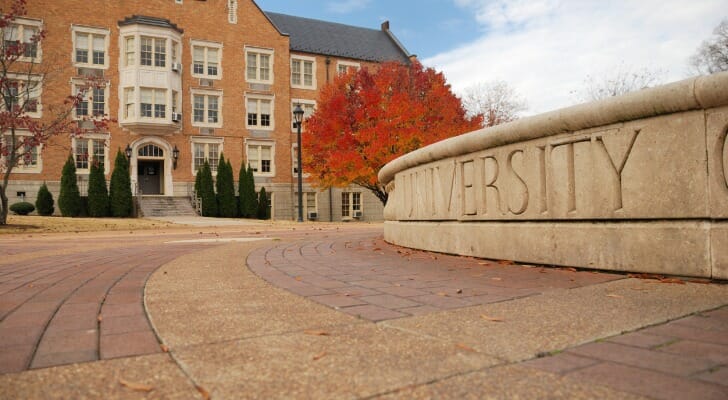 Planning for the various costs of education may feel like a daunting task, but there are several steps you can take to ensure that you're ahead of things. Make sure that you start saving early. When the time comes to pay the bill, apply for the appropriate student aid programs and loans. Above all, it's important to account for the full cost of college. Know how much you'll need to spend on living expenses, textbooks and anything else that might come up.
Tips for Saving for College
If someone in your family plans to attend college, it needs to be part of your financial plan. Luckily, finding the right financial advisor to help you with education planning doesn't have to be hard. SmartAsset's free tool matches you with financial advisors in your area in 5 minutes. If you're ready to be matched with local advisors that will help you achieve your financial goals, get started now.
Saving money early and often will undoubtedly help cover the costs of higher education. However, the reality is that many Americans will still need to take out some sort of student loan. To explore the financial specifics surrounding a possible student loan, check out SmartAsset's student loan calculator.
Photo credit: ©iStock.com/skynesher, ©iStock.com/William_Potter, ©iStock.com/sshepard