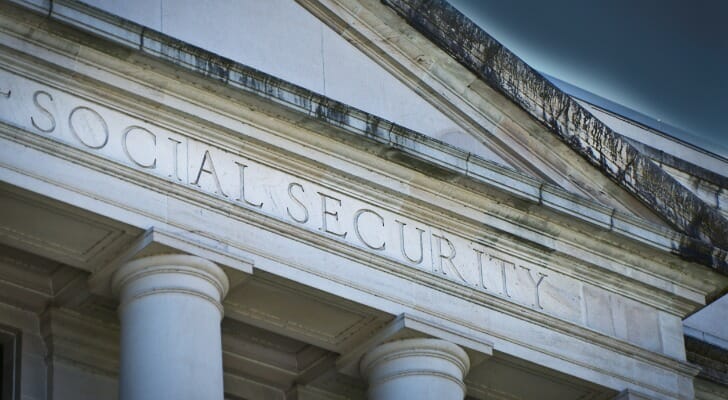 Your health status, anticipated longevity and retirement cash needs all factor into when it makes sense to claim Social Security. Of course, you're eligible to start taking Social Security at 62. But the longer you wait, the higher your monthly benefit will be, and conventional wisdom says that you should hold out as long as you can to ensure more robust checks. Your patience, in other words, is rewarded in the long run. But pop open the hood to get a more granular look at the numbers, and the virtues of delaying diminish.
To investigate, we used SmartAsset's Social Security calculator to examine how total earnings add up when claiming at ages 62, 67 and 70. For the purposes of this hypothetical, we're considering a person born in 1960 – who will reach his or her first year of eligibility next year, and whose full retirement age is 67 – making $60,000 a year.
As you make the decision of when it's best for you to claim Social Security, be sure to consult with a trusted financial advisor to determine what best suits your situation.
On a monthly basis in this scenario, you'd start receiving checks of more than $1,871 if you claimed Social Security at 62. If you waited until 67, that initial monthly amount would be $2,674 (+43%). And for every year you delay claiming Social Security benefits past your full retirement age up to age 70, you'd net an additional 8% in your Social Security benefit (our calculator accounts for Social Security cost-of-living adjustments in all three scenarios). That means, if you wait until 70 instead of claiming Social Security at 67, you'd boost your checks 24% to $3,315 (nearly double the benefit you'd get if you'd claimed at 62).
Over time, delaying really adds up. By age 93, you'd net $952,151 by claiming Social Security at 62, $1,080,426 by waiting until 67 and $1,147,820 by waiting until 70. But that's assuming lifespan that's way above average; in 2020, the CDC put the life expectancy of Americans at just 77.3.
If you compare the three scenarios at age 77, you'd have $388,748 if you started claiming Social Security at age 62, $351,354 if you started claiming at 67 and only $295,802 if you started claiming at 70 (nearly $100k less than if you claimed it at 62). Take a look: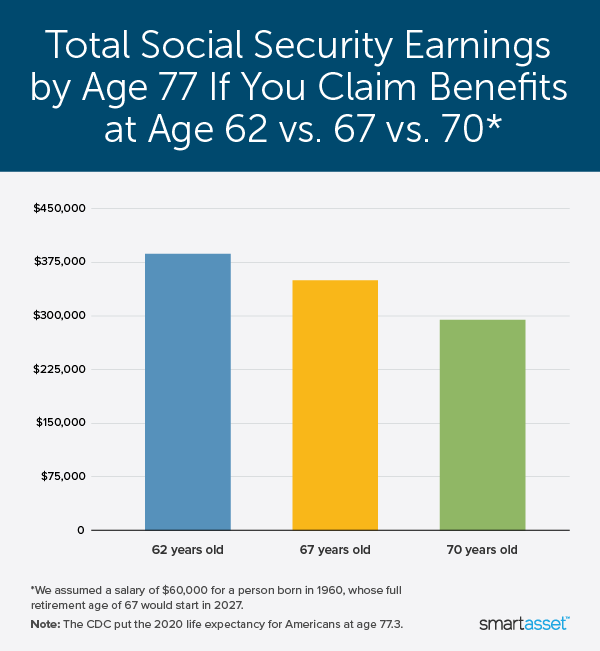 So when does it become worth it to have waited? In delaying Social Security benefits five or eight years past 62, it takes some time for those even more handsome checks to catch up to the cash amassed from claiming Social Security as early as possible. If you claim Social Security benefits at 67, it isn't until between 81 and 82 that your total Social Security payments would supersede what you'd have if you began claiming at 62. Meanwhile, if you claimed Social Security at 70 instead of 67, you'd have to live to almost 85 for your total Social Security earnings to make it worth the wait.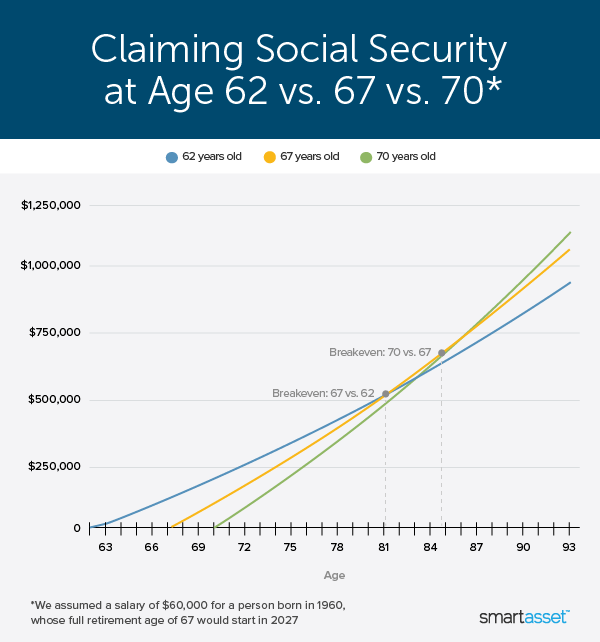 Of course, there are benefits to delaying retirement: Another year working means one more year building up your nest egg and one fewer year drawing it down. And waiting until full retirement age also means that any income you earn in retirement won't reduce your Social Security benefits. And over time through your late 80s and into your 90s, the advantages of waiting to claim Social Security become more pronounced — by 2048 (age 88), there's nearly a $100,000 difference between claiming at 62 and claiming at 70. And by 93, waiting until 70 would net you $67,394 more than claiming at 67 — and nearly $200,000 more than claiming at 62. That's a huge chunk of change to use during your later years or pass on to your heirs. But if you're waiting to claim in hopes of getting the most money from the government, you're making a bet on your longevity that may not pay off.
Bottom Line
Though retirement gurus typically extol the virtues of waiting to take Social Security, there are definite bird-in-hand advantages to claiming your Social Security benefits as early as possible when you consider life expectancy. That's to say nothing, of course, of the potential to invest money from those early Social Security checks and leave more money in your other retirement accounts to grow.
Tips on Social Security
A financial advisor can help you decide when it makes sense for you to claim Social Security. SmartAsset's free tool matches you with up to three financial advisors in your area, and you can interview your advisor matches at no cost to decide which one is right for you. If you're ready to find an advisor who can help you achieve your financial goals, get started now.
A Social Security calculator can also help you decide when you should retire and when might make sense for you to start claiming your Social Security benefits.