In 2005 the American consumer landscape looked pretty different than it does today. Some once-ubiquitous items like Motorola Razr cellphones and Livestrong bracelets have all but disappeared. Changes in taste over time are expected as trends go in and out of fashion, but data from the Bureau of Economic Analysis shows that American consumers in 2015 made some significantly different spending decisions than they did in 2005.
Concerned about your financial future? Check out our retirement calculator.
Some of these changes are due, in part, to changes in technology. Our world is even more connected than before and Americans have adapted. Other changes, like the increase in spending on rent, may be due to the collapse of the housing market and the ensuing recession. We at SmartAsset thought it would be illuminating to take a look at which American consumption habits have changed the most over the past decade.
Key Findings
The Internet Age. The internet has continued to revolutionize how we engage with each other. Americans spent 180% more for access to the internet in 2015 than they did in 2005. Americans also spent 48% more on cellphone services, which includes things like data packages, as well as minutes and text messaging.
Death of the Landline. The landline has been dropping in relevance for some time now. So it's not surprising to learn that the period from 2005 to 2015 saw a 58% drop in spending on long-distance calls from landlines. Similarly, spending on local calls from landlines dropped 48% during that time.
Medical Spending. Three of the top 10 largest changes in consumption are medical-related, including spending on veterinary services for our beloved pets.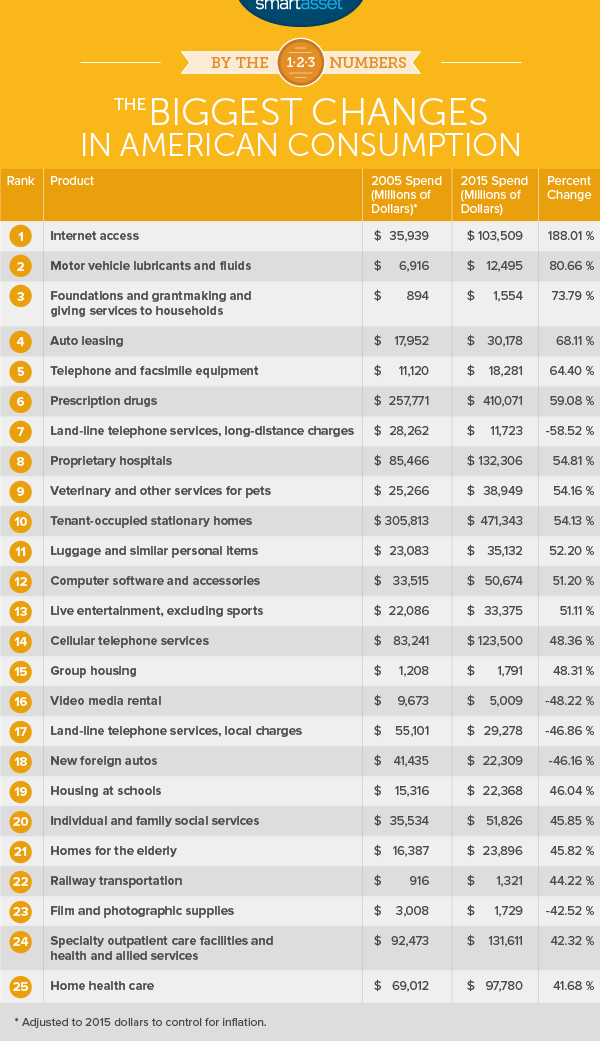 1. Internet Access
As mentioned in the key findings, the internet now impacts daily life even more than it did a decade ago. According to data from the Pew Research Center, 84% of adults used the internet in 2015 compared to 65% in 2005. Americans spent a whopping $103.5 billion on internet access in 2015, up from $35.9 billion in 2005 – an increase of 188%.
2. Motor Vehicle Lubricants and Fluids
Over the 10-year period, Americans increased their spending on motor vehicle lubricants and fluids by 80%. Taken in conjunction with the fact that spending on new motor vehicles fell by 8%, while spending on motor vehicle parts and accessories went up by 9%, this implies that people are forgoing new vehicles and trying to take better care of older ones.
Related Article: How to Get Cheap Car Insurance
3. Foundation and Grantmaking and Giving Services to Households
Here's a positive. Americans gave 73% more to foundations, grantmaking and giving services to households over the period from 2005 to 2015. In general, spending on social services is up 22% over that period. During the housing crash (2007-2009), expenditure on foundations fell from $1.2 billion to $1.06 billion. Since then, spending in this arena has bounced back to $1.5 billion in 2015.
4. Auto Leasing
According to our data, spending on auto leases increased by 68%. Again, combined with the decrease in new motor vehicle spending, this suggests a shift toward thriftiness and concern about long-term prospects.
Related Article: 5 Costly Car Leasing Mistakes to Avoid
5. Telephone and Facsimile Equipment
This category includes phones and other physical telecommunication items, rather than the cost of phone plans and services. Spending on physical phone equipment like iPhones and Androids has risen 68%, from $11.1 billion in 2005 to $18.2 billion in 2015. This category technically also includes items like fax machines, but it's unlikely those contributed to the large increase in consumption.
6. Prescription Drugs
The pharmaceutical industry is massive – and growing. In 2015 Americans spent $410 billion on prescription drugs. That's a 60% growth from a decade earlier. With the average age of Americans and the average life expectancy both increasing, the amount spent on prescription drugs may continue to rise.
Related Article: Top 7 Ways to Save on Prescription Drugs
7. Landline Telephone Services, Long-Distance Charges
People simply aren't spending as much on their landlines. For long-distance calls in particular, services like Skype and WhatsApp obviated the need to make calls through a landline. As a result, spending in long-distance charges have dropped 58%.
8. Proprietary Hospitals
Proprietary hospitals is a fancy phrase for profit-making hospitals. Spending on hospitals in general has increased by 38%, but the bulk of that came from the 54.8% increase in spending at proprietary hospitals. In 2015 Americans spent $132.3 billion at proprietary hospitals.
9. Veterinary and Other Services for Pets
According to the American Pet Products Association, pet ownership rates are on the rise in the U.S. This could partially explain why spending on veterinary and other services for pets increased by 54%.
10. Tenant-Occupied Stationary Homes
It might not be a surprise to learn that housing costs have risen. In 2015 Americans spent $471.3 billion on rent for stationary homes (which is differentiated from mobile homes). That's 54% more than a decade ago. Of all the categories in the top 25, spending on rent was the highest.
For renters looking to buy: Check out how much house can you afford.
Methodology
In order to compile our rankings of the biggest changes in American consumption, SmartAsset analyzed data from the Bureau of Economic Analysis. We calculated the percent change in spending from 2005 to 2015 and adjusted 2005 spending for inflation. We then ranked each product according to largest percent change, including both negative and positive change. We used the Bureau of Labor Statistics CPI inflation calculator to measure inflation over the 2005-2015 period.
Questions about our study? Contact us at press@smartasset.com
Photo credit: ©iStock.com/Geber86