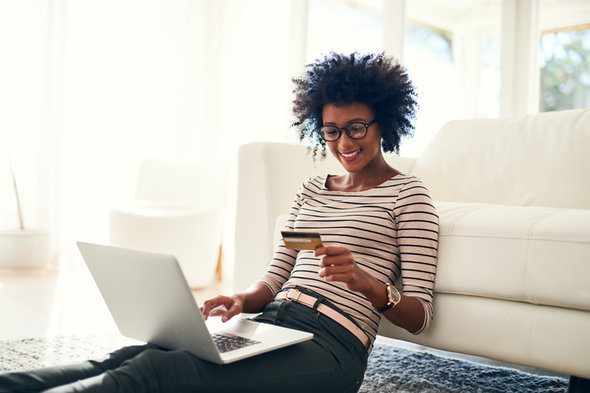 Credit is a huge part of your overall financial health. Having good credit can get you the best rates when it comes to credit cards or mortgages. Conversely, having bad credit or no credit can mean you miss out on financial products. To keep your credit in good shape, it's important to constantly check your report for mistakes or demerits. This, of course, takes some work. That's where a credit monitoring service can come in handy.
Check out the best credit cards of 2018.
What Is a Credit Monitoring Service?
A credit monitoring service keeps track of your credit reports from the three major credit bureaus, TransUnion, Experian and Equifax. When any changes are made to your credit report, your credit monitoring service will notify you of those changes. Major changes include new account openings, credit limit adjustments, large purchases and credit inquiries. Whether through email, text or otherwise, these notifications will help you stay on top of your credit. This is crucial especially in the case of identity theft and fraud. That way you can take action as soon as possible to fix any errors.
Hopefully you'll never have to deal with fraudulent credit activity. But if there is something dragging your score down, a credit monitoring service can still help. Most credit monitoring services provide explanations about the behavior that's helping or hurting your credit. So once you know what's harming your score, you can work toward fixing it. That will get you closer to appearing more attractive to lenders.
How to Choose a Credit Monitoring Service
As with any service, credit monitors will differ slightly in what they offer. While it might be easy to get caught up in the bells and whistles of it all, you should remember that these services will have access to your sensitive financial and personal information. This includes your Social Security number, phone numbers, addresses and birthdate. That means you'll want to find a service you trust the most.
To help you start and narrow down your search, you can start by looking at what each service offers or specializes in. For example, some services specialize in identity fraud protection, while others focus strictly on monitoring for big changes. However, there are services that offer services in both areas which offers a more comprehensive look over your credit report.
The best services offer identity theft insurance, wallet protection, suspect account alerts, instant access to your credit score and daily monitoring of your credit report(s). If you're looking for the best credit monitoring services of 2018, we've got you covered.
The Best Credit Monitoring Services for 2018
LifeLock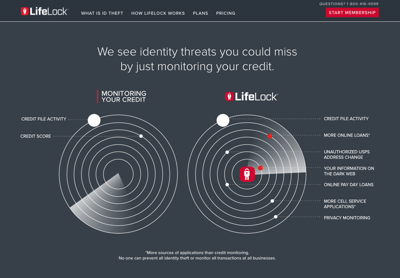 LifeLock offers three kinds of credit monitoring plans to its customers. With each plan more comprehensive than the last, you can better find a LifeLock plan that works for you. At about $10 per month, LifeLock Standard™ comes with the most basic offerings. This includes stolen funds reimbursement up to $25,000, lost wallet protection, Social Security number alerts, LifeLock Privacy Monitor™ and more.
The second plan, LifeLock Advantage™, costs about $20 per month, for all the same features and then some. These added features include bank and credit card activity alerts, alerts on crimes committed in your name, data breach notifications, fictitious identity monitoring and annual credit reports and scores. Plus, you can receive reimbursement of up to $100,000 for stolen funds.
Lastly, the LifeLock Ultimate Plus™ plan comes at the price of about $30 per month, with stolen funds reimbursement of up to $1 million. This is the only plan that offers credit monitoring and annual credit scores and reports from all three credit bureaus. You also gain access to monthly credit score tracking, 401(k) and investment activity alters, bank account takeover and new account alters, file-sharing network searches, sex offender registry reports and priority live member support. With any plan you choose, you also have the option of adding on about $6 per month for LifeLock Junior™ to protect your children from identity theft.
LifeLock can send your alerts to you by phone, email or text. All you have to do is respond whether you authorized the activity or not. If not, LifeLock will help you take the next steps like providing lawyers and experts. LifeLock also provides constant access to a representative, especially with the availability of a smartphone app.
IdentityForce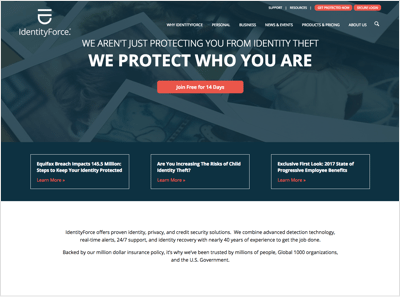 IdentityForce offers two different credit monitoring plans, UltraSecure and UltraSecure+Credit. An UltraSecure plan will cost you about $18 per month while the UltraSecure+Credit plan will cost about $24 per month. Both plans offer many of the same features that come with a LifeLock plan. This means you can expect lost wallet assistance, sex offender monitoring, fraud monitoring, change of address monitoring, bank and credit card alerts, SSN tracking and more.
What IdentityForce does include with both plans that LifeLock doesn't is medical ID fraud protection, online PC protection tools, identity theft insurance of up to $1 million, junk mail opt out and more. The UltraSecure+Credit plan, true to its name and price point, comes with more credit services than its cheaper counterpart. This means you gain access to credit monitoring, reports and scores from all three credit bureaus plus a credit score tracker and simulator.
Identity Guard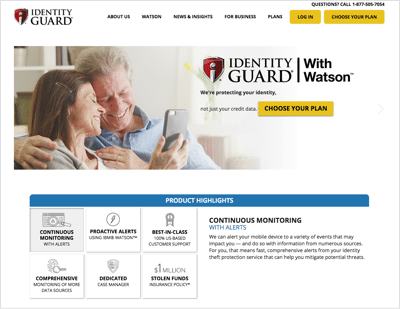 You have three plan options when it comes to Identity Guard credit monitoring. First up, Identity Guard With Watson costs about $20 per month for access to IBMⓇ Watson™ Artificial Intelligence. According to Identity Guard, this technology enables it to to sift through data like news articles and social media to provide the best protection. You'll receive alerts for potential threats, account takeover, new accounts, account applications and more.
Identity Guard's second plan choice, Total ProtectionⓇ, also costs about $20. Without IBM® Watson™ Artificial Intelligence, this account type has slightly different offerings like lost wallet protection, quarterly credit updates and scores from the three bureaus and software to protect your PC.
Your third Identity Guard option is its Platinum offering and at $25 per month, it's the most comprehensive of their plans. It includes many of the same features as the previous two plans, but provides monthly credit report data and scores instead of quarterly. Luckily, all three plans provide credit monitoring on your reports from all three bureaus. Identity Guard also offers personal risk assessment to indicate how much your online activities may put you at risk for identity theft and access to a safe browsing extension. All three accounts offer $1 million in stolen funds reimbursements, U.S.-based case managers and a secure mobile phone app, as well.
Credit Sesame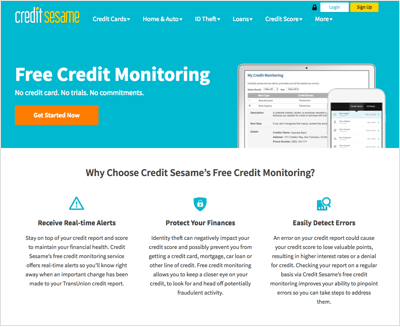 Last on this list comes Credit Sesame for its free identity theft protection plan. With this plan, you have access to many of the same credit monitoring services and at no cost. Credit Sesame monitors your TransUnion credit report and accounts daily and will alert you to any important changes. Plus, it will provide an analysis of your credit report and financial situation so you can see where you can improve. You also have access to your credit score each month. Credit Sesame provides fraud insurance of up to $50,000. Credit Sesame also offers Premium Services although that plan is currently on hiatus.
Should I Sign-Up for a Credit Monitoring Service?
It's important to note that not everyone will want or even need a credit monitoring service. If you are worried about or prone to credit card fraud or identity theft, having a credit monitoring service would be worth it. Just make sure you can afford the service's fees before you sign up.
Even if you want credit monitoring services, you may not even need to sign up for one. Why's that? Jason Steele, a journalist who specializes in credit cards, suggested that consumers look at their credit card's perks. Nowadays, a number of credit cards offer credit monitoring services and even free credit scores at no extra cost to the cardholder. If you already have a credit card, you may also already have access to credit monitoring services.
If you don't, you probably shouldn't get a credit card just for that perk. However, if you're responsible enough and you would like to earn cash back, for example, you could benefit big by getting a credit card with credit monitoring services.
The Takeaway
Before you sign up for a credit monitoring service, make sure it's the right move for you. If you already check on your credit report regularly, keep up the good work! You can avoid those fees. Perhaps you already have those services through your credit card. If you need a credit monitoring service, don't forget to look at the offerings. That way you can maximize your chances at catching any credit report mistakes to keep your credit report healthy and accurate.
Tips for Boosting Your Credit
Credit score feeling down? No need to worry, there are a number of ways you can bring it back up. For starters, you should scour your credit report for any errors or old entries. If you notice anything off, report and dispute them immediately to the credit bureaus and the creditors. It's not the speediest process but it's a great start to cleaning up your credit without heavy lifting.
Got some credit card debt to take care of? Opening a balance transfer credit card will allow you to transfer that existing debt to the new card. Typically a balance transfer credit card will come with a zero-interest introductory period and once that period is up, an interest rate kicks in. Naturally you want to aim to pay off your debt during the interest-free period.
Photo credit: ©iStock.com/Peopleimages, LifeLock, IdentityForce, Identity Guard, Credit Sesame