When you're deciding whether to open a savings account with Chase or Capital One, you should look at the rates and perks each offers and whether they'll meet your financial needs. Both Chase and Capital One are two large banks that offer you widespread access to your money. They additionally offer extensive ATM accessibility and convenient mobile apps, but the prices at which their primary products are provided aren't entirely the same. Below, we take a closer look at the accounts, rates and fees each of the banks offer and how they differ.
Who Should Bank With Chase?
Chase Bank is one of the largest financial institutions in the U.S. The bank offers around 16,000 ATMs nationwide, and provides an impressive branch total of 5,100 branches in 33 states. If you'd like to find one of Chase's physical locations near you, you just need to go to the location finder on its website and enter in the appropriate information.
In addition to the location finder, Chase also offers a convenient way to keep up with your accounts. It provides a user-friendly mobile app that allows you to easily access your money. If you'd rather view your accounts without using the mobile app, an ATM or a branch, you can also access your finances through Chase's online banking system. Perhaps one of the most advantageous parts about signing up with Chase is that the bank offer sign-up bonuses for new users. Though the offer details vary per month, the sign-up bonus is typically around $200.
One of the downsides about Chase is that it generally offers low-earning interest rates and requires monthly maintenance fees. So if minimal monthly fees and high interest rates are priorities to you, you should keep that in mind before choosing Chase.
Who Should Bank With Capital One?
Capital One is a financial institution that offers competitive interest rates along with checking, savings and credit card accounts. When it comes to branch accessibility, the bank is limited in its reach. Capital One maintains a presence in only eight states, plus D.C. Besides branch accessibility, the bank offers great return rates on its savings accounts. Its checking accounts also earn interest, which is relatively rare. Plus, none of the Capital One 360 accounts charge a monthly fee and most of the accounts don't require a minimum opening deposit.
Capital One also offers a user-friendly website that's easy to navigate. The only catch about the bank is its limited branch locations. The bank only offers physical branches in Texas, Louisiana, Virginia, Maryland, Delaware, New York, New Jersey, Connecticut and D.C. But if branch accessibility isn't crucial to you, you could simply manage your finances either through the mobile app or online. You could also do your banking through Capital One's recently introduced Capital One Cafes. The bank offers these cafes in seven states and they function as casual environments for both dining and banking.
Capital One vs. Chase: Bank Accounts
Both Chase and Capital One offer checking accounts, savings accounts, certificates of deposit (CDs) and IRAs. However, the terms and conditions for those products do vary per bank. Chase offers two primary savings accounts, including the Chase Savings and Chase Premier Savings accounts. While the accounts do require monthly fees, there are ways for you to waive them. However, the costs for opening a CD do differ in range. The APY the CD earns at depends on the account balance you open the CD with, and the term length you choose. Chase's CD term lengths range from one to 120 months. Luckily, Chase's CDs don't require a monthly maintenance fee.
Chase does offer quite a few checking accounts tailored toward your financial needs. Offered under checking accounts are Chase Total Checking®, Chase Premier Plus Checking, Chase Premier Platinum Checking and two additional student checking accounts (Chase High School Checking and Chase College Checking).
Capital One offers two different savings accounts, including the 360 Savings® Account and the Kid's Savings Account. The 360 Savings® Account functions as your most basic savings fund. The Kid's Savings Account, on the other hand, allows you to deposit money into your child's savings account. One of the best features about the Kid's Savings Account is that it requires no minimum opening deposits or maintenance fees.
Both savings accounts also automatically provide you access to Capital One's Automatic Savings Plan. This plan basically let's you give Capital One permission to save money for you. You just have to tell the bank how much money you'd like to save, and how often you want it transferred to your 360 Savings account. In addition, Capital One's CD rates exceed those offered by Chase. Capital One's CD term lengths range from six months to five years with APYs between 0.60% and 2.80%. You can now also easily add beneficiaries to your Capital One CDs online.
Capital One vs. Chase: Fees
Both Chase and Capital One charge different fees for different banking actions, but it might shock you to see how far the gap between those fees is. Chase's checking and savings accounts do require monthly maintenance fees but these are waivable. All Capital One accounts, however, come without monthly maintenance fees and minimum opening deposits. You'd think this no-fee Capital One trend would end here, but it doesn't. Chase charges a $2.50 fee for every withdrawal made from an out-of-network ATM, while Capital One doesn't charge anything.
Chase vs. Capital One
Chase
Capital One
Basic Checking Account
$12 per month, (waivable through three ways)
None
Basic Savings Account
$5 per month, (waivable through four ways)
No maintenance fees, (fees may be charged for outgoing domestic wires and a copy of a statement generated in the last two years)
Non-bank ATM in the U.S.
$2.50 per transaction (waivable through three ways)
None
Overdraft
$34
$35
There are some fees you can avoid with careful attention to your account. When it comes to overdrafts, Chase charges a $34 fee but also offers free overdraft protection transfers. You'll typically be able to avoid monthly fees when using Capital One, but you will receive fees for overdrafts. Capital One charges you a $35 fee if you overdraw from your account. You may also receive a fee on outgoing wires. For foreign withdrawals, Chase charges a $5 fee, while Capital One charges no currency conversion fees.
Capital One vs. Chase: Rates
When it comes to interest rates, Chase only offers a 0.01% APY for both its savings and checking accounts. Capital One, however, offers a 1.00% APY for its basic savings accounts. It also offers a 1.60% APY for its 360 Money Market® account with balances of at least $10,000. Capital One's 360 Money Market® account basically functions as a high-interest online savings account.
Final Word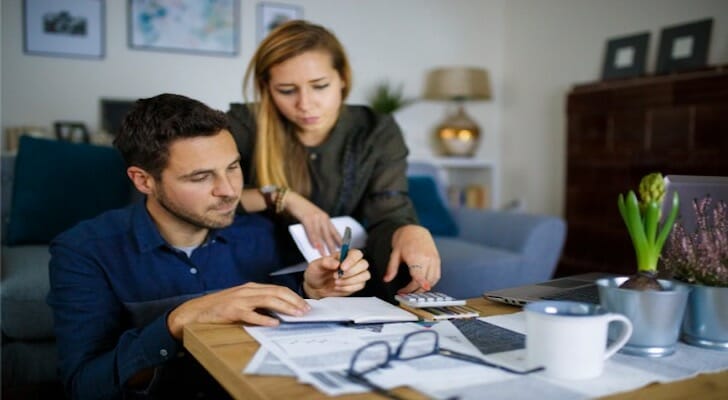 Both Chase and Capital One provide their users convenient access to their accounts, and also offer easily navigable websites and mobile apps. Capital One is a great choice for you if you value high interest rates and fee-free bank accounts, but don't mind limited branch accessibility. Chase, on the other hand, may be perfect for you if you're looking for banking perks like sign-up bonuses, branch accessibility and various account options. Chase's account-linking option can also be good for you if you plan to keep your money solely within their bank.
Tips for Finding the Right Bank
Before you choose a bank, you should first determine what your savings goals are and whether that bank will help you meet them. Do the account opening deposit minimums and fees align with your financial situation, or would opening a free checking account be more suitable? Does the bank offer widespread branch accessibility or are they limited in their physical presence? Make sure to consider these things before opening an account with a new bank. This will help ensure that you find the bank that's best for you.
If your financial situation has recently changed or you're hoping to make the most of your finances, consider talking to a financial advisor. A good advisor can help you come up with a plan to meet your financial goals. SmartAsset's financial advisor matching service can help you meet an advisor in your area. First you answer a series of questions on your situation and goals, and we'll match you with up to three advisors who meet your needs.
Photo credit: ©iStock/wutwhanfoto, ©iStock/PeopleImages, ©iStock/Milan_Jovic