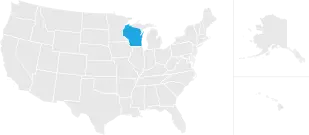 Overview of Wisconsin Taxes
Wisconsin workers are subject to a progressive state income tax system with four tax brackets. The tax rates, which range from 3.54% to 7.65%, are dependent on income level and filing status.
Work Info
Marital Status
Enter your marital status
Dismiss
Job
Location
Enter your location
Dismiss
Deduction
Name
Calculation
Method
Deduction
Amount
Long Term Disability Insurance
Dismiss
Deduction
Name
Calculation
Method
Deduction
Amount
Dismiss
Are you exempt from any taxes?
Salary (per year)
Dismiss
Hours (per pay period)
Dismiss
Overtime Hourly Wage
Dismiss
Overtime Hours (per pay period)
Dismiss
Your estimated
--
take home pay:
---
Where is your money going?
Gross Paycheck
$

--

Taxes

--

%
$

--

Details
Federal Income

--

%
$

--

State Income

--

%
$

--

Local Income

--

%
$

--

FICA and State Insurance Taxes

--

%
$

--

Details
Social Security

--

%
$

--

Medicare

--

%
$

--

State Disability Insurance Tax

--

%
$

--

State Unemployment Insurance Tax

--

%
$

--

State Family Leave Insurance Tax

--

%
$

--

State Workers Compensation Insurance Tax

--

%
$

--

Pre-Tax Deductions

--

%
$

--

Details
Post-Tax Deductions

--

%
$

--

Details
Take Home Salary

--

%
$

--
Save more with these rates that beat the National Average
---
Share Your Feedback
How would you rate your experience using this SmartAsset tool?
What is the most important reason for that score? (optional)
Please limit your response to 150 characters or less.
Thank you for your answer! Your feedback is very important to us.
Wisconsin Paycheck Calculator
Wisconsin Paycheck Quick Facts
Wisconsin income tax rate: 3.54% - 7.65%
Median household income: $69,493 (U.S. Census Bureau)
Number of cities that have local income taxes: 0
How Your Wisconsin Paycheck Works
When you receive a paycheck in Wisconsin, you will notice that money has been subtracted from it for FICA taxes, as well as federal and state income taxes. That's because the Federal Insurance Contributions Act (FICA) requires that Social Security and Medicare taxes are withheld.
These taxes are deducted from your paycheck in fixed percentages. The federal government receives 12.4% of an employee's income each pay period for Social Security: 6.2% comes from the employee's paycheck itself and the employer matches that to provide the other 6.2%. Medicare tax follows a similar process. Employees pay 1.45% from their paychecks and employers are responsible for the remaining 1.45%.
If you earn wages in excess of $200,000 (single filers), $250,000 (joint filers) or $125,000 (married people filing separately), you will have to pay an additional 0.9% Medicare surtax, which employers do not match. If you are self-employed, you must pay the full percentages of FICA taxes, but a tax deduction lets you recoup some of the "employer" portion.
How much you pay in federal income taxes varies from person to person. Your Wisconsin employer will make sure that the income withheld from your paycheck is consistent with the information on the W-4 form you submitted. This information includes your marital status, dependents and any additional dollar amounts you want withheld.
Withholding calculations and the Form W-4 have seem major revisions over the last few years. The new version completely removes the use of allowances. Instead, it uses a five-step process that allows filers to enter personal information, claim dependents and indicate any additional income or jobs. These updates mainly apply to those adjusting their withholdings or changing jobs.
Taxes are not the only factors that affect your paycheck. If you make contributions to a health savings account (HSA) or flexible spending account (FSA), that will reduce your paycheck further. Similarly, if you get health or life insurance through an employer-sponsored plan, any premiums you pay will be deducted from your wages.
Wisconsin Median Household Income
| Year | Median Household Income |
| --- | --- |
| 2021 | $69,943 |
| 2020 | $67,405 |
| 2019 | $67,355 |
| 2018 | $62,629 |
| 2017 | $63,482 |
| 2016 | $59.817 |
| 2015 | $55,425 |
| 2014 | $58,080 |
| 2013 | $51,726 |
| 2012 | $53,079 |
Previously, Wisconsin had some of the highest state income and property taxes nationwide. Beginning in 2013 and 2014, the state made significant tax cuts that have reduced, and will continue to reduce, rates. These cuts have had the most significant effect on the lowest of the four income brackets. The top state income tax bracket stayed the same, though.
As a single earner or head of household in Wisconsin, you'll be taxed at a rate of 3.54% if you make up to $12,760 in taxable income per year. Singles and heads of household making $280,950 or more in taxable income are subject to the highest tax rate of 7.65%. The tax rates are the same across all filing brackets, but the income levels change based on filing status. There are no additional local income taxes anywhere in the Badger State.
If you're thinking about buying a home in the state, or if you're looking to refinance a property, you might want to check out our Wisconsin mortgage guide to make sure you're familiar with the rates and details of getting a mortgage there.
Income Tax Brackets
Single Filers
Wisconsin Taxable Income
Rate
$0 - $12,760
3.54%
$12,760 - $25,250
4.65%
$25,250 - $280,950
5.30%
$280,950+
7.65%
Married, Filing Jointly
Wisconsin Taxable Income
Rate
$0 - $17,010
3.54%
$17,010 - $34,030
4.65%
$34,030 - $374,600
5.30%
$374,600+
7.65%
Married, Filing Separately
Wisconsin Taxable Income
Rate
$0 - $8,510
3.54%
$8,510 - $17,010
4.65%
$17,010 - $187,300
5.30%
$187,300+
7.65%
Head of Household
Wisconsin Taxable Income
Rate
$0 - $12,760
3.54%
$12,760 - $25,250
4.65%
$25,250 - $280,950
5.30%
$280,950+
7.65%
A financial advisor can help you understand how taxes fit into your overall financial goals. SmartAsset's free tool matches you with up to three vetted financial advisors who serve your area, and you can interview your advisor matches at no cost to decide which one is right for you. If you're ready to find an advisor who can help you achieve your financial goals, get started now.
How You Can Affect Your Wisconsin Paycheck
The decisions you make when completing your Form W-4 play a big role in determining the size of your paycheck. To avoid owing money to the IRS in April, you may want to opt for an additional dollar withholding from each of your paychecks. There is a line on the W-4 that allows you to enter the extra amount you want withheld. While this will result in smaller checks for now, it will reduce your bill come tax season, or even turn it into a refund.
Another option for Wisconsin taxpayers is to put more of your paycheck into tax-advantage accounts like a 401(k) or 403(b) retirement account. You can also put money an HSA or FSA, which are two accounts that can be used for medical expenses. The money that you contribute to these accounts is deducted from your paycheck prior to taxes being withheld. So by increasing your contribution, you can lower your taxable income and possibly save some money in taxes. Keep in mind, however, that the funds you put into your FSA may not all roll over from year to year. If you don't use them in time, you'll lose them.
Wisconsin Top Income Tax Rate
| Year | Top Income Tax Rate |
| --- | --- |
| 2022 | 7.65% |
| 2021 | 7.65% |
| 2020 | 7.65% |
| 2019 | 7.65% |
| 2018 | 7.65% |
| 2017 | 7.65% |
| 2016 | 7.65% |
| 2015 | 7.65% |
| 2014 | 7.65% |
| 2013 | 7.75% |
Calculate Your Paycheck in These Other States