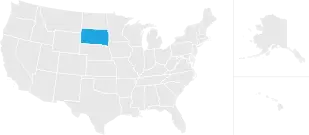 Overview of South Dakota Taxes
South Dakota does not levy a state income tax. Additionally, no South Dakota cities have local income taxes. Taxpayers will, of course, still have to pay the federal income tax, as well as FICA taxes.
Work Info
Marital Status
Enter your marital status
Dismiss
Job
Location
Enter your location
Dismiss
Deduction
Name
Calculation
Method
Deduction
Amount
Long Term Disability Insurance
Dismiss
Deduction
Name
Calculation
Method
Deduction
Amount
Dismiss
Are you exempt from any taxes?
Salary (per year)
Dismiss
Hours (per pay period)
Dismiss
Overtime Hourly Wage
Dismiss
Overtime Hours (per pay period)
Dismiss
Your estimated
--
take home pay:
---
Where is your money going?
Gross Paycheck
$

--

Taxes

--

%
$

--

Details
Federal Income

--

%
$

--

State Income

--

%
$

--

Local Income

--

%
$

--

FICA and State Insurance Taxes

--

%
$

--

Details
Social Security

--

%
$

--

Medicare

--

%
$

--

State Disability Insurance Tax

--

%
$

--

State Unemployment Insurance Tax

--

%
$

--

State Family Leave Insurance Tax

--

%
$

--

State Workers Compensation Insurance Tax

--

%
$

--

Pre-Tax Deductions

--

%
$

--

Details
Post-Tax Deductions

--

%
$

--

Details
Take Home Salary

--

%
$

--
Save more with these rates that beat the National Average
---
Share Your Feedback
How would you rate your experience using this SmartAsset tool?
What is the most important reason for that score? (optional)
Please limit your response to 150 characters or less.
Thank you for your answer! Your feedback is very important to us.
South Dakota Paycheck Calculator
South Dakota Paycheck Quick Facts
South Dakota income tax rate: 0%
Median household income: $73,893 (U.S. Census Bureau)
Number of cities that have local income taxes: 0
How Your South Dakota Paycheck Works
Since South Dakota is one of seven states with no personal income tax, FICA and federal income taxes are the only concern for workers here. The lack of income taxes means more money in your pocket throughout the year.
When we talk about FICA taxes, the two factors at play are Social Security and Medicare taxes. Each pay period, 6.2% of your paycheck goes to your share of Social Security taxes and 1.45% goes to Medicare taxes. Your employer matches these contributions so the total amount is double what you pay.
While most of the time you only pay 50% of the total FICA taxes, this is not always the case. If you're a self-employed individual in the Mount Rushmore State, you'll need to pay all FICA taxes yourself since you won't have an employer to match the remaining half. If you do pay the full tax, make sure to look into the deduction of half the FICA taxes on your tax return (you will need to attach Schedule SE to your 1040).
Each time you receive a South Dakota paycheck, you will notice a federal income tax withholding. The amount of federal income tax that your employer withholds from your paycheck depends largely on the information you provide on the W-4 form you submit. This is why employers require you to submit a W-4 when you start a new job. You should also submit a new W-4 to reflect any updates to your filing status, dependents or salary. If you haven't recently, make sure to double-check your withholdings on your Form W-4.
Over the last few years, the IRS has made changes to the W-4. The new form removes the use of allowances and applies a five-step process that asks filers to indicate any additional income or jobs, along with other personal information.
South Dakota Median Household Income
| Year | Median Household Income |
| --- | --- |
| 2021 | $73,893 |
| 2020 | $70,189 |
| 2019 | $64,255 |
| 2018 | $59,463 |
| 2017 | $56,914 |
| 2016 | $57,450 |
| 2015 | $55,065 |
| 2014 | $53,053 |
| 2013 | $53,413 |
| 2012 | $49,415 |
As mentioned above, South Dakota does not have a state income tax. There also aren't any local income taxes. This makes South Dakota a generally tax-friendly state. It also has one of the lowest sales taxes in the nation, with a base sales tax rate of just 4.5%, though municipalities may impose a general municipal sales tax rate of up to 2%, and an additional 1% municipal gross receipts tax (MGRT).
A financial advisor can help you understand how taxes fit into your overall financial goals. SmartAsset's free tool matches you with up to three vetted financial advisors who serve your area, and you can interview your advisor matches at no cost to decide which one is right for you. If you're ready to find an advisor who can help you achieve your financial goals, get started now.
If the tax laws have you wishing you could be a resident of the Mount Rushmore State, take a look at our South Dakota mortgage guide to understand your mortgage options for buying a home in the state. It includes information for those considering a refinance on your mortgage as well.
How You Can Affect Your South Dakota Paycheck
While you can't avoid federal income taxes altogether even living in a tax-friendly state like South Dakota, you can take some steps that affect how much you pay. You can no longer claim allowances on your W-4, but you can elect to maximize your paycheck by contributing more to a 401(k) or another type of retirement account. This is because the money you put into a 401(k) or 403(b) is taken from your wages before taxes are applied. In other words, increasing your retirement contributions can actually lower your taxable income.
Putting funds into a health savings account (HSA) or flexible spending account (FSA), if your employer offers them, works in a similar fashion. You can use the funds you put into these accounts for health-related expenses, like medical copays or prescriptions. However, it's important to keep in mind that there is an expiration date on money you put into an FSA. Only $500 will roll over from year to year.
Calculate Your Paycheck in These Other States