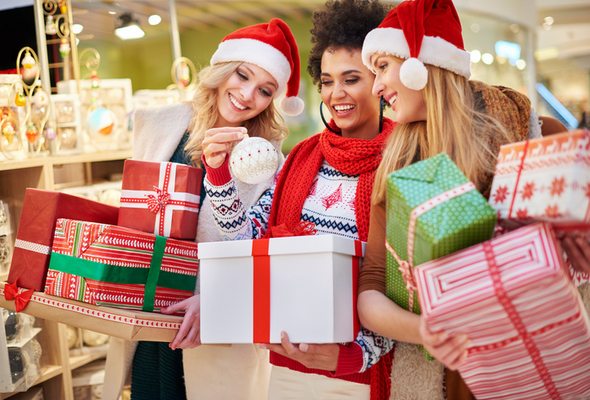 The average American spent more than $800 during the 2015 holiday shopping season, according to the National Retail Federation. Total holiday sales for the year reached $626.1 billion, a 3% increase since 2014. A recent survey from the trade association says that this year, the average consumer plans to spend $935.58 over the course of the holiday season.
See what the average budget looks like for someone in your neighborhood.
Finding gifts for everyone on your list can be challenging, especially if the stores in your area don't have much to offer. If you're wondering how your local shopping scene compares to the one in New York City or San Francisco, you're in luck. SmartAsset took a look at the best places in America to shop around the holidays.
Study Specifics
To find the best cities for shopping during the holidays, SmartAsset ranked 174 cities across six different metrics. We considered the sales tax rate, property crime rate and walk score in each city. We also looked at the number of retail stores per square mile and the number of retail stores for every 10,000 residents. You can read our full methodology below.
See how long it'll take to pay off your credit card debt.
Key Findings
Three-way tie. Three of the best cities for shopping during the holidays are tied for seventh place: Philadelphia, Miami and Fort Lauderdale. So you can't go wrong if you're planning to get gifts for your friends and relatives in any of these places.
The Portland pair. Both Portland, Oregon and Portland, Maine rank in the top 10 on our list.
Sorry Southwest. None of the top 25 cities in our analysis are located in this region. Based on our factors, Lawton, Oklahoma comes in last place.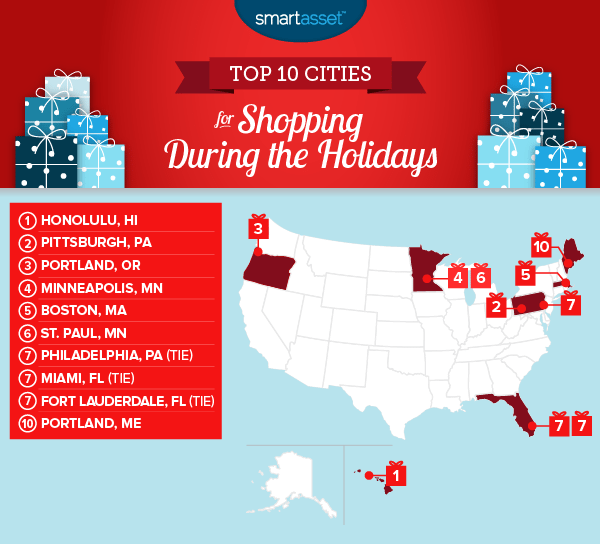 1. Honolulu, Hawaii
Hawaii could be a great place to visit if you're trying to get everything on your holiday shopping list. There are about 22 retail stores for every 10,000 residents and about 15 retail stores per square mile.
If you're looking for something unique, you can visit some of the boutiques in the Hilton Hawaiian Village or the Kahala Mall. Or you can check out the Ala Moana Center, the largest outdoor shopping center in the world. If you have expensive taste, you might want to stop by Luxury Row, a high-end shopping complex with over 100,000 square feet of space for retailers.
2. Pittsburgh, Pennsylvania
There are many reasons why Pittsburgh ranks as the second-best place to get your holiday shopping done. For one, consumers don't have to pay sales tax if they're buying clothing items anywhere in the state of Pennsylvania. Specifically in Pittsburgh, you'll find everything from funky shops and antique stores to classic department stores like J.C. Penney and Sears.
3. Portland, Oregon
Tired of running out of gift ideas every year? Fortunately, you'll have a lot of items to choose from if you're holiday shopping in Portland, Oregon. There are more than 1,300 retail stores in the area. Best of all, you won't pay sales tax on any of your purchases. That'll come in handy if you're trying to save money and reduce your tax bite.
4. Minneapolis, Minnesota
Minnesota is another state that doesn't tax shoppers for buying clothing. So if you're trying to spruce up your wardrobe or make sure your kids have new coats for the winter, you'll be happy if you live in the North Star State.
There are more than 1,100 retail stores in Minneapolis, according to the U.S. Census Bureau. A popular shopping destination in the city is the Nicollet Mall. Another one is the Mall of America, located in the Minneapolis-St. Paul metro area. It's the largest mall in the country and has more than 520 different stores.
5. Boston, Massachusetts
Boston has the lowest property crime rate in our top 10. FBI data reports that annually there are about 2,316 property crimes per 100,000 residents. Major crime rates in Boston overall are lower than they've been in years.
Plus, the city is fairly easy to navigate if you don't have a car. Walkscore.com – which rates places around the country for their walkability – gives Boston a walk score of 81. That's only slightly lower than New York City's walk score (89).
Related Article: The Cost of Living in Boston
6. St. Paul, Minnesota
St. Paul residents participate in a number of festivities during the holidays. Every year, more than 60 lights are lit during the Holiday Lights in the Park displays that raise money for nonprofits around the community. There's also the annual Old Fashioned Holiday Bazaar at the Landmark Center, where shoppers can purchase handcrafted jewelry, decorations and other accessories.
In fact, you'll find all kinds of shops in St. Paul with goods made by local residents. Some of them include StormSister Spatique, which sells environmentally friendly cosmetics, and candy shops like Pearson's Candy Company and Mademoiselle Miel.
7. (tie) Philadelphia, Pennsylvania
Philly's shopping scene doesn't disappoint. Some notable shopping destinations in the City of Brotherly Love include the Shops at Liberty Place and the Philadelphia Mills Mall, a discount shopping complex with more than 200 retail stores.
The Macy's Center City store in downtown Philadelphia is considered a national historic landmark and has been around for over a century. Since 1955 it's been the site of the Holiday Light Show, which typically takes place daily between Thanksgiving and the end of December. Out-of-state visitors and international guests automatically qualify for a 10% savings pass, as long as they bring their IDs.
7. (tie) Miami, Florida
Whether you're renting an apartment in Miami or you're just in town for a few days, doing some shopping in the city is a must. Miami has more retail stores per square mile than any other city in our study, rivaling other major cities like Chicago and Atlanta. While it's another city with a high walk score, you might need a car if you're planning to do most of your holiday shopping in one sitting.
7. (tie) Fort Lauderdale, Florida
There are roughly 33 retail stores per square mile in Fort Lauderdale and nearly 15 retail stores for every 10,000 residents. If you can't pull yourself away from the sand, you can do your holiday shopping at the Gallery at Beach Place, located right across from the beach.
Even if you don't live in Fort Lauderdale, traveling to the city to do some shopping may not be a bad idea. It ranks as one of the most affordable destinations for both families and single travelers.
10. Portland, Maine
Data from the Census Bureau shows that Portland, Maine has fewer than 300 retail stores. At the same time, the city has one of the highest concentrations of retail stores per 10,000 residents in our analysis.
Portland, Maine is another great place for anyone looking for indie shops and original gifts during the holiday season. You can find furniture, pottery, candles and other products made by regional artists and entrepreneurs.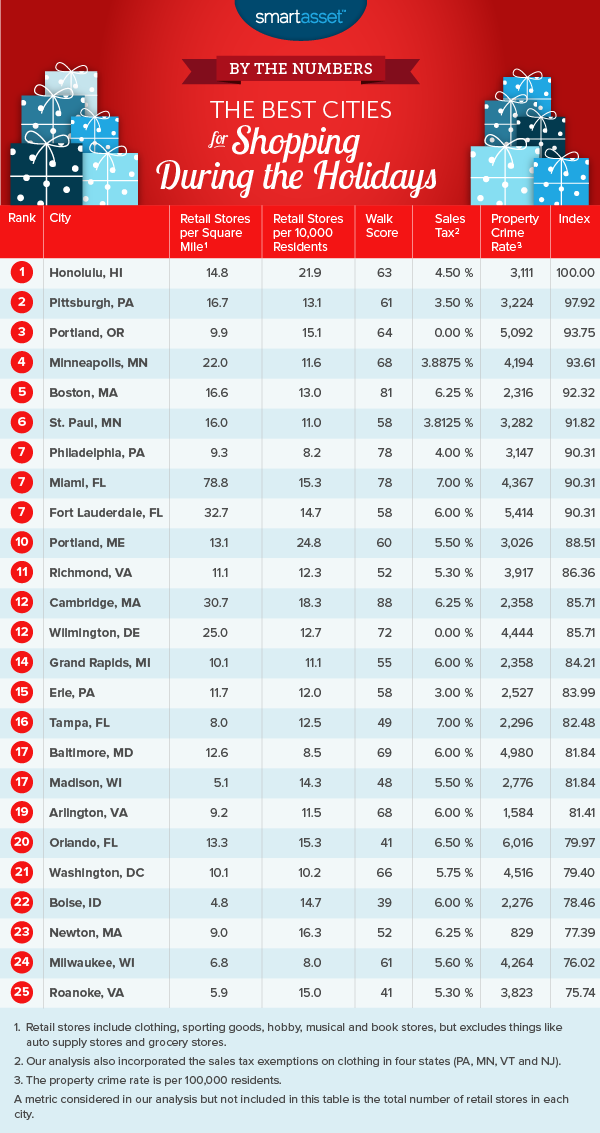 Data & Methodology
To find the best cities for shopping around the holidays, SmartAsset ranked 174 U.S. cities using the following six metrics:
Sales tax rate. This is our most important factor because it reflects the affordability of shopping conditions in each city. We gave double weight to this metric. Note that some states fully exempt clothing purchases from sales tax (Vermont, New Jersey, Minnesota and Pennsylvania). We treated cities in these states as having a sales tax rate half that of the actual rate. For example, in Minneapolis the sales tax rate is 7.775% but we treated it as a 3.8875% tax rate.
The total number of retail stores. This factor includes sporting goods stores, book stores, clothing stores and hobby stores but excludes stores like grocery stores. We gave full weight to this metric.
The number of retail stores per square mile. This factor looks at the density of retail stores in different cities. We assumed that having more access to stores in an area would be better for people shopping during the holidays. We gave full weight to this metric.
The number of retail stores per 10,000 residents. We gave half weight to this metric.
Walk score. This metric is a rating of each city's walkability and comes from walkscore.com. We gave half weight to this factor.
Property crime rate. This is the number of annual property crimes in each city per 100,000 residents for 2015. If there was data missing, we used 2014 crime rates. We gave half weight to this factor.
After ranking each city across each of our factors, we averaged our rankings, giving the appropriate weight to each metric. Then we created an overall ranking and gave each city a score. The highest-ranking city received a 100 and the lowest-ranking city received a 0.
Data on retail stores comes from the Census Bureau's 2014 Zip Code Business Patterns database. To find the number of retail stores per square mile, we used data from the 2010 Census Summary. Property crime rates come from the FBI. Sales tax rates come from Sale-tax.com.
The data analysis for this study was completed by Nick Wallace.
Questions about our study? Contact us at press@smartasset.com.
Photo credit: ©iStock.com/gpointstudio