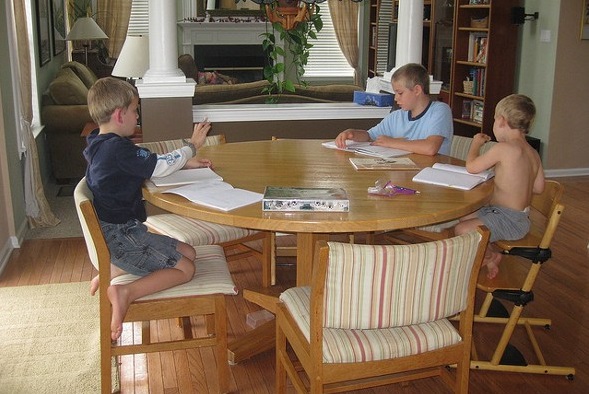 Many families have recently taken to homeschooling, with some estimates putting the number at over 1.5 million children in the United States being educated in this way. There are many reasons why a family may choose to homeschool, including geographical challenges, a nomadic lifestyle or the lackluster state of the local education system. What many people don't realize, though, is that homeschooling can be expensive. Between technology, learning materials and field trips, the costs can add up pretty quickly. Have you considered homeschooling? If so, don't let the costs turn you off. Here are some ways you can homeschool on a budget:
Find out now: Student loan calculator
Facebook is Your Friend
There are many homeschooling Facebook groups out there, and they're great for bouncing ideas off of other parents, as well as for being a safe place to ask questions and share resources.
Many groups include parents who are teaching at different grade levels. Try tapping them for inspiration and see if anyone in the group has used materials in the past that they are now willing to sell. Many of these parents may have been doing it for some time and can help you save money with gently used items instead of costly brand new ones.
Join a Local Homeschooling Group
Local homeschooling groups are a great resource and they often host weekly events, so there's an opportunity for socialization among the children. Co-ops can also be a great source for saving money: when you have large groups of people, you may be able to purchase homeschool materials at a discounted rate. You can use others' expertise on how they find inexpensive materials or even borrow materials from other parents.
Top 5 Steps to Avoid Being on Scholarship Sidelines
Use the Library
Although it seems like an outdated idea in the age of the Internet, the library is still a great resource for reading, math and science materials. The cost of books can really add up, even if you can find them for only a dollar or two each. At the library, however, you can borrow them for free. Most libraries also have DVDs and audio books, and some even have the ability to let you download and use ebooks.
Save on Homeschooling Field Trips
When at various attractions, ask if there are discounts available to homeschoolers. Many places (like zoos) offer group rates for traditional schools, so why not get a group of other homeschoolers together and take advantage of the discount?
Also, be sure to look for free days at museums and other attractions. You can visit the local police or fire department or a local farm to see if they'd be willing to host a tour for your kids.
Tap Pinterest and Blogs for Inspiration
Pinterest is a wealth of information for homeschooling parents, as it's filled with free education printables, lesson plans and tips for homeschooling on a budget. A quick search can turn up thousands of these resources.
5 College Planning Mistakes Parents Can't Afford to Make
It is indeed possible to homeschool on a budget. The Internet has plenty of information, so start there. These resources are also valuable to parents with kids on summer break, so if you're looking for activities to fill the days, check out some homeschooling blogs for inspiration.
Photo credit: flickr