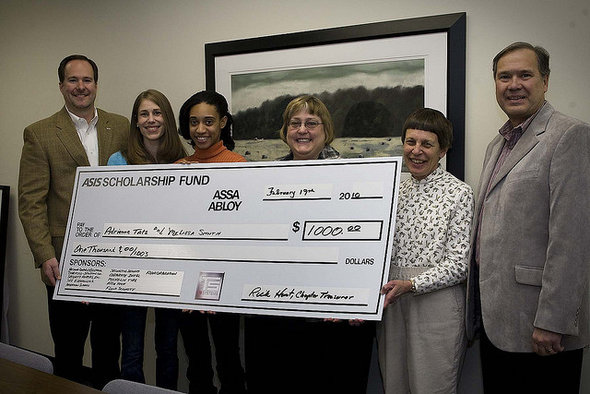 I recently met a mother who was so proud of her son's 33 ACT score that she carried it around with her in her purse. She actually pulled it out to show me. Remember, the highest score you can get is 36, so this student was leading the pack. Still, his mother was concerned about him getting in to the best school possible even though he was only a junior. I said, "Job well done" and told her her son was in the driver's seat when it comes to college choices and should be ready for "full ride" offers from some heavy-hitters.
I must admit this is a rare case. In most, students find themselves competing with others whose test scores and grades are average or above average. That means it is difficult to get those full ride scholarships. And it may be doubly hard if you are a non-traditional student. For these students, it is important to look at other scholarship opportunities, as you may need multiple scholarships to help pay for your education. Here are five places to search for partial scholarship dollars.
Credit Unions
Credit unions all over the country offer scholarships to their members or children of their members. An essay or video essay is usually required. Check with your institution as soon as possible, as the deadlines are usually in January or February.
Places of Worship
Your individual church or place of worship may not offer scholarship dollars, but their national or international office may do so. Check with religious leaders or go online and look at their websites.
Employers
Many employers offer tuition reimbursement to their employees. First, though, you must make sure the school you plan to attend will defer payment until after you've completed the course and received your grade. In most cases, your employer will require you to have a "B" or better to be reimbursed for fees. If you meet this requirement and have a deferment you could eliminate an out-of-pocket expense. Keep in mind that employers usually have an annual limit, so this would pay for only a course or two.
Scholarship Clearing Houses
There are all sorts of websites that provide information on various scholarship opportunities. Create an account for several of them and check frequently. Run away from any that require membership.
Niche Scholarships
If you already know what area of interest you would like to pursue, check out departments within the college or university to find out what scholarships are available. I know a young man who has a music scholarship that awards $2,000 per year. No, it won't pay for all his tuition, but it definitely helps
If you are not at the top of the class, the reality is, you will have to scratch and scrape to find scholarships for which you are eligible. Take heart that it can be done. Just be sure to start your search now.
Photo credit: flickr