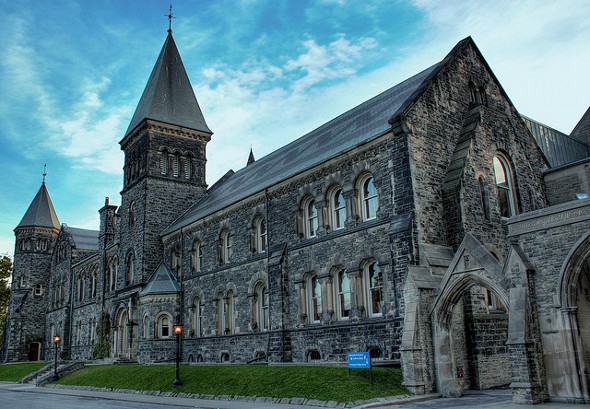 For many high school juniors and seniors, the overriding goal of their academic careers is to go to the best university possible. They write college essays, pour over their SATs, and load up on extracurricular activities in the hope of getting one of the most prestigious colleges or universities to accept them. Determining the "best" school is a difficult task, though, as different students want different things out of their college experience. And to that end, different schools may be best for different students.
But there are things we can quantify. We know the prestige of certain schools, we know how few students they accept, we know the quality and number of professors, we know how much students go on to earn and we know the quality of student life. Basically, we don't know it all, but we know a lot. So using some of that information, we've come up with a list of the top 10 best universities in America.
Data & Methodology
We compared American universities on four criteria: student-to-faculty ratio, retention rate, acceptance rate and endowment size.* We used student-to-faculty ratio to help us determine how small each class was and how easily students could speak with professors. The retention rate between freshman and sophomore year can serve as a proxy to the overall school experience (i.e. the better the experience, the more likely students will return for the second year). The acceptance rate shows the school's selectivity. Endowment can indicate both alumni support and how much a university can provide towards financial aid, professor pay and campus renovations.
To find the top 10 universities from this data, we ranked 60 of them by each factor. The lower the score the better. For example, the university with the lowest student-to-faculty ratio gets a 1 for that category. The university with the highest endowment, on the other hand, got the 1. We then totaled the rankings over each factor to come up with each school's total score. The lower the overall score, the higher the overall ranking.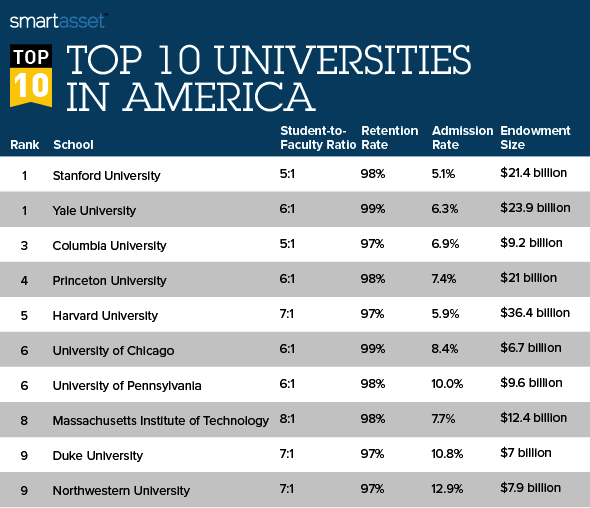 1. Stanford University
For the class of 2018, Stanford accepted just over 5% of applicants, making it the most selective university in the nation. Based in Silicon Valley, Stanford is also a powerhouse in fundraising, recently becoming the first school to raise upward of $1 billion in a single year. Stanford boasts an impressive 5:1 student-to-faculty ratio and has 21 Nobel Prize winners on its staff. With more than $21 billion in its endowment, the school has the resources to welcome the best of the best: former faculty and alumni have gone on to start some of the world's biggest companies, including Google, Nike and Netflix.
1. Yale University
Founded in 1701 and located in New Haven, Connecticut, Yale ranks near the top of most "Best of" university lists out there, and for good reason. In addition to 99% of freshmen returning for sophomore year and an insanely competitive admissions process, the school boasts an alumni list that is hard to top: five U.S. presidents, thousands of members of Congress and 230 Rhodes scholars—behind only Harvard's 335. A member of the Ivy League, Yale's team name is the Bulldogs, and its endowment is just south of $24 billion.
3. Columbia University
Home to the annually-awarded Pulitzer Prize and the only Ivy League school in New York City, Columbia was originally founded in 1754 as King's College. Officially becoming Columbia University in 1896, it now has 20 schools under its umbrella and is affiliated with other neighboring institutions, like Barnard College and Union Theological Seminary. Columbia is highly selective, admitting less than 7% of applicants, and it has a student-to-faculty ratio of 5:1.
4. Princeton University
Princeton borrows its name from its New Jersey community and has long been considered one of the nation's elite schools, as well as in the upper crust of the Ivy League. Sporting its trademark orange and black, Princeton's team name is the Tigers. The school has an endowment of $21 billion, allowing it, like its fellow Ivy League schools, to be extremely generous with financial aid. Princeton also has 37 Nobel Prize winners and a student-to-faculty ratio of 6:1. Minority and international students comprise more than half the undergraduate population.
5. Harvard University
When many people think about the pinnacle of higher education, they often think Harvard. The school has long been revered as one of the best universities in America, and there are plenty of reasons why. With the largest endowment of any school on the planet ($36.4 billion), it has the resources and prestige to attract some of the brightest talent. Eight U.S. presidents and 335 Rhodes scholars went to Harvard, and it currently has the lowest acceptance rate of all Ivy League schools.
6. University of Chicago
Founded by John D. Rockefeller in 1890, the University of Chicago is renowned for many of its graduate programs, including the Booth School of Business and Pritzker School of Medicine. Its undergraduate program, though, is just as notable, with 99% of freshmen returning for sophomore year, a student-to-faculty ratio of 6:1 and an acceptance rate of just over 8%. The school also operates the University of Chicago Press, one of the most storied university presses in the country, and has an alumni and faculty list that feature nearly 100 Nobel Prize winners.
6. University of Pennsylvania
Founded by Benjamin Franklin, UPenn is located in Philadelphia and home to the renowned Wharton School of Business. UPenn is known for its interdisciplinary approach, allowing students to take classes in any of its schools, and also for its significant investments in research, with a budget of close to $1 billion. Like its fellow Ivies, UPenn has a long list of notable alumni, including Nobel and Pulitzer Prize winners, heads of state and Supreme Court justices. With almost $10 billion in resources, the school has one of the largest endowments in the country.
8. Massachusetts Institute of Technology
Spread over 168 acres in Cambridge, Massachusetts, MIT is one of, if not the, premier incubators for careers in science and technology. Undergraduates have little trouble finding a full-time job after graduation, and more than three-quarters of the school complete internships during their four years. As you'd expect, the alumni go on to do great things: 80 members of the MIT community have won Nobel Prizes, 39 have won the National Medal of Science and four have even won a Pulitzer Prize.
9. Duke University
Duke is known for more than just its powerhouse basketball team led by Coach Mike Krzyzewski. Located in Durham, North Carolina, Duke was originally founded in 1838 and has since gone on to become one of the elite universities in the country, sporting a 7:1 student-to-faculty ratio and admitting less than 11% of students. Famous alumni come from all walks of life and include Charlie Rose, Richard Nixon and Ken Jeong. While Duke continues to have historical ties to the United Methodist Church, it is in fact independent and non-sectarian.
9. Northwestern University
Founded in 1851 in Evanstown, Illinois, Northwestern is routinely considered one of the top universities in the Midwest. Northwestern is comprised of 12 schools, offering degrees over a wide range of programs. Famous alumni include Stephen Colbert, Seth Meyers and Julia Louis-Dreyfus, as well as a long list of notable journalists from the Medill School of Journalism. The university has an endowment of almost $8 billion, and in addition to its prestigious academics, Northwestern also has a storied athletic history, competing as the only private university in the Big Ten Conference.
Photo credit: flickr
_____________________________
*Data came from individual university websites, as well as the latest edition of U.S. News and World Report.