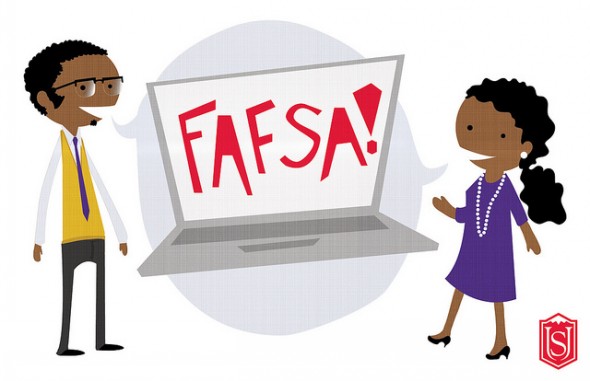 Tax season is underway which means it's also time for college-bound students to begin applying for financial aid. If you're planning on borrowing from the government or looking for grants to help pay for your education you'll need to complete the Free Application for Federal Student Aid. Even though it's easier than ever to apply, navigating the process can still be a little tricky. Here are some tips to keep in mind to make sure you get the most from your financial aid package.
Related: What Will It Cost To Go To School?
1. Review the Eligibility Guidelines
Before you attempt to tackle the FAFSA you need to make sure you're eligible for aid first. Under the Department of Education guidelines you have to be a U.S. citizen or eligible noncitizen, have a valid Social Security Number, have a high school diploma or GED, be enrolled in an eligible program and registered with the Selective Service if you're male and not currently serving in the Armed Forces.
Students who are reapplying for aid also have to maintain satisfactory academic progress while they're in school and you can't owe a refund on a federal grant or default on a federal student loan. If you're convicted of a drug-related offense that occurred while you were receiving federal loans or grants it may impact your ability to apply for additional aid in the future.
2. Get Organized
There are several key pieces of information that you'll need to fill out the FAFSA and it's helpful to get all your paperwork in order before you dive in. Generally, the kinds of things you'll need include your Social Security number, your prior year's tax return or other income statements if you haven't filed taxes before, current bank statements or investment statements and a federal student PIN.
If you're considered a dependent student, you'll need all the same information for your parents. For 2014, you're considered a dependent if all of the following apply:
You were born after January 1, 1991
You're unmarried
You're enrolled in an undergraduate degree program
You're not currently on active duty or a veteran of the Armed Forces
You don't have children or other dependents who rely on you for more than half their support
You have never been classified as a dependent or ward of the court, emancipated minor, self-supporting youth or been subject to legal guardianship
If even one of these situations doesn't apply to you, you'll have to fill out the FAFSA as an independent student. This means your parents income and assets won't be used to determine whether you qualify for aid and in what amount.
3. Pay Attention to Filing Deadlines
The opening date for submitting federal student aid applications for the upcoming school year begins on January 1st and the cutoff date for applying runs until June of the next year. For the 2014-15 academic year, you can submit your FAFSA anytime between January 1, 2014 and June 30, 2015 to apply for aid. However, that doesn't mean you should wait until the last minute to get your application in.
Related Article: Don't Freak Out Over the FAFSA
Even though you have plenty of time to file under the federal guidelines, you may have a much shorter window to apply for aid based on where you live or which school you plan to attend. In order to qualify for the maximum aid package, you may have to get your application in as early as February or March. The longer you wait to send in your FAFSA the more you run the risk of losing out on loans or grants.
4. Be Realistic
With tuition prices higher than ever, both students and parents alike need to be realistic when it comes to how much college will cost. Factoring in things like room and board, books, fees, transportation, insurance and basic living expenses can give you a much better idea of how much money you'll need to finance your degree.
When you're running the numbers on your financial aid application, you should pay close attention to the your EFC or Expected Family Contribution. This is the amount that you or your parents are expected to chip in. Unless your EFC is below the cost of attendance you probably won't qualify for need-based aid like grants, subsidized loans or work-study. If you're leery of taking on thousands of dollars in student loan debt it helps to know what you'll need to come up with beforehand to close the gap.
Related Article: Protect Your Identity in the Financial Aid Process
Getting into college is tough but figuring out how to pay for it can sometimes be the bigger challenge. Whether it's your first time filling out the FAFSA or you're reapplying for the upcoming academic year, it helps to know what you can expect.
Photo Credit: Jimi Bonogofsky