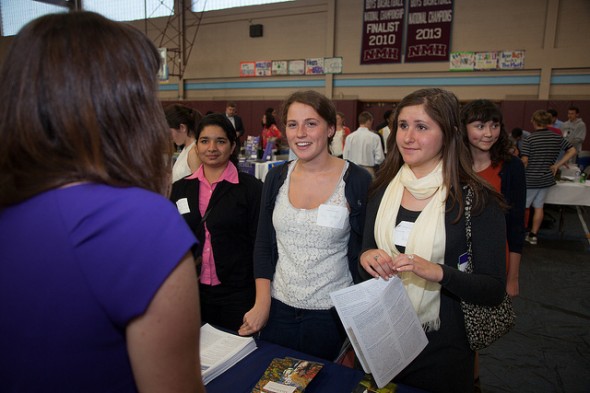 Fall is around the corner and football season is in full swing. The search for scholarships should be, too, as the period we are currently in is critical. Students have just taken their final ACT and/or are about to take their final SAT before those scholarships applications are due. It is at this time that parents need to be eagle-eyed, or else they will find their child's scholarship search sidelined.
Three months ago, I worked with a parent and her daughter and advised them of what steps they needed to take to be ready for upcoming college and scholarship fairs. I recently followed up with the mother and warned her of what could happen if she and her daughter did not meet some self-imposed deadlines. She sadly told me she was embarrassed that she could not get her daughter to get the items on the checklist completed.
I was helping out as a favor when I initially consulted with them, and offered a few reminders as the time approached. I finally told the mother, "You cannot want it more than she does." That is the plain and simple truth. As a parent, though, there are some things that you CAN do to keep your child on track for this final fall push. Attending college and scholarship fairs should take center stage.
1. Assemble the Marketing Packet
Do whatever it takes to get your child to complete his or her sample essay so it can be included in the packet. Touch base with their English teacher to get help, if you need it.
Be sure to work with your child to create a simple, clear and concise resume, which should include all volunteer work. Your child should also reach out to teachers and counselors for at least two letters of recommendations.
If your child has any awards, you should make copies and include a portfolio of three to five samples. Finally, a cover page is needed that tells whoever is looking at it three distinctive things about your child.
2. Unofficial Transcripts and Test Scores
You need to have these at the ready. Your child's school will likely have these accessible on their student network, the same place students check for their grades and assignments. There are many different systems and check with your child's counselor should you have any problems gaining access to them.
3. Practice Performance
Your child, not you, will have to convince college and university officials that he or she is worthy of a scholarship. The packet will help your student stand out from the crowd, but how they market themselves will seal the deal. Do some role playing and simulate a dialogue to get them comfortable speaking and possibly bragging about themselves.
4. Attend the Fair
The fairs are usually during the day, as some school advisors and counselors bring students to the events as a group excursion. That means you will have to take off of work or find someone to go with your child.
Do not send your child to the fair by themselves if at all possible. Having a supportive parent in attendance will leave an impression on admissions officials, as will the absence of one.
5. Follow Up
Make certain your child gets cards of any admissions officials who showed interest and be sure to follow up with a "Thank You" note. Remember to take pictures of the student with officials and send the note in the form of a postcard. The officials will certainly remember you when your application comes around.
Rinse and Repeat
Once you have completed the packet and survived one fair, you'll feel like a veteran. Do not let up, though. You and your child will repeat this several times over the course of the next few months. Fine-tune the resume, if needed, and add any new awards or acknowledgements. These steps will take your student from the sidelines to the goal post.
Photo credit: flickr