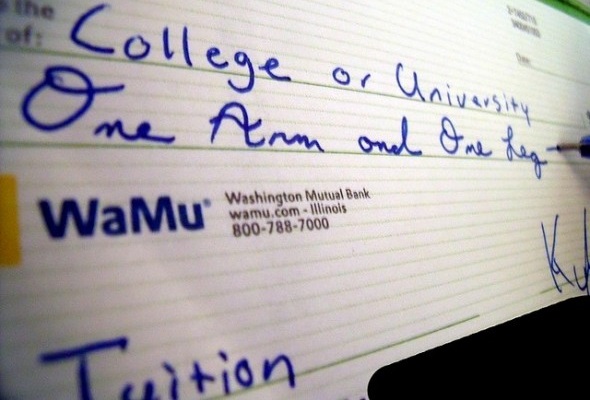 This time of year can be a stressful and life-changing experience for high school seniors across the country. The reason behind it all: college applications and acceptance. Not only is it getting more and more competitive to get into a four year university but the cost is also going up.
Related: What Will It Cost To Go To School?
The cost of college has been increasing at 3x the rate of inflation and there's really no sign of it slowing down. Due to rising costs, it's more important than ever for high schoolers to start factoring in the cost of tuition into their decision process. We know that there's a direct correlation between higher education and salary but where do we draw the line? How much tuition is too much?
No Guarantees
Just graduating from a four year university doesn't necessarily guarantee you a job like it used to twenty years ago. It's now more important than ever to know what your job prospects will be like before selecting a school or even a major. It doesn't make much sense to take on a ton of debt if you're going to select a major with a low average salary and minimal job prospects.
Related Article: Guide to College Majors and Job Markets: Humanities
Even if you graduate from a prestigious university, the major you end up choosing may be more important than the actual school. And ultimately, networking and who you know will play the biggest role in whether you land a job or not. Top universities might expose you to a larger network but the education will be very similar to lower tier schools.
Will the Education be the Same?
A lot of students believe that certain schools are better than others simply because of how they're ranked. We know that the Harvards and Yales of the world provide a great education but they also come with a hefty price.
Related Article: Revealing the Truth About College Rankings
Will the famed 'art history' degree be worth more if you get it from Harvard or will you be stuck with hundreds of thousands in debt and no job prospects? In today's job market, the latter seems like the more realistic possibility.
It might seem counter-intuitive but the biggest and best universities don't always higher the best teachers. They hire the best and brightest researchers, the ones who will bring the most prestige and fame to the university. Most of these 'teachers' teach classes because they're forced to and their real passion is their research, not teaching.
What's Your Major?
Most high school seniors might have an idea of what they want to study but a majority will be undeclared. If you're one of those undeclared it might make more sense to go to a less expensive school. That way, you won't feel pressure to select a major based on potential earnings after graduation.
It's a smart move for parents to start talking about their child's major as early as possible. If your child has an interest in engineering, you'd probably be able to get away with going to a more expensive school considering 7 out of the top 10 highest paying majors have something to do with engineering.
It's ok for your child to be interested in psychology but it might not make sense to go to one of the more expensive schools considering that major has one of the lowest average starting salaries around.
Related Article: 5 Fabulous Scholarship Sites
Photo Credit: Dnorbot