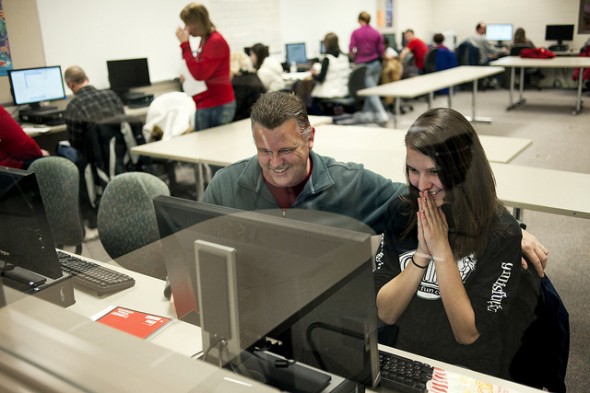 Many parents are in the middle of filling out their student's FAFSA form, the Free Application for Federal Student Aid. This can make you and your child a prime target for scammers and identity thieves. Think about it, your child has either no credit or limited credit and doesn't check his or her credit report on a regular basis. Here are five things you can do to reduce the risk of you and your child falling victim during the financial aid process.
What credit card is best for you?
Log Out/Close Browser
When you complete the FAFSA, make certain you not only exit out of the applications, but you close your browser as well to make sure any cookies that were created while online will be deleted. I love that the site also provides you with a secure virtual keyboard, so that scammers are not able to see your key strokes.
PIN Privacy
Do not under any circumstances, share you or your child's Federal Student Aid PIN, even if someone is helping you fill out the FAFSA. With this number they will and can learn just about everything about you and your family. Important information that could cost you your identity.
Related Article: 3 Costly Internet Security Mistakes You're Probably Making
This log in will be used whenever you log on to your child's account over a period of years. You will be or have been assigned a PIN, but you can change it. Make sure you keep it in a secure location.
Check the Financials
When your child receives his or her financial aid, make sure that he or she keeps track of the money over the course of the semester to make sure the amount awarded and received are correct. If your child did not apply for a loan and he or she sees it on their financial aid award, don't assume it is just a mistake. Call the school and make sure it is addressed.
Related: What Will It Cost To Go To School?
Loose Lips
The old adage is true, "loose lips sink ships." Do not give out information over the phone or internet to someone unless you contacted them regarding your FAFSA. Scammers can be very clever once they get some of your information and go in for the kill by calling pretending to be an official. You or your student then could unwittingly provide these vital pieces of information helping them complete the ID theft puzzle.
Mind Your Business
This is a lesson that has been repeated for decades. Your credit card comes up missing, someone gets a credit card in your name and you don't know how. While we hate to think about it, sometimes the culprit could be your "roomie" or someone hanging out in your room.
As a resident assistant in college, I found myself intervening in at least one situation in which a person's "trusted" roommate was anything but trustworthy and ruined her financially because the information was readily available.
Students should keep their purse and wallet safe and make sure items with personal information are kept in a secure place, especially if you have roommates. This is when locked storage container or chest can be handy.
Also make sure that you keep copies of your child's Passport, Social Security card, Driver's License, and insurance card at home. They may still have to replace them if they are physically stolen, but at least all the information will be readily available to them. I have official copies of both our children's birth certificates and social security cards.
Related Article: Don't Freak Out Over FAFSA
The bottom line is that while your child goes off to college, criminals could take them to school, and the lesson can get costly.
Photo Credit: Jake May