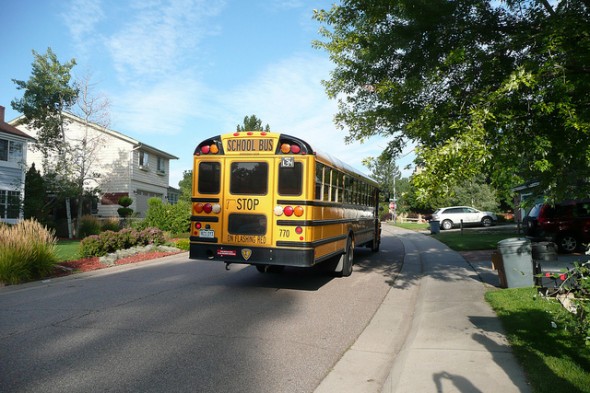 Remember, Grease 2, and the song "back to school again?" (Yes, some of us are not embarrassed to admit we like it.) Well, when it's time to wind down summer break and get ready for the school bell, there are some great ways to prepare. There are a few specific things parents of junior and senior high schoolers should consider now to get themselves and their kids for what will feel like a lightning-fast school year. Before you know it they'll be headed off to college and, if you're not careful, racking up the student loan debt.
Check out our student loan calculator.
Volunteering/Community Service
Make sure your child does not complete his or her community service without getting the proper paperwork completed. Check your child's school website to find out if there is a special form to fill out and have signed by a supervisor where he or she served. If not make sure the community service supervisor writes a letter regarding the hours served and community service performed. It's best to do this when your child and his or her work is still fresh in the supervisor's mind. Make sure a phone number is included should the school officials have any questions. Without proper documentation, your child might not get credit for their service.
Senior Recommendations
As soon as your child is back to school, he or she should reach out to at least three teachers and/or administrators to get them on board to write college recommendations for them. There will be a groundswell of students asking for letters of recommendations and online recommendations, make sure your child has a commitment long before the rush begins.
College/Scholarship Fairs
Make sure your child checks into the counseling center office once a week right from the start of the school year. There will usually be posting of visits from college representatives as well as the latest information on upcoming college fairs. It is important that your child begin attending these junior year, but essential during senior year if he or she has hopes of getting a non-athletic scholarship award. You can also check online for college fairs in your area. Remember college fairs introduce your child to various schools, scholarship fairs are where actually scholarship offers are made by college and university representatives.
Back to School Savings Account
Begin now setting aside dollars for special junior and senior year expenses. We are not talking about prom, graduation or senior trip, but other expenses. You will find there will be fees, unexpected trips and travel during these years, especially senior year. Trips to check out colleges can be costly even if you are driving. Some colleges offer road trips for your student to spend a weekend on campus. These is usually a fee for these as well. It's best to get financially prepared so you don't have to raid your emergency fund when these come up.
College Search Help
Our children had a great college center that helped students and parents maneuver though the college search maze, but many schools do not. Check with your school officials and members of the PTA to find out if there will be school-sponsored workshops to help parents and students with the college search process. If not reach out to people who specialize in this area. A group of parents can bring someone in to help them along the way and it does not have to be costly. I routinely help parents and students and am amazed at the fear that paralyzes people to the point that they do nothing.
Photo Credit: flickr