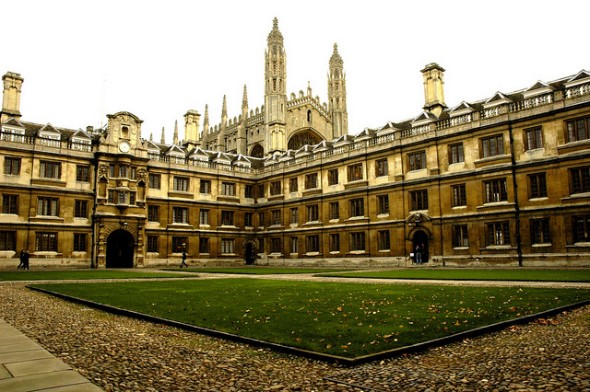 There's an ongoing debating about the actual value of higher education. Countless articles and studies depict the declining return on investment for students and families. Simply put college graduates are not generating enough income to justify their expensive degrees.
In the same way, some universities are also struggling to manage their finances. To highlight the universities having some of the biggest issues, we took a look at those with the lowest credit ratings… and we were pretty surprised by who we found.
Find out now: What will it cost to go to school?
What's in a credit rating?
A university is just like a large company, or country. It borrows money frequently to cover its operating costs like salaries of the professors, maintenance, maintaining the dormitories, making sure the library is stocked, and keeping the sports program in tip top shape.
In order to finance these and new projects like the addition of new buildings or the development of new curriculum, universities issue bonds. The bonds are then traded on public markets to raise capital. For investors and lenders to know how worthy (or unworthy) the institution is, credit rating companies like Moody's and Standard & Poors issue them a score.
Moody's is the current leader in the university credit rating industry. It examines the finances of nearly all the 4,495 title-iv degree granting universities in the United States. According to its estimates only 11% (500) of the total number of universities are currently financially stable enough to stave off economic, demographic and technological shifts.
Of all the universities currently operating in the United States only seven currently have Moody's rating of of Aaa signifying the highest financial strength and lowest credit risk. The institutions listed below with credit ratings of Baa2, Baa3 and Caa1 ratings are among the worst.
Baa: Obligations rated Baa are subject to moderate risk of default. They are considered medium grade and as such may possess certain speculative characteristics.
Caa: Obligations rated Caa are judged to be of poor standing and are subject to high credit risk.
The numeral denotes how that bond ranks relative to other bonds with similar characteristics. 1 is the highest of the rating class and 3 is the lowest.
The 10 most un-creditworthy universities:
Franklin Pierce

Founded in 1962 Franklin Pierce is located in rural New Hampshire. It's roughly a 90 minutes' drive from the heart of Boston. Though it offers business and natural science degrees its strength lie in the humanities and the arts. Why else would you hike out to the middle of nowhere in New Hampshire?
Students Review Overall Grade: A solid C+ due the surrounding city, or lack thereof.
Iona College

Oh Iona. Located in New Rochelle, New York Iona would make a great choice for any prospective college student who lives in the North East. However, the college has been plagued by mismanagement including an admission in 2011 that it had been inflating (misreporting, lying, making up etc) the data used to calculate college rankings. It also doesn't help that Iona also has one of the third highest annual tuition of the universities listed here.
Students Review Overall Grade: A solid C. Student's seem pretty upset about how the school is run and this is apparently reflected in the college's credit rating. The social scene also adds insult to injury by being flat-out horrible.
Long Island University CW Post

I have a very special place in my heart for CW Post. I attended concerts, plays and even accepted my high school diploma at the Tilles Center- CW Post's performing arts center. That said it's not clear where the $32,862 per year tuition is going, and students appear to be concerned that their tuition money is simply being squandered.
Located on the old Post family estate most of the money maybe going towards maintaining the rustic buildings. The sports program is also a major attraction for many prospective students and is largely funded through tuition. There isn't much else in terms of services, student life, scholarships or academics, however. Moody's was kind enough to revise the University's outlook from negative to stable when it issued a Baa3 rating in August 2012.
Students Review Overall Grade: A solid C+. Many reviewers complain about the prevalence of rich Long Island, and New Jersey boys and girls. Almost everyone is in agreement that campus is beautiful, but that appears to be the primary way the administration conceals its inability to manage the school effectively.
Boise State

Situated in the heart of Boise, Boise State was founded in 1932 and is located just minutes from the Boise National Forest. It also boasts the nation's only degree in Raptor Biology. Yes, all of your boyhood childhood dreams of dinosaur hunting, camping, and NCAA division 1 football can play themselves out at Boise State.
Students Review Overall Grade: A solid C, students seem to love Boise and the campus, but not the actual school. The academics and social life are among student's most persistent complaints.
Colorado State

Located in Fort Collins Colorado, Colorado State University is located just at the base of the Rocky Mountains and within an hour's drive to Denver. It is widely regarded as among the nation's best research universities having made significant contributions to infectious diseases, clean energy tech, and environmental science. They also run a well-funded NCAA Division I sports program with over 15 competitive teams.
Student Review Overall Grade: A solid B-. Students seem to be generally positive about the school, however the most consistent complaint among students was feeling like nothing more than a number. Students either felt alienated or dwarfed by the sheer size of the school and its very beautiful campus.
Georgetown

If you live in and around Washington D.C. you know Georgetown as one of the poshest neighborhoods in the city. It's for good reason, Georgetown was founded in 1789 and has been a pillar of Washington D.C.'s network of higher education, politics and business. Basically Georgetown will make you rich, powerful, or a pro-basketball player. Georgetown has sent over 37 players to the NBA including Allen Iverson and Patrick Ewing.
Student Reviews Overall Grade: A solid B+. Students who generally apply to Georgetown really want to be there, and it shows. There are glowing reviews of the facilities, the professors and the campus. However there are consistently negative reviews about their biology program, the cost of tuition, and the social scene being more Abercrombie & Fitch than scotch & soda.
Louisiana State University- Baton Rouge

Founded in 1860 Louisiana State Baton Rouge is among the oldest universities in the south. That said there is a ton of pride associated with the school ranging from its Tigers NCAA Division I sports teams to 350 student organizations, 14 acre arboretum, and the Louisiana Museum of Natural History all call LSU's campus home. It's MBA program is also ranked as one of the best values in the country.
Student Reviews Overall Grade: A Solid B+ In short students love LSU, especially its social scene and extracurricular activities that revolve around sports and southern hospitality. The only gripes seem to be around the fact that the student body is gigantic, leaving students feeling a bit small and unimportant.
New York Institute of Technology

New York Institute of Technology was originally founded in 1955, and has campuses in Manhattan, and around the world including Amman, Jordan and Nanjing, China. The college has been on an all-out marketing blitz lately. Their ads feature a very handsome, tall 20 year old living the very manic lifestyle of a go-getter in training. New York City is his playground, he has no job, he works extremely well with foreign students in group projects, and the Brooklyn Bridge is his tread mill. The ads make no serious mention of academics, we wonder why?
Student Reviews Overall Grade: A solid C-. Student reviews highlight levels of incredible dysfunction, mismanagement. and a "we'll admit anyone who says they can pay" attitude. You should seriously read these reviews if you're considering this school for anything, or are curious about the state of American higher education.
University of Massachusetts- Amherst

Founded in 1863 University of Massachusetts Amherst is currently ranked 97th in the US News College Rankings and Reviews. It's for good reason, the University offers no shortage of majors (90 in total) which are supplemented by the universities in the UMass system.
Student Reviews Overall Grade: A Solid B. Some people come to University of Massachusetts Amherst to party which is how it got the nickname University of Massachusetts Anheuser-Busch. Basically people drink a lot go to biology classes they don't like and then major in journalism or political science. Also the college's "esteemed engineering program" may or may not actually be esteemed.
University of North Carolina Board of Governors

The University of North Carolina is massive system. The most well renowned of which is UNC Chapel Hill which ranks up there with Georgetown as one of the nation's oldest and most esteemed institutions of higher education. It's educated everyone from Michael Jordan to James Polk.
Student Reviews Overall Grade: A solid B. Everyone at Chapel Hill seems to love the quality of the education, the old campus built into the North Carolina hills, and its athletics. As we've mentioned before the biggest problem with many of the large universities is the lack of individuality, and the logistical challenges of providing quality education to so many students at once. In the case of UNC Chapel Hill they may be borrowing heavily to finance their legacy. ­
Editors Note: The Baa2 rating is for the pool bonds issued by the University of North Carolina System Board of Governors. The UNC Board Of Governors oversees 17 Universities in the University of North Carolina System. This includes UNC Chappel Hill which has been issued a credit rating of AAA by Moody's.
*Insured
**Select Auction Variable Rate Securities
Update: Have more financial questions beyond university credit ratings? SmartAsset can help. So many people reached out to us looking for tax and long-term financial planning help, we started our own matching service to help you find a financial advisor. The SmartAdvisor matching tool can help you find a person to work with to meet your needs. First you'll answer a series of questions about your situation and goals. Then the program will narrow down your options from thousands of advisors to up to three fiduciaries who suit your needs. You can then read their profiles to learn more about them, interview them on the phone or in person and choose who to work with in the future. This allows you to find a good fit while the program does much of the hard work for you.
Source: Moody's, US News & World Report, Student Reviews, New York Times, Guidestar.org,
Photo Credit: Paul Stainthorp