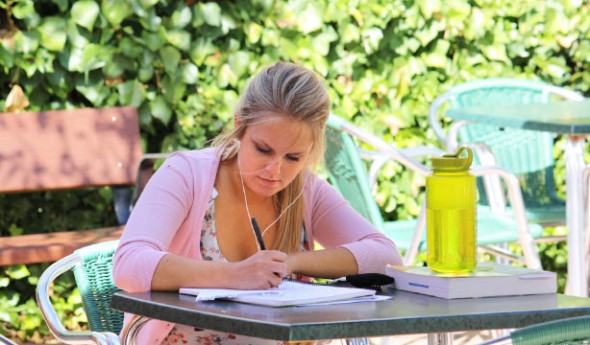 This is a guest post written by Peter Giambalvo for CouponPal.
College is supposed to be the best time of your life – don't spend your best days worrying about money! Get your expenses under control so that you can focus on your books instead of your budget. Not sure where to start? Study these 10 tips and see how many you can put to use in your life.
Yes, you might find them to be common sense, but they have been proven to work and are often overlooked. Put them all to use, and you'll be on track to make the honor roll in saving money.
1. Get a free checking and savings account.
Banks make money by holding your funds, so why pay them to do it? Do a little compare and contrast research of the banks before deciding where to put your money. Start by looking at different banks in your area. Be sure to watch for any fees associated with the accounts you choose. When it comes to banking costs, things like ATM fees can quickly outweigh the rewards (like earning interest).
2. If you need to have a credit card, get one with the lowest interest rate possible.
There are plenty of companies willing to make money off your debt. You actually do credit card companies a favor using their services, not the other way around. Take the time to seek out a card with low interest rates and good rewards. Be sure not to let reward bonuses entice you to sign up without considering the details of the card being offered. As with all things money, it's best to think long-term. SmartAsset.com and CreditDonkey.com are good places to start.
3. Save your spare change in a big jar.
Putting a few dollars in a piggy bank or change jar will add up quicker than you think. If a penny saved is a penny earned, then a quarter saved is 25 times better than that! You can't argue with math…
For example, if you stash away just 50 cents per day over the course of a 4 and a half month semester, that once empty jar would then contain 63 bucks. Not a bad payout for skipping a round of pinball here and there.
4. Drink wisely.
Drinking is expensive. Your budget (and health) are better off without the booze. However, if you choose to consume alcohol, buy the cheap stuff and head to where the specials are. Drink in moderation (always good advice!), and consider that after a few beers, shots, or glasses of wine, you won't notice or care about the difference in quality. Start your night with the good stuff and downgrade as the evening progresses.
That's not to mention all the money you can save by skipping the cafes while satisfying your caffeine habit. According the The Simple Dollar, you can save around $2.50 per day by spending just 5 minutes brewing at home. That adds up to over $300 a semester!
5. Rent your textbooks.
Textbooks make up one of the biggest annual expenses for college students. Have no fear – you can save up to 70% off the list price of your books by renting instead of buying them.
Ready for some more math? The average price of a new textbook runs about $150. Renting it would instead cost you about $50. That's a savings of $100 on just one book. That adds up to a whole bunch of late-night grub.
You can save even more using a CengageBrain coupon code or searching for a discount to other online book stores such as Chegg and Textbookx. Some of the sites will even buy your old textbooks that are just sitting around collecting dust on your floor – although not for the same cost savings as simply renting them in the first place.
6. Eat Ramen noodles.
Sometimes you just need a quick, cheap meal, and there's one tried and true source that every college student turns to at some point: Ramen noodles. Cliché, sure, but they're actually pretty tasty, and they're easy to doctor up into a gourmet meal with a little imagination. The Rasmussen College website has 50 different recipes alone. Do your taste buds a favor and give it a look.
7. Drink tap water.
It's free. Plus, did you know that most bottled water comes from public sources? However, if your aim is to impress, just buy something fancy once and keep refilling it yourself. If the tap water doesn't taste quite right, invest in a Brita filter or other purifier to improve water quality. Compared to the cost of buying bottled water at $2 a pop, you'll earn your money back on your investment in no time.
8. Ditch TV.
With a little work (and maybe a login from your parents or a friend), you can watch almost everything on your computer. Seriously – there's Netflix, Hulu, YouTube, HBOGo, ESPN3, and tons more. Plus, if you can't watch it on your computer, it probably isn't worth watching in the first place.
9. Use coupons.
There are money-saving coupons available for almost everything you could ever need. With a little searching you can find everything from free shipping to 50% off certain items. Check sites like CouponPal and RetailMeNot before you plunk money down for ANYTHING online. You can even find grocery coupons online that you can use at your local stores to shop like a pro.
10. Automate your bills and monitor your finances.
Nothing is worse than paying late fees on a bill you get every month. Set your accounts to auto-pay to eliminate the risk.
While you're at it, sign up with Mint.com. Not only will it send alerts when you have bills due – the platform also provides a snapshot of your financial health and top expenses. This is an indispensable tool for someone making a budget for the first time or trying to figure out where their money is going.
Of course, these techniques are just the tip of the iceberg when it comes to frugal living. Think of this as Savings 101 with more advanced courses to come!
Photo Credit: SLU Madrid Campus