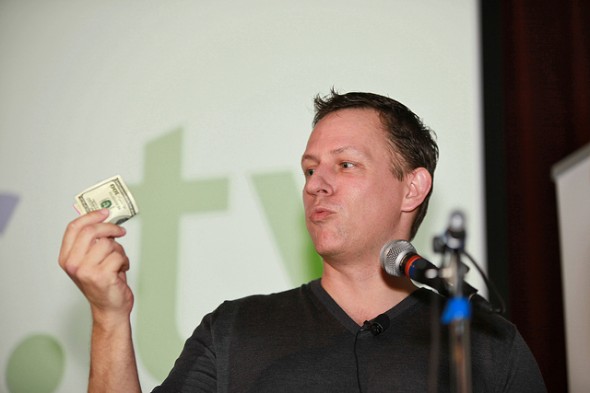 The United States higher educational system is in trouble. The cost for a college education has skyrocketed over the years and more and more students are using loans to pay for their education. It is estimated that the average graduate completes their degree with $35,000 worth of student loans. Many students are graduating with much higher loan debt, and this is just the average for under graduate degrees. Tack on the expense of graduate education and a student can easily rack up $100,000 or more worth of loan debt.
The explosion of loan debt among college graduates has led many to question the value of higher education and even propose alternative solutions.
Who Is Peter Thiel
One such innovator is Peter Thiel. Thiel is an entrepreneur, venture capitalist, and is most famously known as the co-founder of PayPal. Thiel is of the belief that the American educational system is in an economic bubble, similar to the housing market of the mid-2000s and tech stocks during the 90s. When it comes to American education, Thiel has stated:
"Education is a bubble in a classic sense. To call something a bubble, it must be overpriced and there must be an intense belief in it. Housing was a classic bubble, as were tech stocks in the '90s, because they were both very overvalued, but there was an incredibly widespread belief that almost could not be questioned…"
The Peter Thiel Fellowship
Thiel has come up with a unique alternative to solving the issue of the expense of higher education. The Peter Thiel Fellowship is an award of $100,000 given to the most creative, innovative, and forward-thinking applicants in the fields of science and technology. This fellowship is a no strings attached award that encourages potential college students to forego higher learning in search of more hands on learning through research and working with people in fields of interest.
More Than Money
As one of the main tenets of the program is mentorship, the fellowship provides winners with a wide network of "visionary thinkers, investors, scientists, and entrepreneurs." The direction of the research and the projects being worked on, are entirely directed by fellowship winners, but a great deal of guidance is provided for recipients. Applicants for the fellowship go through a rigorous application process in which they must demonstrate their interest lies in new, innovative science and technology ideas that will benefit people for years to come. As stated:
"We're not looking for the next Facebook – we're looking for people who are thinking 2 to 10 years beyond what the rest of the world thinks is possible today."
Just Say No… to Higher Education?
The purpose of this fellowship is to encourage students to either drop out or entirely forego higher education, and its expense, for the opportunity to get direct hands on experience and a start in the technology and business world. So the question remains: What does this mean for students who are struggling with debt or the possibility of a huge amount of debt after graduation? Well, for students or potential students who see the loan debt as a nearly insurmountable, this fellowship could mean peace of mind.
Bottom Line
College and higher learning is supposed to be a means to an end, an opportunity to learn about, possibly gain an internship in their anticipated field of study and make connections. The Peter Thiel Fellowship allows young people to cut out the middle man and make connections while working on interesting and innovative research without racking up thousands of dollars in debt. Higher education will always be important for the advancement of any society however, given the astronomical costs of a college education Peter Thiel is presenting an opportunity of a lifetime for recipients of this award.
Photo Credit: bambifrancisco