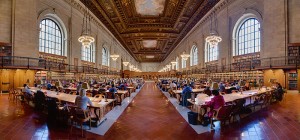 The concerns of an entrepreneur are many, but then so are the benefits. Working for yourself means that you get to make all the decisions about how to run your business, and while this can be an overwhelming amount of work, it's totally worth the freedom. There is no doubt however that you will be doing a lot of work, and one immediate concern you will have is where to do this work. If renting a desk from an existing company or working at cafés isn't quite your style and you are still looking to save money by not renting office space, there are still some other options for you.
Find out about startup economics
Working at the Library
Hush!
You may be thinking that the library is for nerds, or perhaps you overlooked this option completely. Before you dismiss it outright, you have to consider some serious perks. Libraries are quiet, quieter than a lot of workspaces. If you are more productive when you don't have to try to ignore other conversations going on in the office, working in a library could increase your efficiency. I have worked in the office of a company that runs a dating website, and while there was never a dull moment, sometimes I had a little trouble staying focused! Also, you can never control who might sit next to you and whose life history you might hear while sitting at a coffee shop. If you know you have serious work to do and you need as little distraction as possible, the library is for you.
It's free!
Also, the library is always free. There is no rent-a-table-for-a-latte fee here! While you may enjoy your morning coffee, you will save more money if you're not tempted by the fancy espressos and baked goods at a café. I also feel obliged to buy more if I stay for longer than two hours at a café, and I usually have more than two hours of work I need to get done in one sitting. Nobody is going to bother you at the library, and you can stay from opening to closing and won't get any sidelong glances from baristas expecting a tip.
Positive Peer Pressure
There is one other aspect of the library that could really power up your productivity. When you are surrounded by other people studying and reading away in silent fury, you just might be inspired to do the same. Monkey see, monkey do is the idea here. Sometimes peer pressure can work to your benefit, or perhaps you can think about it more as positive influence. If you happen to live in NYC, check out the Rose Main Reading Room, an amazing space where you will be ensconced in a flock of others hard a work, hopefully this will lend you real momentum in productivity.
Working from Home
This either works for you or it doesn't, but if you can manage to shut out distractions and you don't mind staying in, working from home is a great way to save if you are just getting your startup rolling. The savings on this option are awesome in the way that they compound; not only do you not have to pay for office space, you will also save on both the cost and time of a commute, and you might even qualify for tax deductions. As long as the space you use to work from at home is used exclusively for work, you might qualify for a tax break.
Virtual Work Space
For entrepreneurs lucky enough to be in California or NYC, TechSpace provides a creative solution for entrepreneurs with startups of any scale. Let's say you aren't ready to pay for office space and work mostly from home, but you want a more professional business presence and identity. Through their option for virtual space or what they call flexspace, you can hold off on office space and still get a phone number for your business answered by a TechSpace receptionist, a business postal address, and access to meeting rooms and conference rooms at an hourly rate. There is also an option to have unlimited access to a work station if you plan on getting out of the house a bit more as things progress for your startup.
Maybe you need your espresso and pastry pick-me-ups, and a little background noise helps you work. You can save the library for a rainy day when you need some serious focus time, or maybe paying a little extra for a work station at TechSpace will help you get more work done efficiently. The main thing here is to keep in mind all the options that are open to you as an entrepreneur, and figure out which options or combination of options help you get the most work done for the least amount of money. The less risk you assume in unnecessary expenditures early on and the more productive you are, the better chances you will have of success!