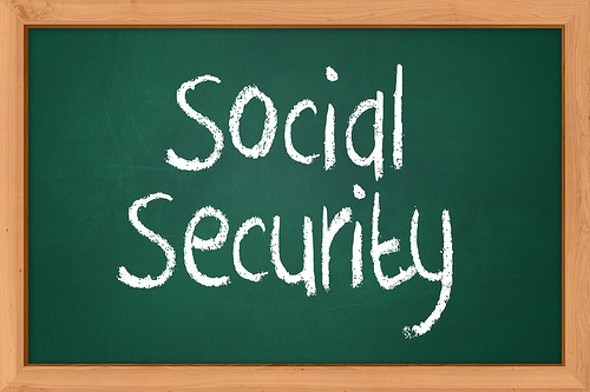 For many young Americans, thinking about what life will be like during their retirement years is almost inconceivable. Retirement is still decades away, and while they know their 401k or IRA is (hopefully) growing, the benefits they will receive from Social Security don't even register on their radar. So, for those Generation X & Y-ers unsure about social security, here's a breakdown of what is going on.
What is Social Security?
The Social Security Act was signed into law by President Franklin D. Roosevelt in 1935. It created "a system of Federal old-age benefits" for taxpaying workers and their families. In 1956, the law was amended to also provide disability benefits, but we're just going to cover the "Old-Age and Survivor's Insurance" portion.
The basic idea behind Social Security is that you, the taxpayer, pay into the social security fund through taxes for your entire working life. At the age of 65 you can begin to receive social security retirement benefits. These benefits include: a monthly social security benefit, and discounted medical insurance coverage, split into separate "parts" for hospital, other medical, "premium" medical, and prescription drug coverage.
The taxes get put into a "trust fund," which the Social Security Administration then pulls its funding from. The fund is managed by the Treasury Department, which pays interest on the fund as well, allowing for the amount of people who benefit from Social Security to grow as the country grows. Pretty clever!
How does this affect you?
You pay taxes, as an employee (the FICA tax) or as a self-employed person (the SECA tax), into the Social Security and Medicare funds. Your employer also pays FICA taxes, as well as a payroll tax. So every worker and employer is taxed to pay for Social Security and Medicare.
As part of the Tax Relief Act of 2010, the payroll tax was reduced for two years. However, as of 2013, the payroll tax has been reset to its former 6.2% rate. So basically, when everyone's paychecks were a little smaller this past January, this increase was a part of that.
How much can I get when I retire?
Monthly benefits pay about 40 percent of an average wage earner's income after retiring. Most financial experts, as quoted by the Social Security Administration, say retirees will need 70 percent or more of pre-retirement earnings to live comfortably. Unfortunately, the program was never meant to be the main source of income for seniors.
The SSA tells every participant in the program, "Social Security is the largest source of income for most elderly Americans today, but Social Security was never intended to be your only source of income when you retire. You also will need other savings, investments, pensions or retirement accounts to make sure you have enough money to live comfortably when you retire."
So, you won't get very much.
When can I get it?
You can begin receiving Social Security benefits at 62, but most people can't receive full benefits until 67, and you are penalized for taking payments early. For example, if your full retirement age is 66 and you sign up for Social Security when you are 62, you would only get 75 percent of your full benefit. If your spouse dies, you may be eligible to receive benefits from their work.
Should I be worried?
Yes and no.
There are several reasons that many politicians, economists, and experts are worried about our Social Security program.
1) It has a history of breaking promises. When it the program started, the program promised "And finally, beginning in 1949, 12 years from now, you and your employer will each pay 3 cents on each dollar you earn, up to $3,000 a year. That is the most you will ever pay." Accounting for inflation, in 2013 the maximum payroll tax collection per person was eight times what was orginially promised.
2) In its current state, the program cannot pay for itself much longer. And there is no foreseeable way to make the program viable without either cutting benefits (which some say is political suicide) or raising taxes.
| | |
| --- | --- |
| Time Period | Financial Status |
| 2010–2012 | Social Security spends more than it collects in taxes and transfers from the Treasury, but the Trust Fund grows because the interest it collects from the Treasury exceeds the program's shortfalls. |
| 2013-2033 | The Trust Fund declines in value every year. The federal government pays back the money that the Social Security program has loaned to it with interest, and the Trust Fund is depleted. |
| 2033-2086 | The Social Security program runs annual deficits that accumulate to $65 trillion, which could be covered by (a) adding $8.6 trillion to the Trust Fund today, or (b) increasing payroll taxes by 33% starting in 2033, rising to a 36% increase by 2086, or (c) reducing benefits by 24% starting in 2033, rising to a 25% reduction by 2086. |
| 2087 and beyond | The Social Security Program runs deficits that could be covered by adding $11.9 trillion to the Trust Fund today. |
– Table from Justfacts.org
3) Previous projections about the programs viability were wrong, which brings into doubt how accurate these future projections could be.
Most people agree that Social Security is worth saving, and as long as people believe that the program is worth the investment, our government should be working to reform the program. However, many young people don't expect to see any Social Security benefits when they retire. So, as always, hope for the best, expect the worst, and save for your future!
Tips for Getting Retirement Ready
Figure out how much you'll need to save to retire comfortably. An easy way to get ahead on saving for retirement is by taking advantage of employer 401(k) matching.
Work with a financial advisor. According to industry experts, people who work with a financial advisor are twice as likely to be on track to meet their retirement goals. A matching tool like SmartAsset's SmartAdvisor can help you find a person to work with to meet your needs. First you'll answer a series of questions about your situation and goals. Then the program will narrow down your options from thousands of advisors to up to three registered investment advisors who suit your needs. You can then read their profiles to learn more about them, interview them on the phone or in person and choose who to work with in the future. This allows you to find a good fit while the program does much of the hard work for you.
Photo Credit: StockMonkeys.com