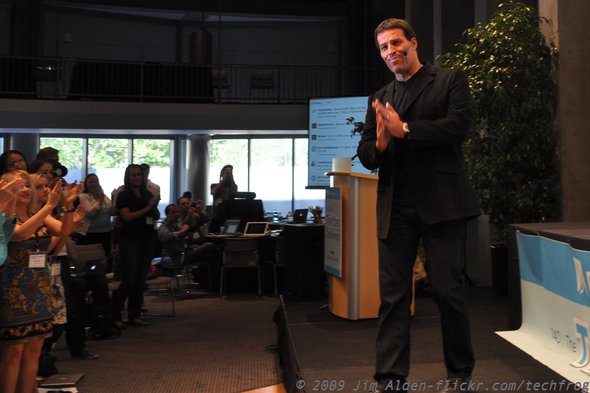 Once dubbed the"CEO Whisperer" by Fortune Magazine, Tony Robbins is yet another big name to be caught up in the #MeToo movement. The best-selling author and personal-growth guru to the stars (including Serena Williams and Maria Menounos, according to his site) has had some setbacks since BuzzFeed News reported on allegations of his sexual misconduct and other inappropriate behavior.
In May 2019, publisher Simon & Schuster announced it was cancelling "The Path: Accelerating Your Journey to Financial Freedom," which Robbins had contributed two chapters to, according to co-author Peter Mallouk. Then, Mallouk, CEO of Creative Planning, made public that Robbins' role as chief of investor psychology at the wealth management firm had been eliminated. In November 2019, Robbins wrote in an op-ed on Medium that he was suing BuzzFeed for defamation. Read on for more about the motivational speaker, who's reportedly worth $500 million.
Need help finding a financial advisor? We can help.
Tony Robbins: Before 2019
By 2014, when Fortune hailed him as the "CEO Whisperer," Tony Robbins had been a self-improvement star for nearly three decades. In its article, the magazine described him as, "a happy workaholic who … spends 200 days a year on the road in his never-ending quest to pull peak performance out of the underachieving masses." Overachievers loved him, too. Salesforce CEO Marc Benioff, hedge fund manager Paul Tudor Jones, Oprah Winfrey, among others, were all huge fans – if not paying customers. (Tudor Jones reportedly paid Robbins more than $1 million a year).
Monster bestsellers "Unlimited Power: The New Science of Personal Achievement" and "Awaken the Giant Within" helped launch Robbins to the top of the self-help industry. With his next two books, "Money: Master the Game" and "Unshakeable: Your Financial Freedom Playbook," published by Simon & Schuster, he conquered the financial advice niche. The blockbusters also bulked up his wallet.
On top of book royalties, seminar fees and coaching charges, referrals to a wealth management firm contributed to Robbins' millions. Originally, he recommended Gupta Wealth Management in his first financial advice book, "Money." This one shout-out brought so much business to the financial advisor firm that Peter Mallouk's Creative Planning bought Gupta Wealth Management. Subsequently, Robbins recommended Creative Planning in "Unshakeable," which Mallouk co-wrote, and Robbins became the chief of investor psychology at Creative Planning.
Undoubtedly, his relationship with Mallouk has been remunerative – as noted earlier, a new book was in the works. But Robbins has plenty of other sources of income. Aside from Robbins Research International, which includes sold-out seminars that reel in as much as $8,000 per ticket and a booming life-coaching certification business, Robbins has built a sprawling empire of 31 companies, involving nutritional supplements, private equity, sports teams and even asteroid mining. All combined, their annual revenue was a reported $5 billion, according to Inc. Magazine in 2016.
Tony Robbins: Since 2019
Robbins has denied the allegations of sexual misconduct, and, as noted earlier, announced near the end of 2019 that he was suing BuzzFeed for its stories about the accusations. Still, his star continues to shine. In November, right before Medium posted Robbins' op-ed, the Mayor of Miami, Francis Suarez, gave him a key to the city and proclaimed it "Tony Robbins Day." Suarez later defended his action in a statement, saying that the honor given to Robbins "was based solely on his decades of serving as a positive force."
Followers also seem to be giving Robbins the benefit of doubt. As of January 2020, his "Life & Wealth Mastery" retreat in Fiji was sold out for March – and the one in February was close to filled. Additionally, the live events that feature him, e.g., "Unleash the Power Within" and "Date with Destiny," are scheduled throughout the year. Presumably, they would be cancelled if tickets weren't selling.
Financial Focus and Philosophy
Tony Robbins is, above all else, a motivational speaker. His philosophy revolves around self-empowerment and his recipe for success boils down to a few simple ideas. One is that fear will only hold you back from your goals. You can't live your life in fear and expect to have success. Instead, you need to have confidence in yourself. Confidence will help you in all aspects of life and Robbins has basically built his business empire by always being the most confident person in the room. He believes everyone should be confident because everyone has the resources for success within them.
How do these ideas relate to finance? Let's consider investing. Robbins believes that investing your money is an important way to build your wealth. But a large part of the U.S. population is too afraid to invest. They think it's too complicated or that they just don't have what it takes to be an investor. What if they invested and then lost all their money? This fear is understandable, but it's also possible to learn about investing, thanks to the plethora of resources and tools that exist.
Another part of Robbins' philosophy is to keep the future in mind. One technique he likes to use is imagining his 85-year-old self. When he looks back on his life, will he feel more regret over doing the scary thing or over opting out? (Maybe you guessed it, but the answer is usually that he'd regret not trying the scary thing.)
Finally, in "Money," Robbins says that anticipation is the ultimate power. You will handle future challenges better if you can anticipate them. This involves sitting down and figuring out a "lifetime income plan." Understand how much money you'll need in order to have financial security for the rest of your life. Then work backward to see what actions you need to take to realize that plan.
A Brief Bio of Tony Robbins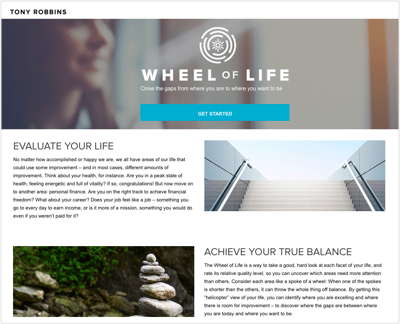 Tony Robbins was born in Los Angeles, California in 1960. By all accounts, he had a difficult childhood. His family struggled financially and Robbins vowed to be successful when he grew up. When he was 17, he attended a seminar held by Jim Rohn, a successful business philosopher and developer. Robbins credits this seminar with inspiring him, and Rohn became his mentor.
Robbins began doing his own seminars and his career began to take off when he started selling his work through books and TV commercials. He published his first major book in 1987. It dealt with overcoming fears and achieving your goals. The book was a bestseller and Robbins only got more successful from there.
Tony Robbin's primary focus is helping people to unlock their full potential. In the past few years that has meant talking about finance, as well. Robbins has published multiple books on personal finance since 2014 and has started multiple projects to help people understand 401(k)s.
Where You Can Find Tony Robbins
Of course, the official Tony Robbins website is a great way to learn about Robbins' live events and coaching workshops. There, you can also learn more about him, find articles and videos and get in touch with his organization.
Also, Robbins is on Twitter, where he posts daily, sometimes multiple times. He's also a presence on YouTube, where you can find, among other videos, his TEDTalk from 2007, one of the most-watched TEDTalks. Note that this talk isn't about personal finance. Robbins' seeks to answer the question of why we do what we do.
Takeaway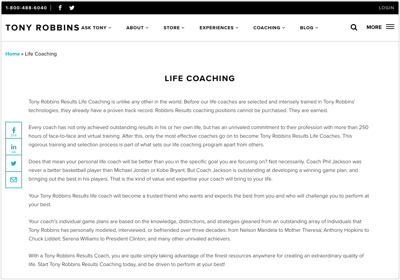 Tony Robbins is, first and foremost, a motivational speaker. Millions have turned to him to help them become their best self. His move into personal finance is relatively recent, though backed up by his experiences and own net worth. Many followers are giving him the benefit of the doubt when it comes to the allegations against him, but the story is still unfolding.
Tips for Becoming Financially Independent
Tony Robbins says that the fear of investing is just another fear that is blocking people's paths. But the stock market isn't as scary or as difficult as it seems. These five tips for new investors will help you invest with confidence.
It's a good idea to put as much in your 401(k) as possible. Some financial experts, like Chris Hogan, recommend maxing out your 401(k) when you're in your 40s. But what happens after you make the maximum annual contribution? Here are three places to save money after maxing out your 401(k).
Why go it alone when you don't have to? SmartAsset's matching tool will connect you with up to three financial advisors who meet your needs. You just have to answer a handful of questions first.
Photo Credit: flickr.com/techfrog, last two images from TonyRobbins.com