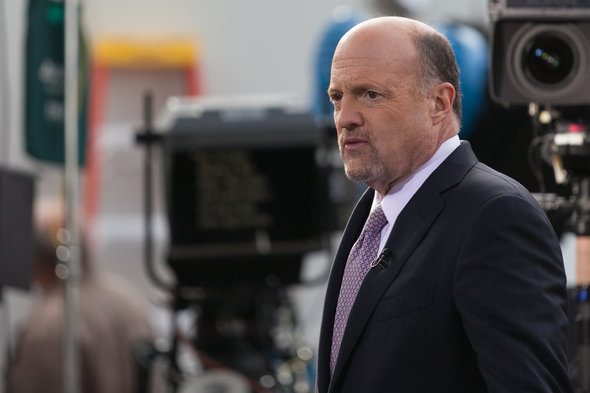 Jim Cramer ran a successful hedge fund for 14 years. He regularly made over $10 million annually. Then he retired from that life to focus on writing and media. He started a successful TV show in 2005 and has since reached an almost cult following. Many know him simply as Cramer and he addresses his fans as "Cramerica." It's great that he gets so many people excited about stock picking, but what advice can we gain from this financial guru? Let's see what Cramer has to say about building wealth for your future.
Top Financial Advice From Jim Cramer
Jim Cramer mostly advises people on which individual stocks to buy or to avoid. We won't go into his stock picking advice here, though. Instead we'll look at Cramer's broader financial advice, which boils down to a few simple ideas.
First of all, Cramer stresses you are the only one who understands your exact financial situation. Don't trade stocks just because you heard someone say that it was a good thing to do. Cramer readily admits that stock trading isn't for everyone. It requires work in order to have success and involves taking financial risk. If you have no savings and are struggling to make ends meet, Cramer advises that you forget picking stocks – at least for now. (You might want to consider you might want to try something like Dave Ramsey's seven baby steps instead.)
If you do decide to trade stocks, Cramer says to remember that you that you can pull out of the market at any time. Maybe you have a high risk tolerance but then something changes at work and you can no longer handle the same risk. Adjust your investing strategy according to your life. Cramer tells people that risk isn't always bad thing, but he also likes to tell people that there are no second chances on Wall Street. So don't do anything you aren't comfortable with.
So let's say you want to trade stocks. Cramer says that your goal is to create a diverse portfolio of well-researched companies. Read everything you can about the companies you consider investing in. Research the company before you invest in it and continue to follow it closely after you invest. This advice applies regardless of your age but we can also break down Cramer's advice by the different stages of your life.
In your 20s, Cramer advises focusing on savings before anything else. You may want to invest in a 401(k) from your employer or open an IRA. He recommends creating a portfolio of index funds like the S&P 500 index fund.
"There's too much risk in individual stocks to just put together a portfolio of them of your own choosing," Cramer says, according to CNBC. "So, at a minimum, I am demanding that you put your first $10,000 beyond what you have from your first 20 years into an index fund, the S&P 500 being my favorite."
Once you get into your 30s, Cramer thinks you can add more risk to your portfolio. He says to look for stocks that pay you dividends. Even if you want to stick with funds (instead of individual stocks), Cramer says to invest in a fund with higher dividends than the S&P 500 index fund. Keep in mind that this is general advice from a single financial expert and other experts may disagree. The best asset allocation for your portfolio will depend on your individual risk tolerance. If you're new to investing, you may want to find a financial advisor who can give you advice based on your specific financial situation.
Back to Jim Cramer. Not much should change from your 30s through your 50s, according to Cramer. The main difference he advises is adding bonds in your portfolio by your 40s. He notes that bonds won't earn you much but they will protect the investment capital that you've built thus far in your life.
By the time you get into your 60s, Cramer recommends that you play things safe and focus primarily on bonds. You don't want to risk the retirement savings that you've worked hard for. He says you might want to have as much as 50% bonds in your portfolio. Then consider increasing the percentage of bonds in your portfolio by 10% for each decade after 60.
A Brief Bio of Jim Cramer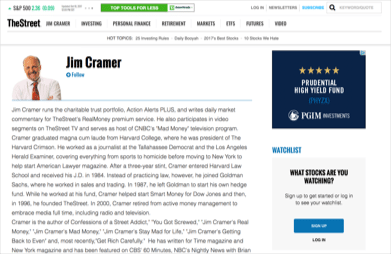 Cramer graduated from Harvard College, where he was president of the student newspaper, The Harvard Crimson. After college, he went on to multiple journalist positions. He covered various beats from sports to crime and worked at papers in many states from Florida to California.
A few years later he went to Harvard Law School to earn his J.D. However, Cramer never practiced law. He began investing in the stock market while he was in law school, even going as far as leaving stock tips on his answering machine. He impressed Martin Peretz, the owner of The New Republic, with his investing acumen. Peretz gave Cramer $500,000 to invest and Cramer earned Peretz about $150,000 in just a couple of years. This helped Cramer land a job as a stockbroker with Goldman Sachs in 1984. He left after just a few years to start his own hedge fund.
Cramer was with the hedge fund from 1988 to 2000. He had only one year of negative returns (though he made up for it the next two years with returns of 47% and 28%). He retired from active money management in 2001. In his time with the fund, he earned average annual returns of 24% and regularly made millions of dollars each year.
Jim Cramer got into media while he was working for his hedge fund. He served as editor-at-large for Dow Jones' SmartMoney magazine. He and Martin Peretz co-founded TheStreet, a news source on finance and investing, in 1996. In the early 2000s he published multiple books. Cramer also made appearances on radio and TV before joining CNBC in 2005 for his own show. The show, "Mad Money With Jim Cramer," focuses on finance and speculation. It uses an entertaining presentation style instead of the strict, journalistic style applied to many investing programs at the time.
Financial Focus and Philosophy
Jim Cramer's focus is, and always has been, picking stocks that will provide market-beating returns. This is something he tries to do with his own money and with all of the funds that he has managed in his life. After retiring from his hedge fund in 2001, Cramer has focused more on helping others to pick successful stocks on their own.
His TV show is mostly about which publicly traded stocks he thinks people should buy or sell. He does speak about broader financial and economic trends, but mostly to frame his opinions on individual stocks.
Where You Can Find Jim Cramer
There are a lot of ways to keep up with Cramer. His TV show, "Mad Money With Jim Cramer," airs weeknights on CNBC. You can find videos and stories from previous episodes on the CNBC website. He is also the co-host of "Squawk on the Street," a financial show that runs weekday mornings on CNBC.
You can find daily online articles by Cramer on RealMoney. RealMoney is a part of TheStreet, the digital media company that Cramer co-founded in 1996. His financial commentary and advice is available daily through the site's premium (paid) service.
You can also follow Cramer on Twitter. He posts regularly with financial advice, stories and videos.
Current Projects
Aside from his TV shows and online articles, Cramer runs the charitable trust portfolio, Action Alerts PLUS. If you become an Action Alerts PLUS member, you get access to all of Cramer's advice on picking stocks, trading and building a portfolio. Then you can build and manage your own portfolio with confidence.
Takeaway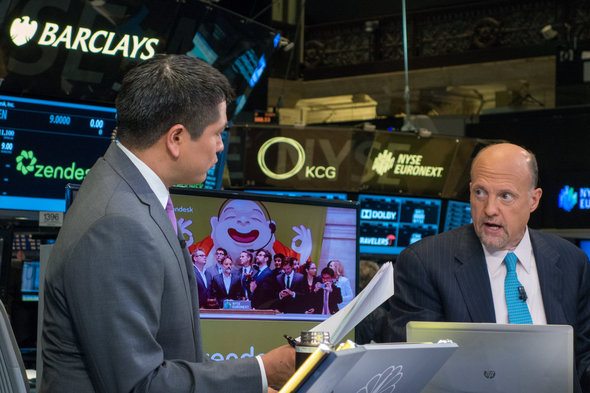 Jim Cramer has made a career telling people which stocks to pick. As the Host of CNBC's "Mad Money," he is an energetic presenter who loves telling people what to buy buy buy and what to sell sell sell. However, he readily admits that you don't need to make risky trades to meet your financial goals. Regardless of how you invest, remember that you are the one who knows your financial situation the best. Make sure you understand your individual goals (or seek a financial advisor who can help you do so) and invest in the way that best helps you realize those goals.
Tips for Finding a Financial Advisor
There is no one-size-fits-all plan for handling your personal finances. The best way to handle your finances will depend on your goals and your individual situation. If you aren't sure how to get started, then you might want to consider a financial advisor. A financial advisor can help you no matter where you are with your money. A matching tool like SmartAsset's SmartAdvisor can help you find a person to work with to meet your needs. First you'll answer a series of questions about your situation and goals. Then the program will narrow down your options from thousands of advisors to up to three registered investment advisors who suit your needs. You can then read their profiles to learn more about them, interview them on the phone or in person and choose who to work with in the future. This allows you to find a good fit while the program does much of the hard work for you.
Before you start looking for a financial advisor, there are a few personal factors to consider. Think about what your finances look like now and what your personal goals are. Do you want to save money for your child's college tuition? Are you saving for the down payment on your future house? Maybe you need help calculating your retirement needs or creating a retirement savings plan. If you have an idea what you need help with, it will be easier for an advisor to help you.
If you are looking for a more hands-off way to invest your money, you might want to consider a robo-advisor. Robo-advisors generally offer lower management fees than a traditional financial advisor. They also handle your portfolio completely digitally. You usually don't have to worry about meetings or phone calls. You set your plan and then you can basically forget about it. If you want someone who you can discuss your portfolio with, some robo-advisors also offer the chance to talk to human advisors.
Photo credit: flickr.com/khouryp23, TheStreet.com, Scott Beale/Laughing Squid