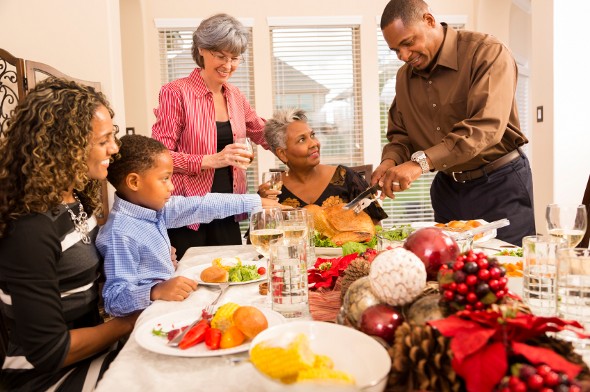 Turkey is always a mainstay at the dinner table on Thanksgiving Day. And while it's certainly delicious, serving the same food every single year can get old. For anyone who's ready to ditch the turkey, there are plenty of substitutes that you can cook instead to mix things up. Here are five other dishes you can make that'll have your in-laws coming back for seconds and thirds.
Check out our budget calculator.
1. Roasted Lobster
If you really want to make a good impression on your relatives, you can surprise them with something they would never think to serve on Thanksgiving Day: roasted lobster. Don't worry, though. Cooking this dish won't be nearly as difficult as it might sound.
All you need are a couple of live lobsters (weighing slightly under two pounds), olive oil, garlic cloves and some spices like paprika and ground pepper. Once you boil the lobsters, you'll slice them in half lengthwise and crack the claws. Then you can roast the lobsters after covering them with your spices and your olive oil. Cheese lovers can even sprinkle in some Parmesan cheese.
2. Beef Brisket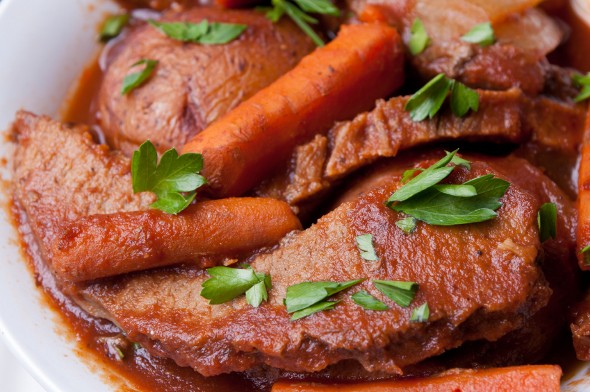 Another turkey alternative you can try making is beef brisket. Regardless of your level of expertise in the kitchen, you can easily whip it up in a few hours. Just before popping the brisket into the oven, you'd brush barbecue sauce over it.
To spice things up a bit more, you can pour a mixture of shallots and cooked mushrooms over the meat. Rather than using a basic barbecue sauce, you could use Worcestershire sauce and play around with different spices. A few pounds of brisket won't cost you too much and you can host Thanksgiving at your place without going broke.
3. Lentil Shepherd's Pie
Non-meat eaters don't have to starve on Turkey Day. Nor do they have to get stuck eating tossed salad and green beans for dinner. Besides Tofurky (the infamous turkey substitute that combines organic tofu and wheat protein) you have the option of making something everyone else will want to eat too, like shepherd's pie.
Related Article: How to Cook a Wallet-Friendly Thanksgiving Dinner
This dish is safe for both vegetarians and vegans. But you'll need quite a few ingredients, including non-dairy milk, lentils, potatoes, baby spinach and sliced mushrooms. Non-vegans can enjoy it as well by switching out some of the ingredients and using regular butter in place of the vegan variety.
4. Stuffed Porkchops
It'll be easy to wow your family members with a platter of stuffed pork chops. Essentially, you'll be cutting your meat so that you can fill in your gaps with other ingredients, such as breadcrumbs or cranberries and pecans.
The next step would be seasoning the meat with salt and pepper. After searing it in a skillet, you'd bake it for an hour or so. And when you're done, you'll have yourself a juicy dish you won't mind eating for days with the rest of your leftovers.
5. Honey Baked Ham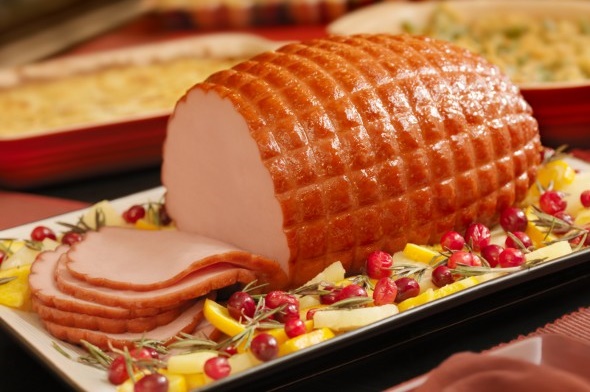 If your in-laws prefer to keep things nice and simple, you can make ham the main source of meat for your Thanksgiving dinner. It's a classic dish that doesn't require a lot of ingredients and it's the kind of the meat that anyone can prepare. Best of all, it's inexpensive so the money you have left over can go toward your emergency fund or your retirement accounts.
After baking the ham for a little over an hour, you can coat it with a glaze made up of butter, honey and corn syrup. As an alternative, you can cover your ham with pineapple slices or mount pineapple chunks and cherries onto skewers that you stick into the ham.
Find out now: How much do I need to save for retirement?
The Takeaway
There's no rule that says you're required to serve turkey on Turkey Day. There are plenty of other mouth-watering dishes that you can prepare to make your next Thanksgiving dinner a unique and delectable experience. Enjoy!
Photo credit: ©iStock.com/Pamela Moore, ©iStock.com/KirbyIng, ©iStock.com/Lauri Patterson