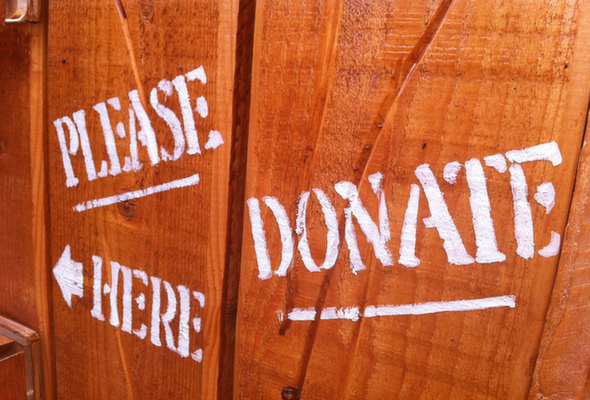 Now that you've indulged in Thanksgiving excess and dipped your toe into holiday shopping, isn't it time you showed a charity some love? You may know that charitable donations are tax-deductible, but do you know the ins and outs of getting that deduction? Read on for our top tips. Find out now: How does life insurance work?
We know you want to make your 2014 charitable donations out of the goodness of your heart, but it doesn't hurt to get a tax deduction while you're at it. If you're planning on donating today to save in April, make sure you follow some simple rules.
1. Donate to an actual charity
Seriously. This one trips people up every year. Trust us, your friend's very worthy non-profit might not count as a charity in the eyes of the IRS. To find out whether donating to the organization you have in mind will nab you a deduction next spring, check out the IRS's searchable database of eligible tax-exempt charities on their website. Some charities will also display their IRS certification on their own sites.
The 50 Worst Charities in America – How to Keep from Being Scammed
2. Don't procrastinate
If you want to claim your charitable donations as tax-deductible for 2014, you have to make a move before December 31st. Hop online, put a check in the mail or drop off some used clothing, but do it before the New Year.
3. Get it in writing
If you're donating clothing or household goods, ask the organization for a receipt that gives the name of the charity, a brief description of what you donated and the date of the donation. You can ask the charity to estimate the fair market value of your donation on the receipt and use that number for your tax deduction. If the deduction is less than $250, you can estimate the fair market value yourself. If you're giving any amount of money and you want the deduction, you must provide a record. This record could be from your bank–think canceled checks, bank statements and credit card statements–or from the charity itself. It should show the name of the organization, the amount you gave, and the date of the donation. If your charitable donation comes out of your payroll, keep the pay stub.
How I'm Donating This Year… and It Won't Cost Me a Cent
Donating cash or goods worth over $250? You must be able to prove to the IRS that you made the donation if you want the deduction. That means you'll need a written acknowledgment from the charity. The IRS will want to see the name of the charity, the amount of your cash donation or a description of your non-cash donation, and a statement from the charity if they are providing you with any goods or services in exchange for your donation.
4. Itemize your deductions
No, you can't claim the standard deduction and still reap the tax benefits of your charitable donations. Take the time to itemize your deductions if you want the IRS to give you credit for being such a generous soul. That about covers the rules for making tax-advantaged charitable donations. Americans give more to charity than people in any other country. It's kind of our thing. This year, make it your thing, too.
5 Ways You Can Donate to Charity Without Spending a Dime
Photo credit: flickr