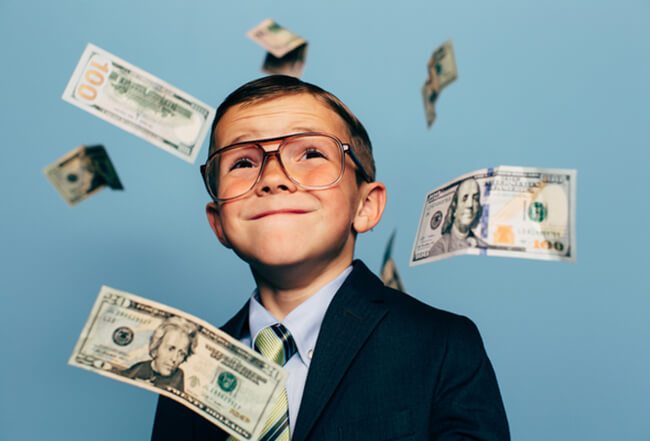 Here at SmartAsset we crunch numbers and provide personal finance advice. We look at tons of financial products and hear about even more offers from financial companies. For this month we've compiled a list of offers from our partners that impressed even us. This includes credit cards, taxes and more. Check out these top 9 offers and see if they might benefit you. (Please note that we will get paid a referral fee if you purchase any of these products. Read our Editorial and Advertorial Disclosure below.)
1. Get a High-Yield Savings Account and Start Putting Money Away for a Rainy Day
If you're keeping any money in a typical checking or savings account like I used to do, you're probably throwing away hundreds each year in unearned interest… just like I was. The average savings account has a measly 0.06% APY (annual percentage yield, or interest).
But there are some companies that beat this APY. Barclays is offering savings accounts at 1.00% or higher. This can generate hundreds of dollars a year with no minimums or monthly fees. It's all because you park your money in 'right' account, aka the one with the higher APY.
2. Earn Unlimited Rewards on Every Purchase
One of the simplest things you can do to quickly ramp up savings is to make money just for buying what you would normally. You can do that by applying for the BankAmericard Travel Rewards® credit card. Unlike other cards that only offer high rewards rates on certain categories, the BankAmericard Travel Rewards® gets you 1.5 points per dollar spent on every purchase you make. You can then redeem your miles for that vacation you've been longing for. They're now even offering a 20,000-point bonus (worth $200) for signing-up too – just spend $1,000 in the first 90 days of opening an account.
I usually spend about $500-$1000/month between groceries and home essentials for the family, so this can save me an extra $90-180 a year, plus the $200 bonus.
One thing to keep in mind is that you will need good or excellent credit to be approved. After visiting SmartAsset's info page on the BankAmericard Travel Rewards® credit card, you will be taken to Bank of America's sign-up page, which will securely process your application.
Stop leaving money on the table – this takes only a couple of minutes, so once you've completed it (or if you don't have excellent credit) keep reading to see how else you can save and even travel for free.
3. File Taxes the Easy Way
It wasn't so long ago that many people had to go through accountants or spend days poring over federal tax documentation come the dreaded tax season. But you don't have to stress.
If you sign up today and begin your filing process, you'll qualify for $0 filing fees with the TurboTax Free Federal Edition. In my case, I had certain deductions that I wanted to claim, so I ended up upgrading to the Deluxe Edition, which costs extra. The great thing is, you don't have to upgrade unless you really need to, so there's no reason to start playing around with the software and knock out your taxes ASAP.
Another great aspect of TurboTax is the truly exceptional customer service. Earlier this year, when I was filing my taxes, I was confused about a line item and didn't know how to fill it out. I sent TurboTax an email and had a call scheduled with a customer service rep in 30 minutes. The rep was able to remotely open a chat within my account, guiding me visually to specific sections on the actual page so I got my taxes done accurately.
4. Save Hundreds of Dollars in Fees by Transferring Credit Card Balances
When I started looking for ways to save money, I had around $3,000 in credit card debt on one card alone. In addition to groceries for my family, I was spending around $500/month mostly on coffee shops, restaurants, and bars. I wasn't paying down the balance, which was costing me $540/year in interest alone because my card had an 18% APR.
I was able to eliminate all of my interest payments by signing up for the BankAmericard® Credit Card. The BankAmericard® Credit Card is a balance transfer card, which means you can transfer your existing debt from any card, pay 0% interest on any balance transfer made within the first 60 days, for 18 billing cycles. So, I cut my spending in half by grocery shopping and eating in. I'm now steadily paying down my balance with my savings, which will save me $540/year in interest payments alone.
For those with decent credit who have higher debt amounts and need more than 18 months to pay it off, Pave can help you save thousands by refinancing your debt with rates as low as 6.97%. It only takes a few minutes to see what you can save, and it's 100% free to find out.
If your credit isn't good enough to get the BankAmericard® Credit Card, or you want to build up your credit, check out the First Progress Platinum Prestige MasterCard® Secured credit card. It's a secured card, so there is no credit check or minimum credit score required. There is a $44 annual fee and $200 deposit, but only a variable 11.99% APR, which is actually a better rate than many credit cards.
5. Make Sure Your Loved Ones Are Financially Secure with Life Insurance
Unlike, say car insurance or renter's insurance, which you can typically get in minutes, getting life insurance can be a cumbersome process that often requires physicals and other documentation. Naturally, this often results in a process that is longer and time consuming.
Haven Life, a wholly owned subsidiary of MassMutual – one of the nation's largest and most trusted life insurance companies – is looking to change that. Haven Life's online tools allow you to calculate how much insurance you need, let you get a quote and apply online, and start your coverage within 20 minutes, with no physical required for qualified and healthy applicants.
If you've recently started a family or are about to embark on this amazing journey, Haven Life's simple online process can have your loved ones covered in the blink of an eye.
6. Refinance Your Home and Save Thousands
With interest rates expected to continue slowly creeping up, one of the important things to do is to check that you're paying the lowest possible interest rate on your mortgage. It's easy to figure this out by comparing interest rates of several mortgage companies.
In addition to having some of the lowest refinance rates in the market, Rocket Mortgage also provides cutting edge technology. Rocket Mortgage provides instant online employment and income verification for more than 60% of the U.S. population. Indeed, one of the coolest aspects of the company is that it lets users get free quotes online. Through its extensive use of technology, Rocket Mortgage also cuts down on unnecessary overhead, which is passed on to users in the form of savings.
See below on how you could also save by refinancing your home with Rocket Mortgage.
7. Jump Start Your Retirement Planning with a Certified Financial Advisor
Many people (including myself, sadly) start saving for retirement too late and miss out on significant earnings with each missed day. While some people prefer to manage their own retirement savings, others enjoy the assistance of a seasoned professional.
Unfortunately, getting a financial advisor has historically been a daunting process. Many people overlook the fact that, for example, a lot of financial advisors are not fiduciaries and as such as not required to have your best financial interests in mind. How does that make any sense?
Enter SmartAsset with its easy-to-use financial advisor matching tool, which asks you questions to connect you with the most suitable financial advisor. Even better, all financial advisors that you'll meet through SmartAsset's matching tool are fiduciaries, meaning that they are required by law to represent your best financial interests rather than their own.
If you're in the market for a new financial advisor, click the link below to make more sense of your search and find the best advisor for you.
8. Get a Leg Up on Investing at $4.95 per Trade
You may or may not have heard of a price war that erupted recently between major online brokers. After years of charging fees as high as $9.99 per trade, all of the brokerage firms, including the likes of Fidelity, Schwab and E*TRADE suddenly started dropping their fees – and quite a bit. Before we knew what was happening, all of the major brokerage firms had lowered their fees per trade by up to 50%.
At $4.95 per trade, Schwab's platform can help you invest without breaking the bank. By signing up, you get industry leading benefits like a platform that is consistently ranked highly in terms of customer service, easy-to-use tools and full service access to trading tools.
While saving money, it's important to remember that you should not only cut unnecessary fees and spending, but also make an incremental effort to invest in your future. Schwab is an easy-to-use and (as of recently) inexpensive platform.
9. Mortgages for Veterans with No Down Payment
Are you a veteran looking for a new home? Have you been frustrated while trying to find your ideal home, only to be doubled down by big banks and lenders that expect you to pay up to 20% of the cost of your home upfront?
With Veterans United, you can get a mortgage with no down payment required. You read that right, $0 in down payments. Veterans United is especially geared towards those seeking to purchase their first home, so you'll get plenty of guidance on the process along the way with experienced advisors guiding you. Finally, thanks to the VA Loan Program, you can be assured that, even if you've unsuccessfully applied for a mortgage elsewhere previously, you're more likely to be approved.
Bottom Line
The quicker you start taking action, the more you'll save this year, and even more next year. Check out the offers and see which ones work for you. Feel free to share with friends and family. Then check back next month for another list of great offers from our partners.
Editorial Note: This content is not provided by any card providers or partners. Any opinions, analyses, reviews or recommendations expressed in this article are those of the author's alone, and have not been reviewed, approved or otherwise endorsed by any of our partners.
Advertiser Disclosure: The card offers that appear on this site are from companies from which SmartAsset.com receives compensation. This compensation may impact how and where products appear on this site (including, for example, the order in which they appear). SmartAsset.com does not include all card companies or all card offers available in the marketplace.