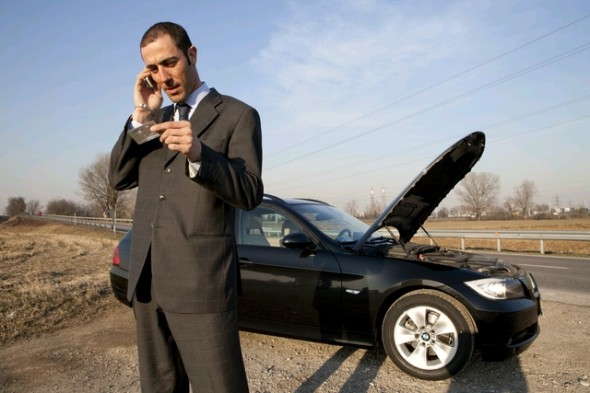 Cars are some of the most complex machines we use in daily life. With so many moving parts, slight mishaps are a case of when rather than if, and most non-mechanics lack the know-how to fix them. Fortunately, having access to a quick fix for a malfunctioning car anywhere and anytime is as easy as signing up for a roadside assistance plan. TopTenReviews estimates full-service roadside assistance companies cost between $48 and $108 a year to use, and they offer a broad spectrum of commonly-needed services. If you notice yourself falling into any of these five driving habits, you'll thank yourself later for getting a roadside assistance subscription.
Related Article: Free Money and the Lost Art of Haggling: Buying a Car
You Don't Know (Tire) Jack
Not only are you clueless about how to change a tire, you have no idea where your car's spare tire is. (Hint: You may find it uninflated, as that big rubbery donut hidden underneath the bottom panel of your trunk.) When a wayward nail gives you a slowly leaking puncture, rather than Googling "where is the spare tire in a Lamborghini" at the side of the road, you may be better off using your smartphone to dial your roadside assistance service to have that nasty flat repaired.
You Run on Fumes
You tend to let the fuel needle hover at E before you even consider stopping at a gas station. On the highway, you drive past a nearby service area, fully confident you'll make it to the next one 94 miles away. After the fumes you were running on peter out, roadside assistance can be there with a refill even when you're far from home, and all you'll have to worry about at that rest stop 93 miles later will be stocking up on snacks.
You Buy Used (And Don't Do Your Homework)
You bought a great used car on the cheap from your cousin's best friend's uncle, and you were thrilled with the extras he threw in, like the jumper cables in the trunk. Your battery dies on a deserted stretch of highway at midnight, none of the few other motorists is willing to pull over to give you a charge, and you find out the hard way that you got what you paid for. With roadside assistance on the case, you can get a new battery on the spot and not have to mess with alligator clips anytime soon.
Related Article: Why You Should Never Buy a Brand New Car
You're an Adventurer
Your wanderlust compels you to do off-roading in scenic backwoods roads far from modern conveniences. You wind up enjoying the view for much longer than you planned to when you make a sharp turn and drive halfway into a ditch. Call for roadside assistance and they'll have a tow truck find you and get you right back on the dirt road.
You Have Butterfingers
You misplace your car keys in more ways than you could ever have dreamed of. They slip between your seats just out of reach, wind up in the trunk, and simply get left on the center console when you close and lock the door. You could MacGyver up an unlocking device if you have steady hands and a wire coathanger–or else summon roadside assistance to get you back in your car the easy way.
All full-service roadside assistance plans offer towing, tire changes, door unlocking, help with stuck cars, and gas or coolant delivery, according to Consumer Reports. Each company may also offer a number of extra features and perks, so make sure to read all the details of what you're signing up for in order to choose the plan that's right for you.
Related Article: 5 Car Games to Kill Road Trip Boredom
Photo Credit: Corry Lerazski