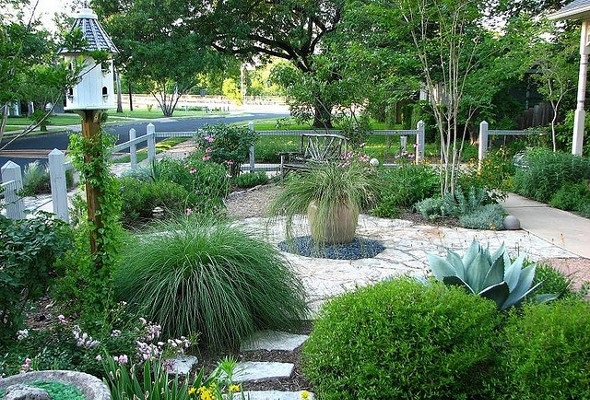 Your lawn may be lush, but it's likely costing you a lot of time, money and water. Whether you care for your lawn yourself or pay someone to handle it for you, that patch of grass represents a significant commitment. Ready to branch out? Try one of these four alternatives. Many people find that switching to a lawn alternative frees up time in their weekends and money in their budgets. Here are four of our favorite water-, time- and money-saving alternatives to the standard American yard.
The Rock Garden
Why not replace your lawn with a rock garden? An attractive arrangement of rocks, combined with small, low-growing flowers, will add a Zen touch to your property. Feeling fancy? Consider incorporating a water feature.
The Hell Strip Garden
Not ready to give up your entire lawn? Start small with hell strip gardening. The hell strip is that rectangular plot of grass between the sidewalk and the street. In most places, hell strips are drab, but a new trend in hell strip gardening takes those dull pieces of lawn and turns them into a landscape feature, using tall grasses and low-maintenance flowers.
Check with the city to make sure you're allowed to tinker with the hell strip in front of your home. Once you've gotten the OK, you'll be free to turn this piece of lawn into something a little more exciting. Consider incorporating stepping stones so people don't have to leap over your plants (or crush them underfoot) to get from the street to the sidewalk.
The Ground Cover
This lawn alternative leaves you lots of options, from a carpet of moss, to decorative grasses, succulents and flowery ground cover. Consider your preferences and the local climate when making your decision. Ground cover plants that are appropriate to the conditions in your area (and are densely planted) will be easier to maintain than a lawn. They should require less water and less weeding. It's a win-win.
The Vegetable Garden
This lawn alternative is more than just decorative. It can feed you and your family, and maybe generate some extra income if you decide to sell your produce. It may require more of an up-front investment, though, which will go toward raised beds, good soil, seeds, plants and protective materials, like fences and covers to keep out deer and pests. Once the harvest comes in, you'll start making that investment back in the form of lower bills at the grocery store and farmer's market.
Bottom Line
Switching to one of these four lawn alternatives will give you landscaping that's greener and stands out from your neighbors' properties. Shop smart, and these alternatives could be far cheaper than your current lawn care arrangement.
Tips for Saving Money
Saving money requires more than just finding a cheap, time-saving lawn alternative. If you're looking to save money over the long term, you'll also need to plan ahead. A financial advisor can help you draft a financial plan to ensure you're reaching your goals and getting ready for retirement. The SmartAdvisor matching tool can help you find a person to work with to meet your needs. First you'll answer a series of questions about your situation and your goals. Then the program will narrow down your options to three fiduciaries who suit your needs. You can then read their profiles to learn more about them, interview them on the phone or in person and choose who to work with in the future. This allows you to find a good fit while the program does much of the hard work for you.
Make sure you've chosen a good savings account so you're not losing too much money to monthly fees and you're getting a good return on your investment. Here's SmartAsset's ranking of the best savings accounts in 2018.
Photo credit: flickr