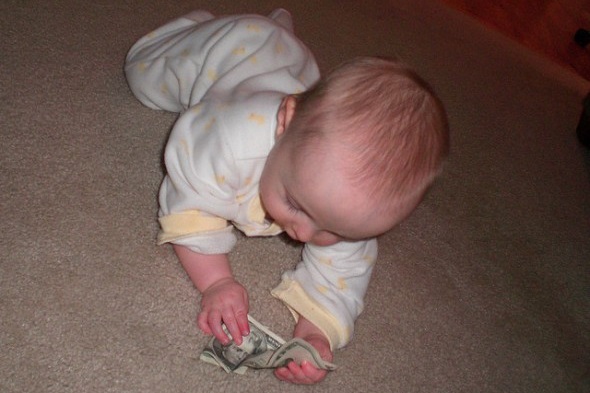 There's no way around it–raising kids is expensive. According to the most recent figures from the U.S. Department of Agriculture, a new parent can expect to shell out nearly a quarter of a million dollars by the time their child reaches age 17. As if that thought wasn't panic-inducing enough, that figure doesn't include the cost of a college education.
Getting a grip on your finances before your little bundle of joy comes along is a smart move, especially if you're expecting your income or expenses to change substantially. For new parents, the key is to avoid falling into the overspending trap. If you'll soon be welcoming a new addition to your family, here are some tips to help keep your budget in check.
1. Weigh Needs vs. Wants Carefully
Once upon a time, all you really needed to take care of a new baby was a decent stockpile of diapers and wipes, a handful of onesies, a warm blanket and a reliable car seat. Now it seems that fancy baby furniture, hi-tech strollers and designer baby gear are must-haves if you want to bring home your little one in style.
When you're shopping for baby items, ask yourself whether it's worth it to fork over $800 for a crib or $1200 for that top-of-the-line stroller. While you'll certainly appreciate how nice the items are, the baby probably won't care too much. If you feel the need to splurge, limit high-dollar purchases to one or two specific items and stick to the basics for everything else.
2. Anticipate the Income Gap
For working parents, having a baby may mean a loss of income which could be temporary or permanent, depending on your situation. If you know that you or your spouse will be taking some time off work once the baby's born or that one of you will become a stay-at-home parent, you need to anticipate how the change will affect your cash flow.
Even if both of you are planning to go back to work, your income may still take a hit if you're paying out-of-pocket for childcare. Daycare can cost hundreds or even thousands of dollars a month, eating up a significant portion of your income in the process. If your budget is already strained, the added expense could have you feeling the pressure even more financially.
3. Add Up Your Out-of-Pocket Medical Expenses
It's no secret that healthcare is expensive and having a baby is no exception. A recent study from the University of California San Francisco found that on average, women in the Golden State paid anywhere from $3,300 to $37,000 for an uncomplicated vaginal delivery. The cost of a Caesarean jumped to between $8,000 and $71,000.
While these figures are based solely on statistics from California, they're still a good indicator of what kind of costs newly minted moms and dads can expect. Talking to your insurance company about what is and isn't covered can give you an idea of how much you'll have to pay out-of-pocket so you can start planning ahead. You'll also want to find out how much your premiums will increase once the baby is added to your policy.
4. Reevaluate Your Goals
When a baby comes along, it's natural to expect your focus to change but you still need to keep your eye on the bigger picture. For instance, many new parents make the mistake of rushing to fund their newborn's college savings account while neglecting their own retirement. Ideally, you should be able to continue working towards your existing goals while making the necessary adjustments to reach your new ones.
If your budget's simply too tight to accommodate everything you want to do with your money, you may have to get a little creative to make it work. Whether it means cutting out all unnecessary spending or taking on a second job, you have to ask yourself how far you're willing to go to achieve what you want for yourself and your family.
Becoming a new parent for the first time is exciting but when you're worrying about money it can put a damper on the big event. Preparing ahead of time for financial curve-balls helps to relieve some of the stress that goes a long with taking care of a new baby.
Photo Credit: flickr